When a company is considering an engagement with GaggleAMP, it is normal to be curious about our data protection and storage practices. We take your data and privacy seriously!
Below you'll find details about the data we store. In short, we do not store anything we do not need to. If we're capturing it, it's for the sole purpose of being able to use our platform as a third-party employee advocacy platform, not for data collection and sharing purposes.
GaggleAMP does have both a Privacy Policy and Data Processing Agreement. These are always the most up-to-date agreements and can, and should, be referenced to help clarify, understand, or gather the most current information.
Data Stored When Registering Your Account
Registering your account with GaggleAMP will require you to provide a valid work email address and your name. If your company has chosen a 3rd-party authentication provider (SSO) to use with the Gaggle, this information is automatically provided upon the first sign-in.
Optionally, you may also provide your avatar, job title, time zone, and other information to enhance your GaggleAMP experience. Your account information may be shared with other Members participating in your Gaggle, including their Gaggle Managers. For example, participation on our leaderboard will show your name, department, and the avatar you have chosen for your account, alongside the number of points you have received for sharing Gaggle Activities.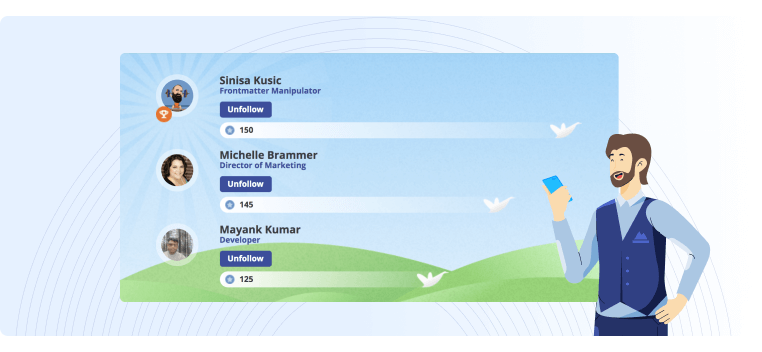 Data Received When Adding a Social Media Account
In order to provide services for the supported social media network, GaggleAMP will require you to connect your social media accounts.
These connections are used to perform Activities on your behalf on social media platforms. Your information is never shared with anyone and is only used directly by the GaggleAMP platform with your consent. Neither your employer nor GaggleAMP has or keeps your passwords when you connect your social media accounts to GaggleAMP.
For more information on permissions granted with each network, visit Understanding Social Network Permissions in our Knowledge Base.
If you are a Gaggle Manager, your social media accounts are also used to import content from the business pages that are part of your GaggleAMP marketing campaigns. From your connected social media profiles, GaggleAMP collects the username and the total number of connections.
Moreover, GaggleAMP tracks the performance and engagement of only the Activities performed through GaggleAMP. The rest of your social media activity is never collected or tracked in any way, nor can GaggleAMP post on social media without your permission (e.g. performing an action, like 'Retweet this tweet' on an Activity).
What Happens to My Data When I Am No Longer a Member of a Gaggle?
Your account information is retained as long as you are participating in a Gaggle with an active contract. If you are no longer a Member of a Gaggle, or your company is no longer a customer, your account information is deleted. Of course, at any time you can exercise your data rights as described in the Privacy Policy, including the right to the rectification or erasure of your personal data held by us.
What Data Do You Collect When I Engage With Your Website or Platform?
When you visit or interact with the GaggleAMP website or platform, log data is collected. This includes:
IP Address
Location

implied by the IP address

Browser Type
Domain

from which you are visiting, if known
Other actions within the GaggleAMP platform may be captured including things like what pages you visit and what buttons you click.
The logged interactions with the GaggleAMP platform are used in aggregate to provide usage statistics to Gaggle Managers and GaggleAMP. Access log data are retained for 60 days and interactions are anonymized upon the termination of a Gaggle contract.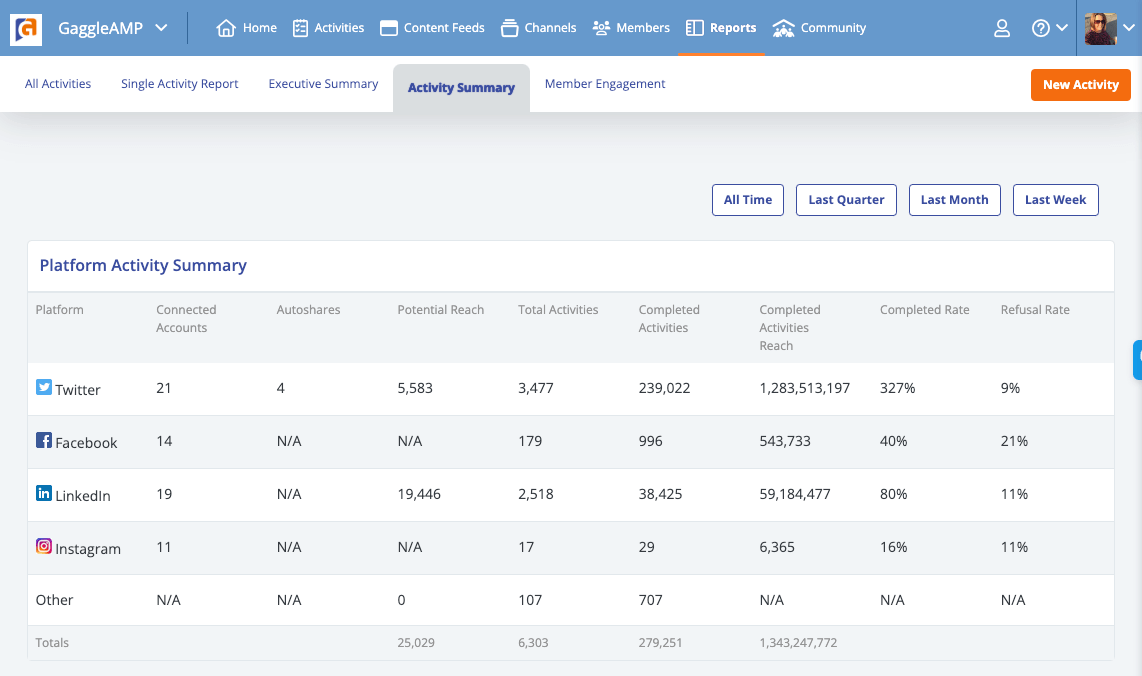 An example of an aggregate report found in GaggleAMP
If you are a Gaggle Manager, GaggleAMP will require you to provide billing information that will be retained indefinitely. Cardholder data is never stored within GaggleAMP systems, but rather only stored and processed by our payment gateway partner, Stripe.
For more information on Stripe and other subprocessors, GaggleAMP employs, please visit our Subprocessor list.
Where Is Our Data Stored?
GaggleAMP database, backups, and logs are hosted in data centers within the United States. All information is encrypted in transit and at rest. Passwords are stored in a dedicated password-based key derivation function. Access to production data is limited to specific senior, background-checked, personnel.
If My Question Hasn't Been Answered Here, Where Can I Get Help?
Data and security are one of those things you need to be sure about to protect your data and your company. If you have reviewed our Privacy Policy and Data Processing Agreement and you still have questions, please submit your question to support@gaggleamp.com. Your question will go to our team who will answer it directly, or escalate it to our security officer for a more in-depth response.
Managers Who Liked This Article Also Liked: