Yes and no, but let us explain.
When your Gaggle Manager sends you an Activity to complete, you might notice that some Activities allow you to Schedule the activity and others allow you to Edit & Schedule even though they are the same kind of Activity. For example, here you can see two "Share on LinkedIn" activities but only the second activity allows you to 'Edit and Schedule.'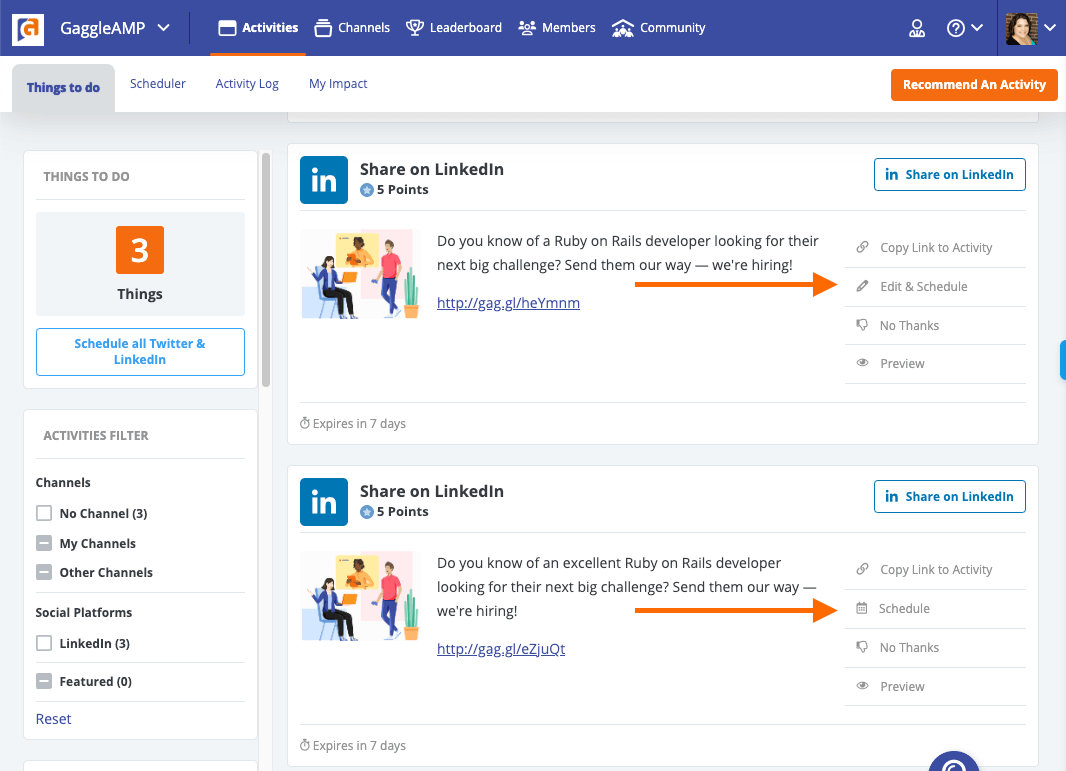 This is due to the way your Gaggle Manager has set up the Activity. See, when they create the Activity, they can choose if they want you to have the rights to edit the Activity or not. This is done by way of a check box when the Activity is created.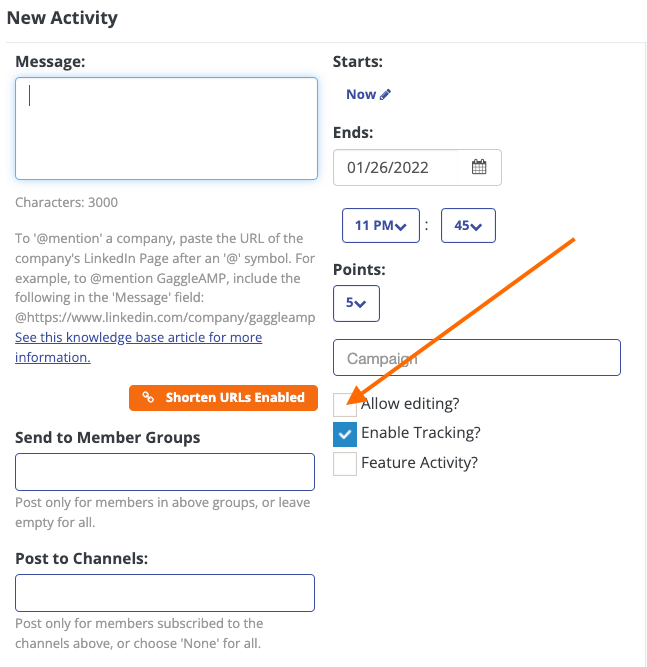 When that checkbox is enabled, your Activity will appear with the "Edit & Schedule" functionality. When it is disabled, your activity will simply say "Schedule."
Editing and Scheduling an Activity
When the Activity served has "Edit & Schedule" enabled, you can click on "Edit & Schedule" and a slider will appear. Here you'll edit your Activity as you see fit. This might include changing the text, adding your own personal flair, or even @ mentioning a few folks that could be interested in what you have to say on that Activity.
Note: Learn more about using the mention feature with your GaggleAMP activities.
Once your edits are made, you also have the option to toggle on 'Schedule Activity.' Doing so will allow you to select the default schedule for posting you may have previously set up, or select your own date and time.

Note:
When you do not have editing privileges, you will only see the 'Schedule Activity' toggle and options when you choose 'Schedule' on the activity.
Once you are done making your edits and scheduling your Activity, simply select 'Schedule' in the lower right-hand corner and your activity will be scheduled for the time you selected.
Lastly, it is important to note that not all Activities have the ability for your Gaggle Manager to allow for editing (for example, a Facebook Like activity has nothing to edit).
Members who liked this article also liked: