As a Gaggle Manager, you are often one of the main people curating social media messaging for your corporate profiles and your employee advocacy program. Curating content can be tough, so when a member of your organization sends you a suggestion for content to share on social, it's an amazing feeling. But sometimes those content suggestions come in from multiple sources of communication - messaging apps, email, in-person, and more - making wrangling that content just as tedious as finding content suggestions.
At GaggleAMP, we fully understand that glorious feeling of having content suggested to you and wanted to make it easier for your team to replicate that euphoria with the 'Suggest an Activity' feature, but streamlined in your GaggleAMP platform.
There are two ways you can suggest an activity to your Gaggle Managers: Through the 'Things' to Do' section on the Member platform and, if you subscribe to the Community Module, by recommending the post created to your Gaggle Manager. We'll go through both of these below.
Suggesting an Activity on GaggleAMP
Desktop
Note: This feature is available to all GaggleAMP Members
Once a Member has logged into GaggleAMP, they will see their 'Things to do' page.

As you can see, in the upper right-hand corner is a button to 'Recommend an Activity.' By selecting that, a slide-over will appear.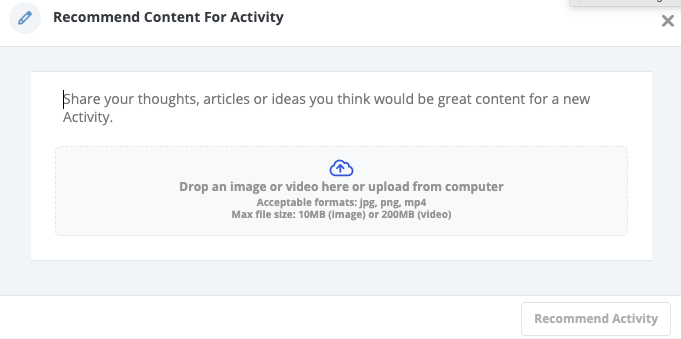 From here a Member can contribute their thoughts, ideas, videos, or even links to articles. When they select 'Recommend Activity,' it sends their suggestion to the Gaggle Manager.
Mobile
Gaggle Members can suggest an activity on the go using their GaggleAMP app from their mobile device.

Note: The GaggleAMP mobile app is available for iOs and Android devices.
Where Do Gaggle Managers Find These Recommendations?
If you are a Gaggle Manager, we make it easy for you to sift through your Members' suggestions to find new content and ideas to add to your Gaggle. You can find your Members' suggestions from the Manager Dashboard by clicking 'Activities' and 'Member Ideas.'

From here you can see all of your Member-suggested content ideas. Should you like one of these suggestions and want to make it an activity, click the three dots at the end and choose 'Create Activity.'

If you review the content and no longer need the suggestion, select 'Delete Post' and it will remove it from your Member ideas.
Mobile
At this time, the 'Suggest a Message' manager retrieval area is not included in the mobile app and must be done from a desktop device.
Suggesting an Activity From the Community Module on GaggleAMP
Desktop
Note: This feature is available only to Gaggle Members who have the Community Module
When using the Community Module, Members can Start a Conversation using the button in the upper right corner.

A slider will appear in which the Member can start a conversation. You'll notice in creating that conversation, the Member can also send this conversation as a recommendation of an activity to the Gaggle Managers by checking off the box. When that occurs, the content will be made available to the Managers via the 'Member Ideas' process previously described and will also be the basis of a conversation started in the Community Module.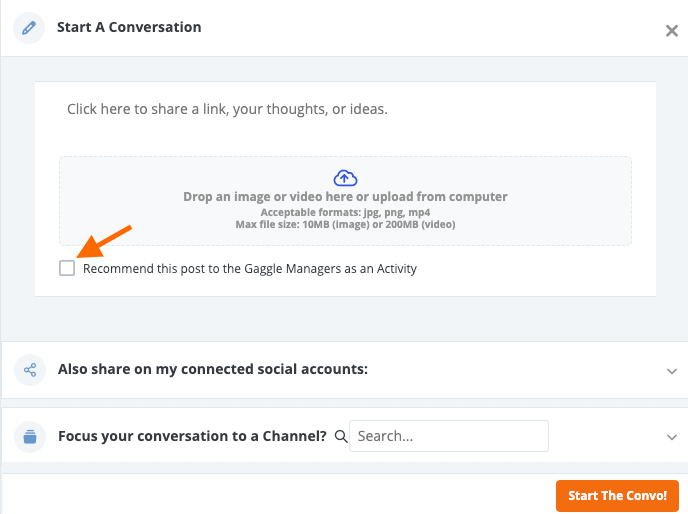 Likewise, this same checkbox also appears should a Member start a conversation from the 'create quick post' area of the Community.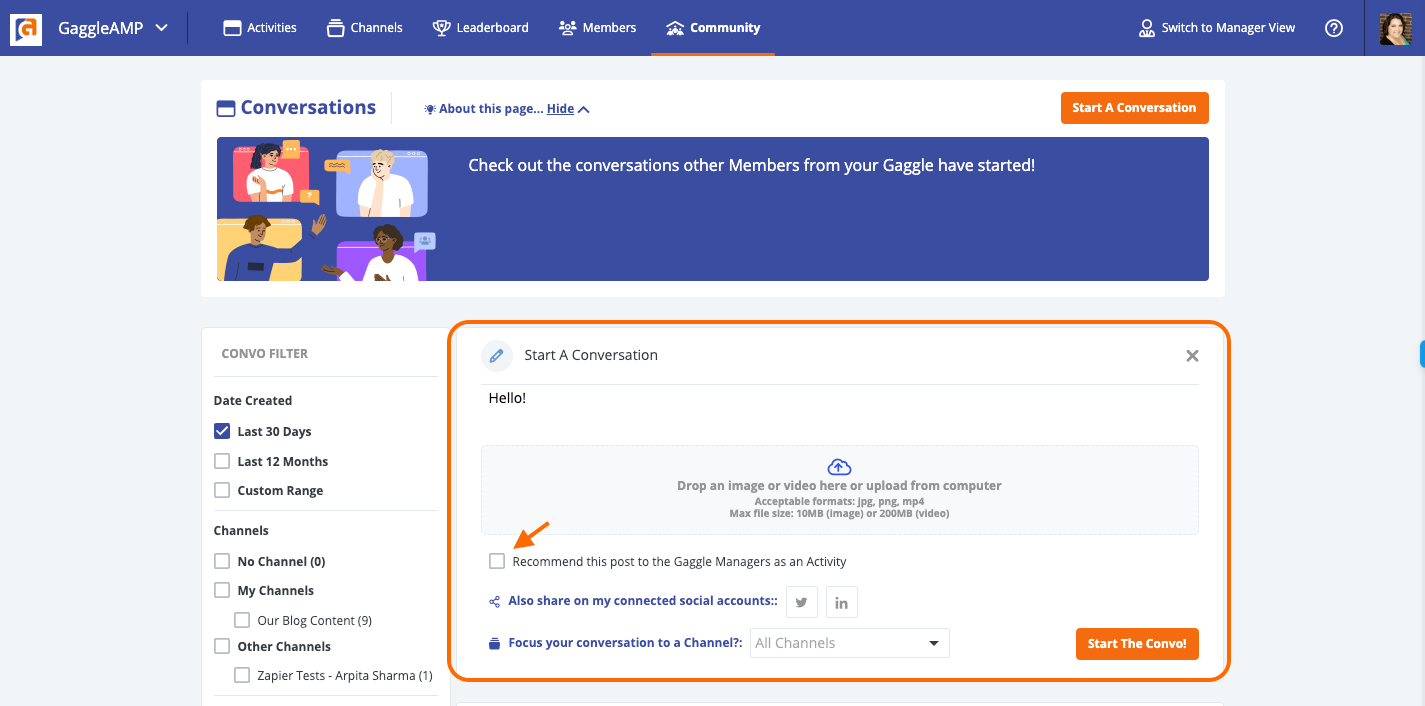 Mobile
Gaggle Members can create Conversations from the Community Module and recommend the content to their Gaggle Managers while on the go. To suggest an activity, select Community and 'Start a Conversation.' At the bottom of the Conversation field is the ability to 'Suggest to Manager.' By checking this box, this Conversation will also appear as a Gaggle Manager recommended piece of content.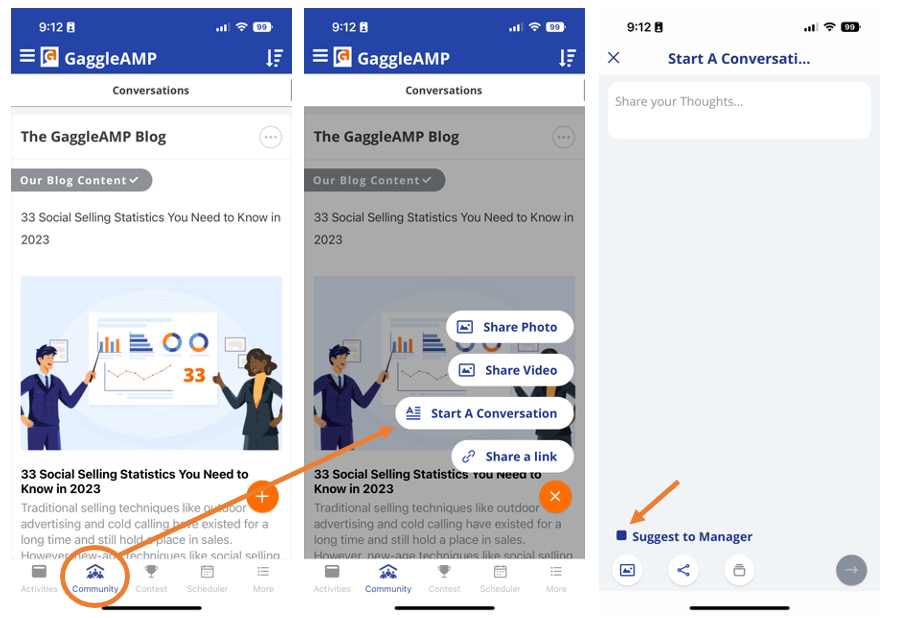 FAQ: Can a Gaggle Manager Turn Off the Ability for a Member to Make Suggested Posts?
Yes, you can, with the feature enabled by your Customer Success Manager. If you do not have this setting available, you will need to contact them first as this is not a global feature.
From your Gaggle Manager view, select your image, initials, or icon in the upper right corner and select 'Gaggle Settings.'

If this feature is available to you, you'll have the option to select or deselect the option for Members to recommend new content ideas.

Keep in mind:
On/Checked: Members can recommend content to their Gaggle Manager

Off/Unchecked: All 'Recommend this post to the Gaggle Manager as an Activity?' checkboxes on the slide over and the button to 'Recommend Activity' will be hidden from all Members.
Managers Who Read This Article Also Liked: