Peanut Butter and Jelly. Batman and Robin. Chocolate chips and cookies.
Some things are just better when you put them together, kinda like GaggleAMP and HubSpot. While both are powerful in their own right, leveraging GaggleAMP with your HubSpot Marketing Automation Suite is an excellent way to better track the attribution of your campaigns directly with the short link you're already familiar with.
How to Connect HubSpot to GaggleAMP
Desktop
From the Manager Dashboard, navigate to your image in the upper right-hand corner (of your initials if you have not uploaded a profile photo. Select 'Gaggle Settings' from the drop-down, then 'integrations' on the navigation bar.

From here you will see that GaggleAMP can be connected to Marketing Automation Tools such as:
To select the HubSpot Automation Tool, simply click the radio dial in the upper left corner of the HubSpot card.
Once chosen, that's it - the default Marketing Automation Tool is HubSpot. If at any time you need to connect a different Marketing Automation Tool, simply click 'unlink' on the HubSpot card, confirm you want to unlink, and choose the radio dial on the tool you want to replace the connection with.
Note: The Marketing Automation Tool connections add UTM parameters to the shortened activity links. Clicking a different integration just changes a little the default UTM parameters used.
For the options with "edit parameters" buttons (like Marketo and Oracle Marketing Suite), you can edit the parameters to your liking. For the options without "edit parameters" buttons (like HubSpot), you can use only the default. Even if HubSpot is integrated, UTM parameters will still be visible in your Google Analytics instance and any other tracking tool that tracks using UTM parameters.
Enabling Tracking Once Connected to HubSpot
When this integration is enabled, the tracking of links included in activities will occur in HubSpot without having to be directly integrated through the HubSpot App Marketplace.
To enable tracking, you'll first need to start by creating an activity. From the Manager dashboard, choose New Activity.

Next, you'll need to choose an activity type. For the activity types below, you can 'enable tracking' in the creation of that activity. These activities include:
In the activity creation for any of these five activities, you will see a pre-checked box for 'Enable Tracking?' This allows you to track the performance of this activity in HubSpot. As a best practice, you should plan to choose the campaign here, too. This allows you to further segment your Gaggle traffic inside HubSpot.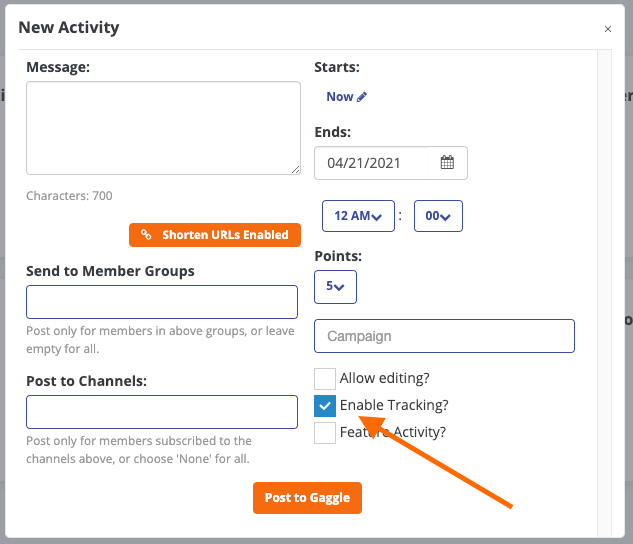 Locating Your Traffic in HubSpot
Navigate to HubSpot and log into your account.

Note: You need to have HubSpot Marketing Automation Suite to view these metrics.
Once logged in, navigate to 'Reports' and choose 'Analytics Tools.'

From here, you can locate your GaggleAMP performance metrics in one of two places: via the Tracking URL Builder or via Traffic Analytics.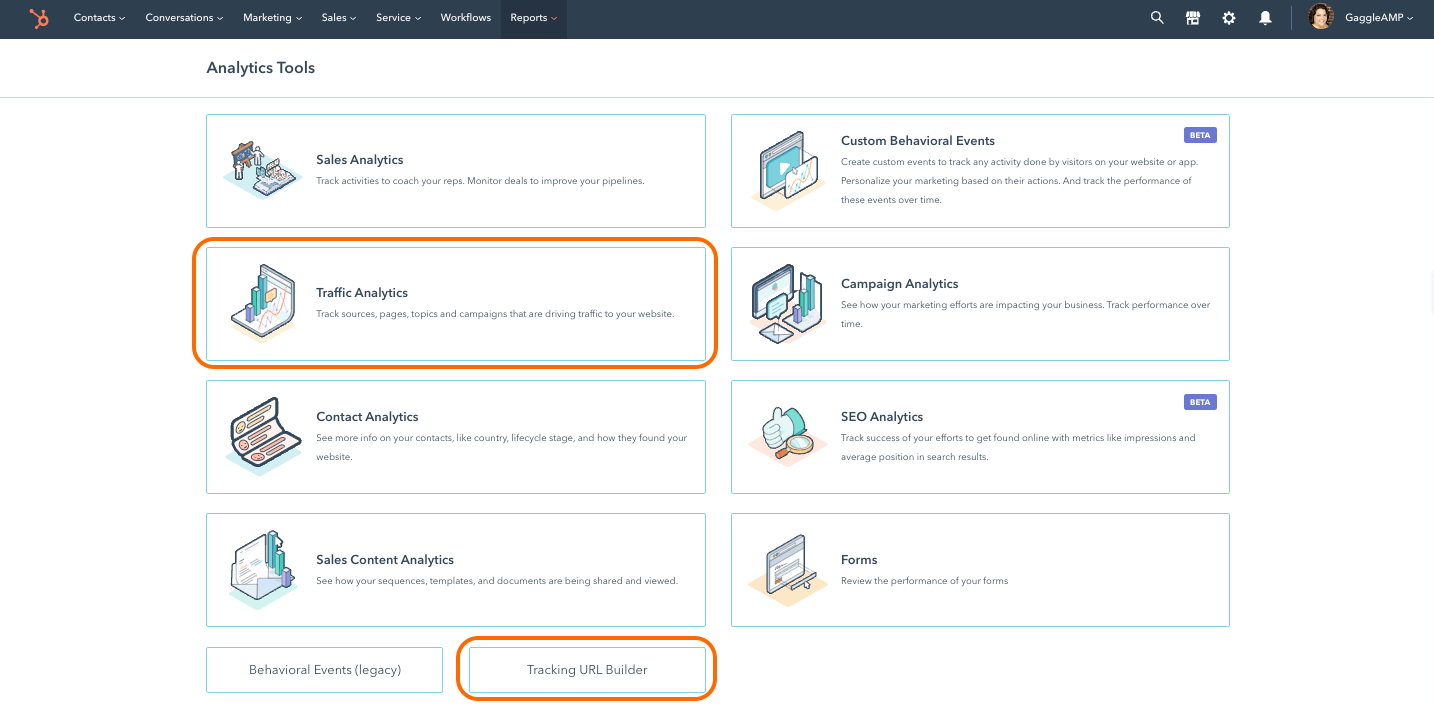 Using Traffic Analytics in HubSpot to Find Your GaggleAMP Metrics
Select 'Traffic Analytics' from the Analytics Tools in HubSpot.
If the view is not already set to 'Sessions,' toggle this to 'Sessions' before diving into your analytics. You can also change your date range should you choose to do so.

Scroll down to your sources and click on 'Organic social.'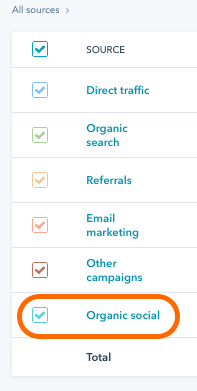 Here you will see it lists networks like LinkedIn, Twitter, Facebook, Instagram, and more. Keeping in mind that GaggleAMP's activities are tracked on both LinkedIn and Twitter activities in the list above, choose either LinkedIn or Twitter.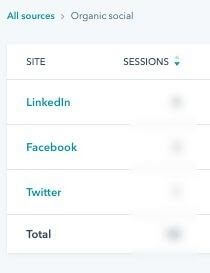 Here you will see a list of campaigns that generated a session during the specified time frame. If a GaggleAMP activity was engaged with and meets the criteria selected in HubSpot (network and date range), you will see 'gaggleamp' listed under the Campaign. Alongside this you have the option to see:
Sessions generated

Your session to contact rate

Any new contacts received (this can be clicked to dial into which people are in HubSpot)

Contact to customer rate

If the session was the result of a customer click (and this can be clicked to dial into which customer so long as that record is in HubSpot)

The bounce rate of this source

New visitor sessions
New session %
Page views / session

Session length

Using UTM Parameters in HubSpot to Find Your GaggleAMP Metrics
To find your GaggleAMP metrics by way of UTM Parameters, choose the 'Tracking URL Builder' from the 'Analytics Tools' dashboard.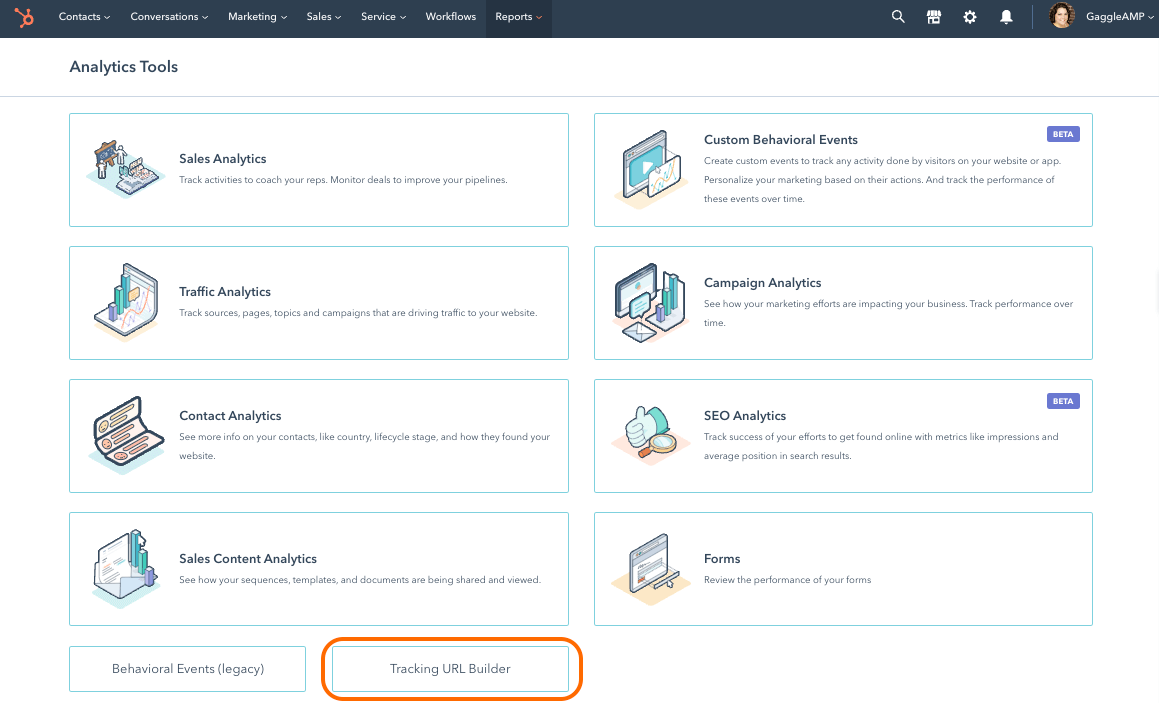 Choose 'Create Tracking URL' in the upper right-hand corner.

A slide-over will appear from the right-hand side of HubSpot in which you can curate your tracking URL. Depending on what you use for your UTM Campaign, Medium, Term, or Content, this will allow you to drill down into the parameters you set up.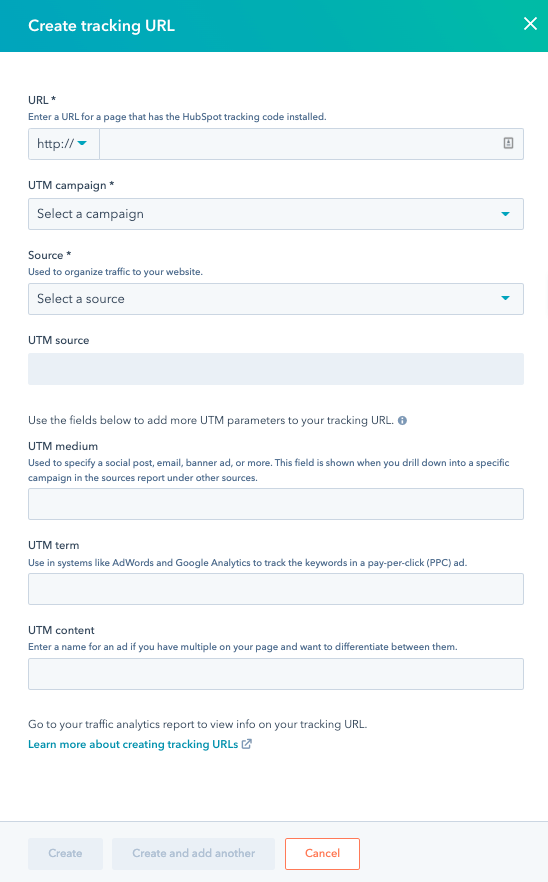 Here you can create one or many UTM-tracked URLs.
Once your UTM parameters are set up, you have several ways to filter by UTM. One of the most common is to navigate to Reports then 'Analytics Tools.'

Choose 'Traffic Analytics' from the list of Analytics Tools.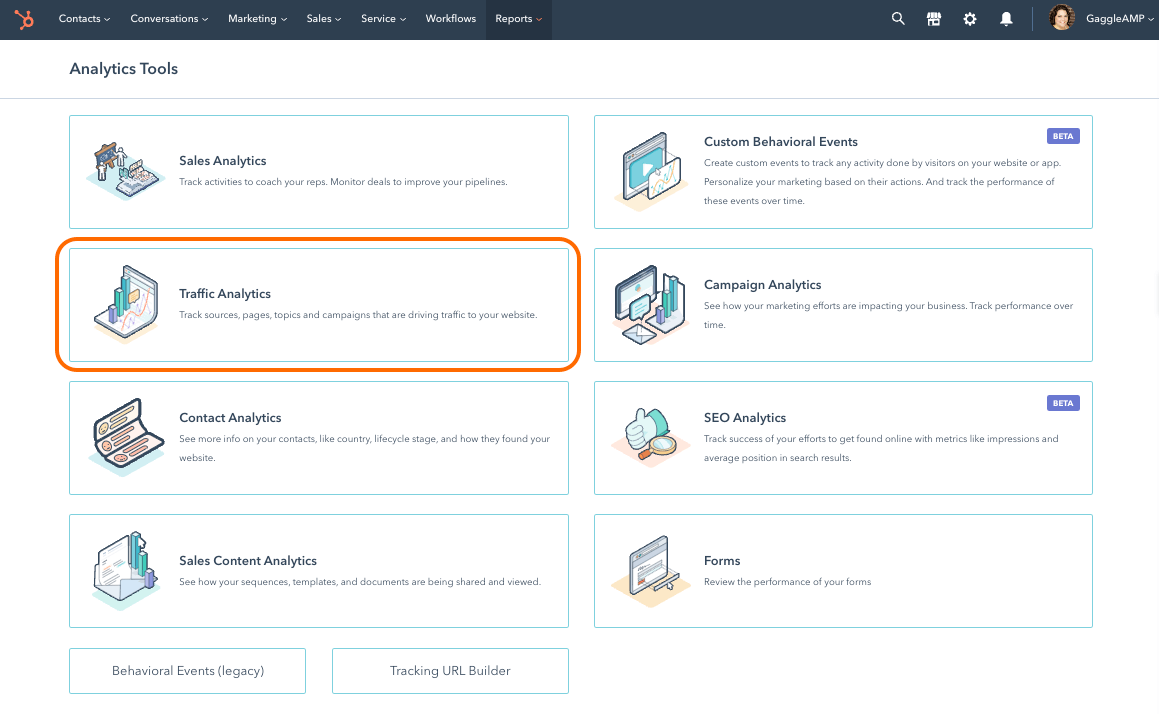 From the filters at the top of the Traffic Analytics view, you'll see a tab for 'UTM Parameters.' Click 'UTM Parameters.'

Here you can search your UTM Campaigns by way of:
UTM Campaign

UTM Source

UTM Medium

UTM Content

UTM Term
Depending on how you set up your UTM parameters, choose the UTM parameter that will allow you to best view GaggleAMP segmentation. So, for example, if you have set up your UTM Medium to be a version of GaggleAMP, choose 'UTM Medium' and you'll see the sources of traffic here.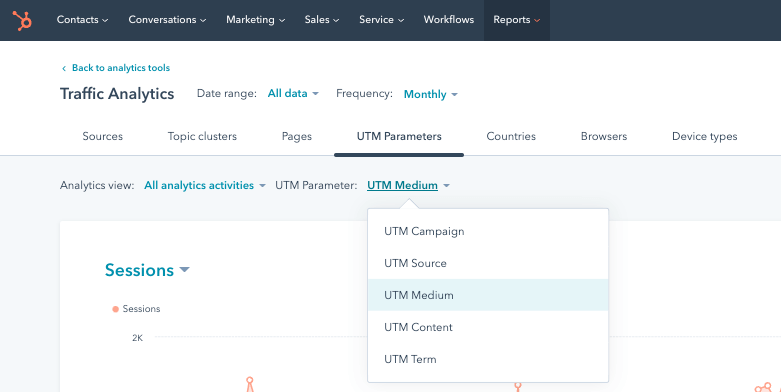 Managers Who Viewed This Article Also Liked: