GaggleAMP's Salesforce integration allows Gaggle Members to perform Activities directly from Salesforce. The integration with Salesforce helps keep your teams involved in your employee advocacy platform directly from within the platform they are already in daily.
Note: This integration is currently only available for the desktop view of Salesforce.
Installing GaggleAMP Within Salesforce
Log into your GaggleAMP Account. Select your image or initials in the upper right corner and select 'Gaggle Settings' from the drop-down menu. Then select 'Integrations' on the secondary navigation bar.

Scroll down until you locate the Salesforce integration and select '+Link Salesforce Integration.'

This will redirect you to the Salesforce sign-in page. Provide your Salesforce credentials here and log into your Salesforce account.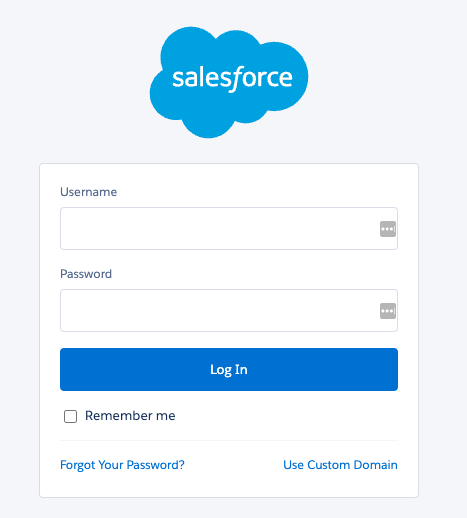 Once logged into your Salesforce account, navigate to the upper left corner and locate the pencil icon.

Click on the navigation bar pencil icon to open the Navigation Items editor. Once opened, click 'Add More Items.'

This will open a menu of available items you can install. Select the 'All' link and search for GaggleAMP. Once found, check the box for 'GaggleAMP' and then select 'Add 1 Nav Item.'

GaggleAMP will now appear among your list of Navigation items. From this view, you can move the GaggleAMP to where you want it to appear on your top navigation bar. Once you are happy with the placement, click 'Save.'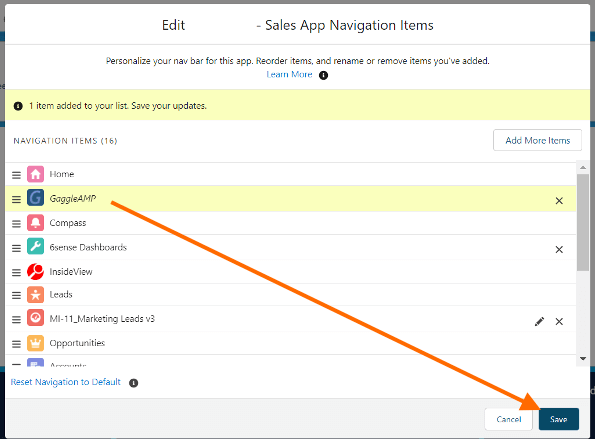 Setting up the GaggleAMP Connection in Salesforce
Note: In order to access GaggleAMP in Salesforce at this point you will need to have a paid GaggleAMP account or be involved in a trial. Contact us for more information on securing a paid account.
Now that the GaggleAMP application has been installed, it is time to sign in to your account. Closeout the Navigation Items editor and go to the GaggleAMP tab in your Salesforce Navigation bar.
This will display your sign-in screen.

On this screen, you will see an email address that should correspond with the email address you used to sign up for GaggleAMP. In the instance it does not, select 'Click here to sign in.' Otherwise, select 'Continue Signing Up.'
This will direct you to a sign-in screen. Provide the credentials you used to sign up with GaggleAMP and sign in.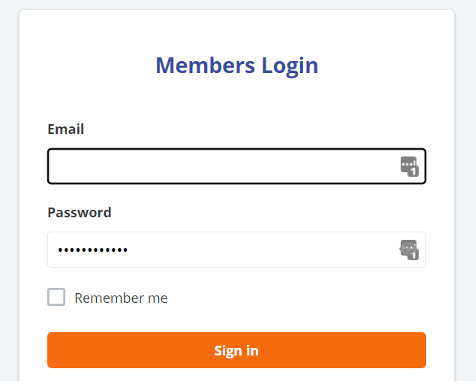 Now GaggleAMP will be available for full use within your Salesforce Instance.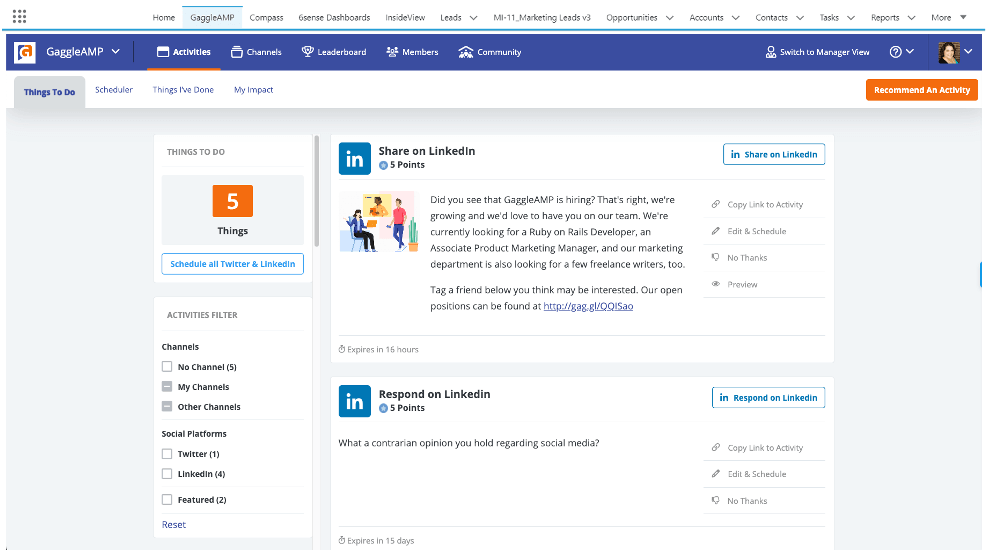 Member Setup
Your Members can configure their Salesforce instance to access GaggleAMP by following this guide: Salesforce Integration Member Setup Instructions.
That's it! Now, when your Gaggle Members visit the 'GaggleAMP' tab in Salesforce, they will be able to see all of their employee advocacy activities right from within Salesforce.
Managers Who Liked This Article Also Liked: