Have you ever sat down to do an analysis of your marketing ROI, only to find that your clicks are not attributed correctly or, worse, there was no mechanism to track your engagements in the first place? While in your gut you might feel the campaigns are worth their weight in gold, metrics do not lie. That's why GaggleAMP can be tracked within Google Analytics, giving you a holistic view of the performance of your campaigns.
Let's take a look at how to connect your GaggleAMP account to your Google Analytics.
How to Connect Google Analytics to Your GaggleAMP Account
Desktop
From the Manager Dashboard, navigate to your profile image (or initials) in the upper right-hand corner and select 'Gaggle Settings' from the drop-down. Click 'Integrations' from your navigation bar.

From here you will see that GaggleAMP can be connected to several different marketing tools for tracking, such as:
Marketo

Oracle Marketing Cloud
To select the marketing tool for your tracking, simply click the radio dial in the upper left corner of the Google Analytics card.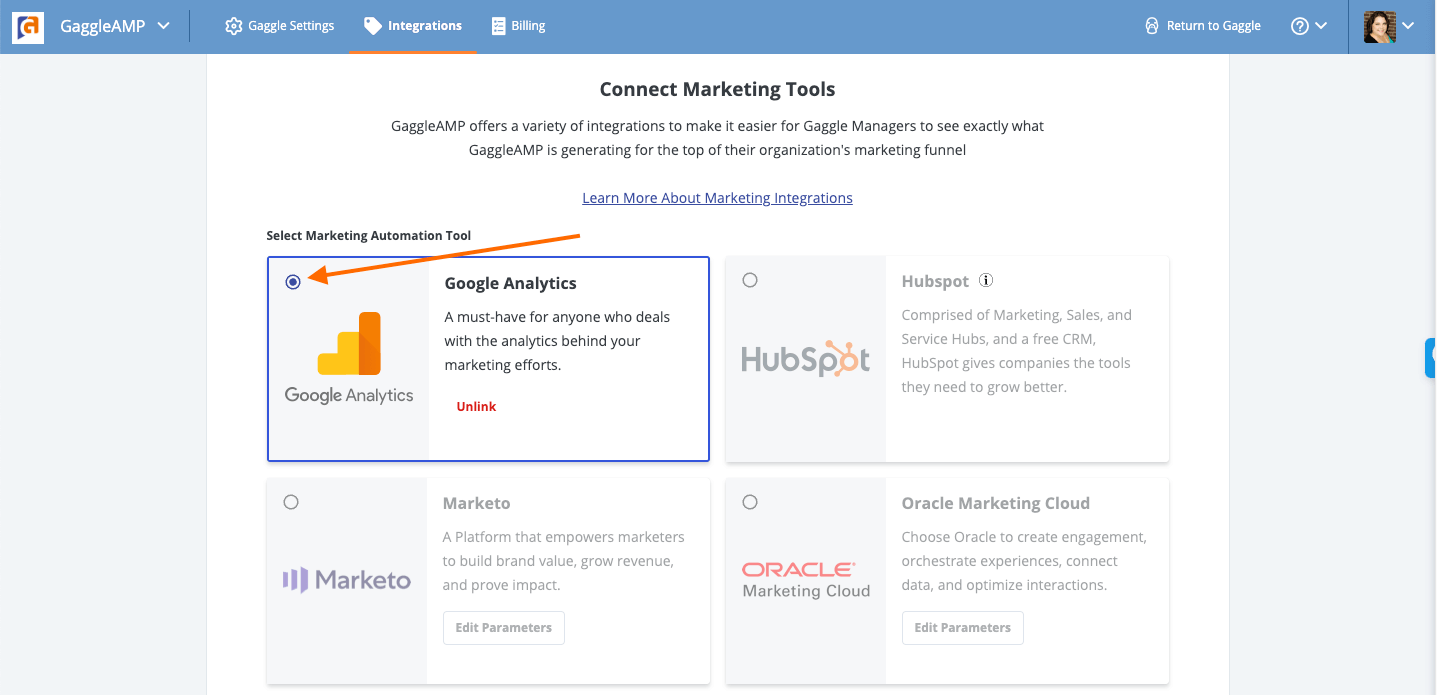 Once chosen, that's it - the default marketing analytics tool is Google Analytics. If at any time you need to connect a different marketing automation tool, simply click 'unlink' on the Google Analytics card, confirm you want to unlink, and choose the radio dial on the tool you want to replace the connection with.

Note: You'll notice that the Google Analytics integration lives amongst the marketing automation tools. The marketing automation tool connections add UTM parameters to the shortened activity links. Clicking a different integration just changes the default UTM parameters used.
For options with "edit parameters" buttons (like Marketo and Oracle Marketing Suite), you can edit the parameters to your liking. For the options without "edit parameters" buttons (like HubSpot), you can use only the default settings. Even if you choose to integrate a marketing automation tool like HubSpot, the UTM parameters will still be visible in your Google Analytics instance and any other tools that track using UTM parameters.
Enabling Tracking Once Connected to Google Analytics
When this integration is enabled, you'll want to ensure that the right parameters are being applied to messages you would like to track.
To enable tracking, you'll first need to start by creating an activity. From the Manager dashboard, choose New Activity.

Next, you'll need to choose an activity type. For the activity types below, you can 'enable tracking' in the creation of that activity. These activities include:
In the activity creation for any of these five activities, you will see a pre-checked box for 'Enable Tracking?'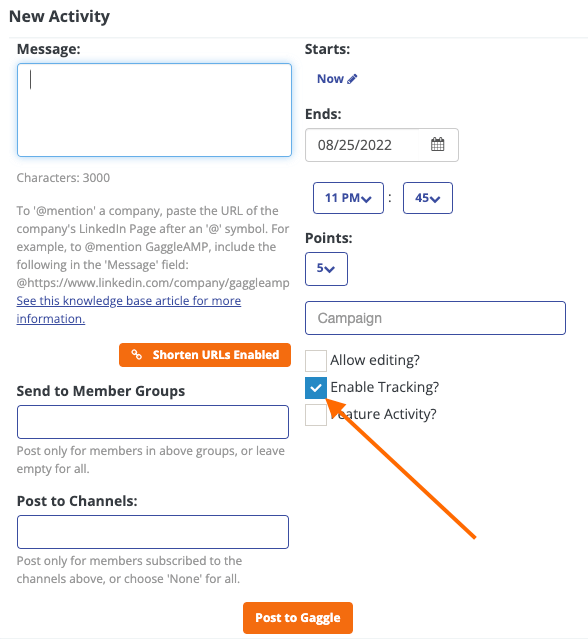 This allows you to track the performance of this Activity in Google Analytics. As a best practice, you should plan to select a campaign too. This allows you to further segment your Gaggle traffic inside Google Analytics.
Locating Your Traffic in Google Analytics
Navigate to Google Analytics and log into your account.

Note: You will need to have Google Analytics permissions to view these metrics. Any permission level will provide you with read access.
Once logged in, navigate to 'Acquisition' on the menu on the left and then choose 'Campaigns' and 'All Campaigns.'

Here you will find traffic coming from your GaggleAMP activities. Activities completed with traffic generated but no campaigns attached to the original activity will appear as "none (GaggleAMP) inside Google Analytics.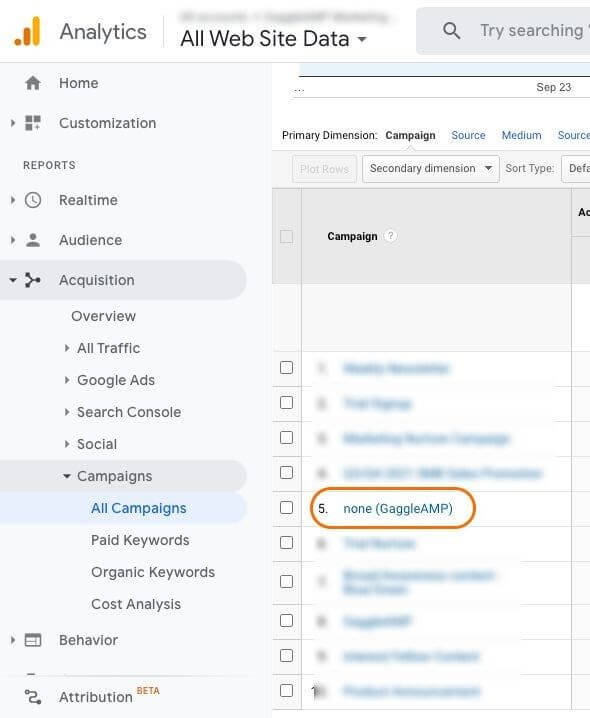 Traffic from activities with campaigns attached will appear with the campaign name. You can see the details of these campaign contributions by simply clicking "none (GaggleAMP)." This will then display any campaigns that have generated traffic during your specified time period.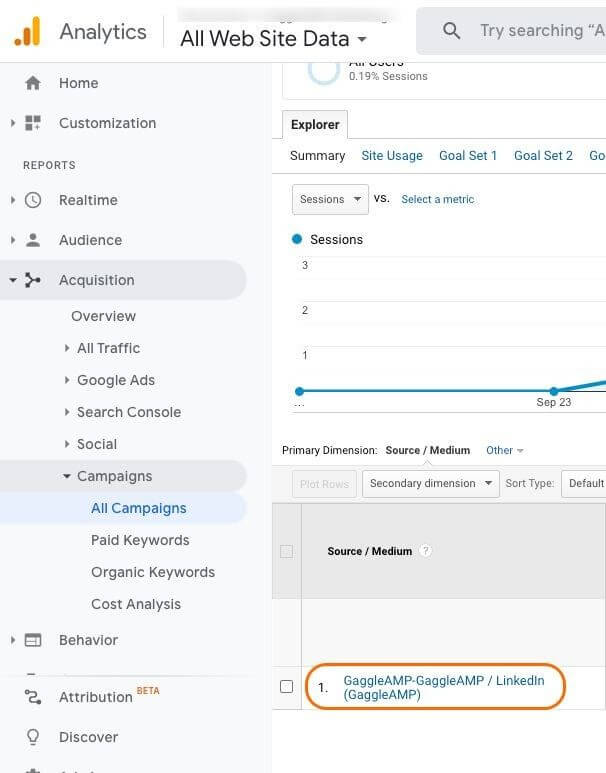 Mobile
Setting up your Gaggles integrations can only be completed from a desktop device at this time.
Managers Who Read This Article Also Liked: