Peanut Butter and Jelly. Batman and Robin. Chocolate chips and cookies.
Some things are just better when you put them together, kinda like GaggleAMP and Salesforce Pardot. While both are powerful in their own right, leveraging GaggleAMP with your Salesforce Pardot marketing automation solution is an excellent way to better track the attribution of your campaigns directly with the short link you're already familiar with.
Let's take a look at how to connect your Salesforce Pardot account to your GaggleAMP Gaggle.
How to Connect Salesforce Pardot to GaggleAMP
From the Manager Dashboard, navigate to your profile image (or initials) and select 'Gaggle Settings' from the drop-down. Select 'Integrations' from the navigation bar.

From here you will see that GaggleAMP can be connected to Marketing Tools such as:
To select Salesforce Pardot, simply click the radio dial in the upper left corner of the Pardot card.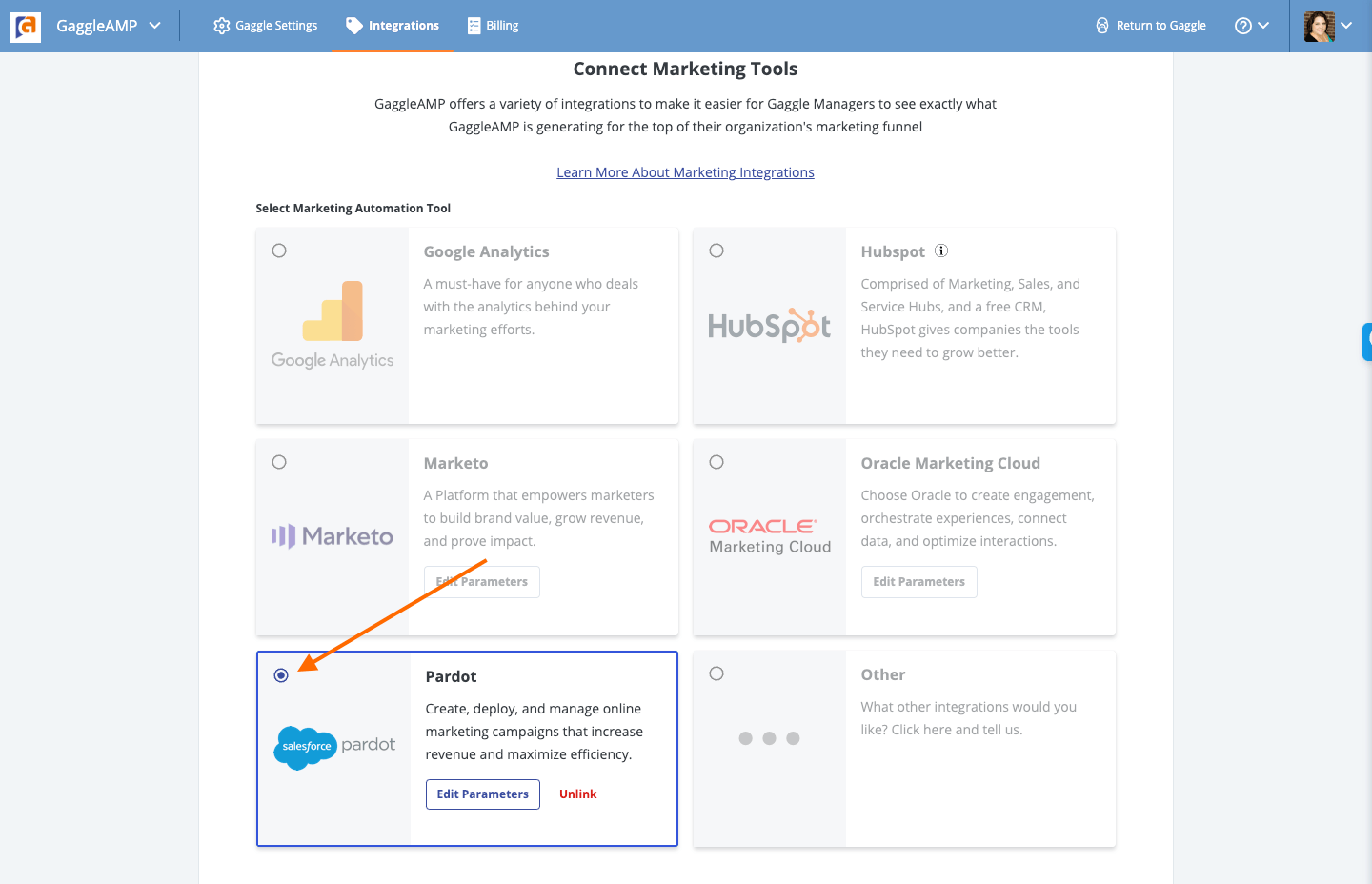 Once chosen, that's it - the default Marketing Automation Tool is Salesforce Pardot. If at any time you need to connect a different Marketing Automation Tool, simply click 'unlink' on the Pardot card, confirm you want to unlink, and choose the radio dial on the tool you want to replace the connection with.

Note: The Marketing Automation Tool connections add UTM parameters to the shortened activity links. Choosing a different integration changes the details of the default UTM parameters used.
Salesforce Pardot does allow you the ability to edit parameters. Selecting this option will display a slide over in which you can set your defaults and query parameters. Even with Salesforce Pardot integrated, UTM parameters will still be visible in your Google Analytics instance and any other tracking tool that tracks using UTM parameters.

Enabling Tracking Once Connected to Salesforce Pardot
When this integration is enabled, you'll be able to track the effectiveness of your GaggleAMP campaigns in Salesforce Pardot.
To enable tracking, you'll first need to start by creating an Activity. From the Manager dashboard, choose New Activity.

Next, you'll need to choose an Activity type. For the Activity types below, you can 'enable tracking' in the creation of that activity. These activities include:
In the Activity creation for any of these five activities, you will see a pre-checked box for 'Enable Tracking?' This allows you to track the performance of this activity in Salesforce Pardot. As a best practice, you should plan to choose the campaign here, too. This allows you to further segment your Gaggle traffic inside Salesforce Pardot.
Locating Your Traffic in Salesforce Pardot
Visitor referrer information can be located inside your Salesforce Pardot marketing automation platform. To access, navigate to Prospects, then Visitors. Here you will see the visitors and the referring URL listed. This will appear in blue underneath their IP address or Hostname alongside an icon of which vendor they were referred from.
Here you can then drill into the visitor session. When that visitor becomes a known visitor or identified prospect, you will see the visit and its referring URL as an activity in the Prospect Activities table.
Please visit your Pardot Help Center for more information on Managing Pardot Visitors and Prospects.
Managers Who Viewed This Article Also Liked: