GaggleAMP Channels make it easy for Managers and Members to organize content, find activities that are relevant to certain groups, and posts to engage with.
Channels are a convenient way to organize content by topic and Gaggle Managers use Channels as a way to drive relevant content to their Members. Members have the opportunity to subscribe to Channels in order to filter content relevant to them. This leads to higher participation because Members are less likely to get frustrated and abandon the program because they are not sifting through irrelevant content.
But, before diving into the deep end, it's important to consider how you are going to set up your Channels. You need to identify your Channel strategy.
What is Your Channel Strategy?
Channels can serve a formal business purpose, like communicating event details or relaying information about a product line, or they can be casual and include topics such as 'Watercooler' or 'Weekend Plans' to open up engagement with your teams. Before delving into Channels with your Members, you'll need to consider what structure works best for your company, or even a combination of structures.
Here are a few common structures we've seen when setting up Channels.International Teams & Multi-Unit Locations
Communications may vary by location, but every location may have a vested interest in the same topics. For instance, you might see Channels separated into different topics but the user groups are reserved for segmenting by location.
Segmentation by Department
Channels can be set up to have relevant activities, posts, and discussions based on happenings in a company's department. In these instances, you might see Channels set up by departments, like Marketing, Sales, Product Development, Customer Success, IT, and more. Content that appears in those channels is specific to those departments.
This can also be achieved by segmenting the departments into User Groups and Channels by topic.
Product Line & Partnerships
In addition to any of the above, it is helpful to see Channels by product line or by partnerships to communicate activities or acquire posts by subject matter experts in these areas. Product-specific or relationship-specific activities and posts can be created to learn more about the product or partnership. Examples of these Channels may be by product name or partnership name if you have many.
Of course, the setup of your Channels will be unique to you and your company.
How to Create a Channel
Desktop
To create a Channel, if in the Manager view, click on 'Channels' on the top navigation menu.

Once you are on the 'Channels' page you will see an option to 'Create Channel'. When you click on this button a slide-over bar will appear where you can curate the details of your channel.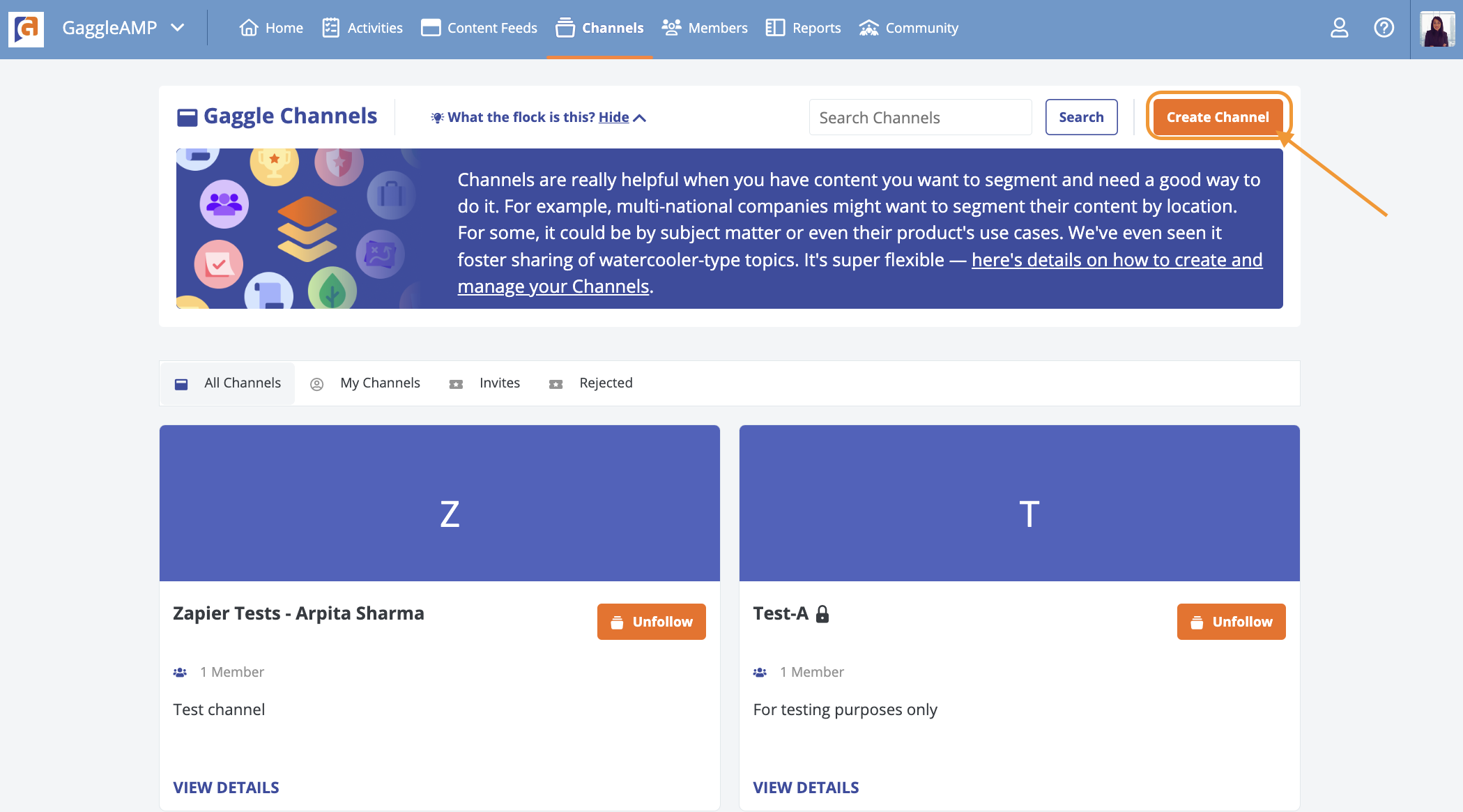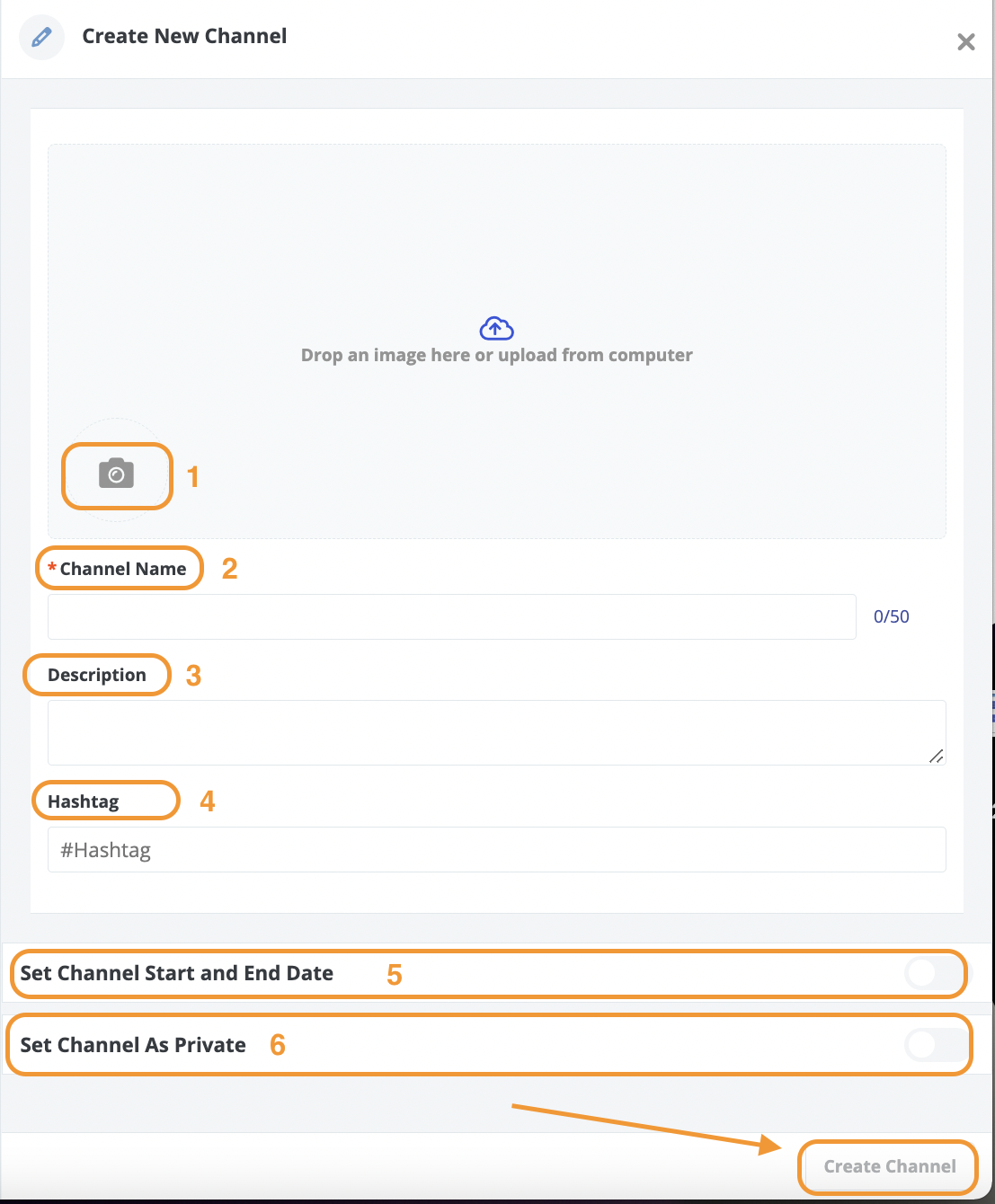 Photo:

Drop an image here or upload an image from your computer. The image you choose here will appear at the top of the Channel.




Channel Name: This is the Channel title. It should be specific enough to know the contents of the Channel but also short and sweet.

Description: This describes the contents of this Channel and what to expect for activities and posts. Members of your Gaggle have the option to search for Channels through the Activities feed in the Discover section. If it is a public channel, it will be visible to your Members to join.

Hashtag: This is the hashtag associated with this Channel. Adding a hashtag to a Channel automatically applied this hashtag if you create an Activity from a post within this Channel.

Set Channel Start and End Date: Most Channels will not require a start and end date if you want them to be evergreen. However, from time to time, there are Channels that you may create that are time bound, like for an event. In that instance, you can set a start and end date for this Channel.
Note: Posts cannot be made to a Channel before the start and after the end dates. The Channel and its content are visible until the Channel is deleted. So, you will see a Channel in "My Channels" before the start date but won't be able to post to it until the start date.



Set Channel As Private:You might want to create a Private Channel from time to time. By selecting the 'Set Channel as Private' toggle, it will only be discoverable to those invited to the channel who will see it in the 'Discover Channels' section. The creator of the Channel may invite Members to this Channel or retain it for personal use.
Example of a completed slide-over for a Sales Channel specific to USA: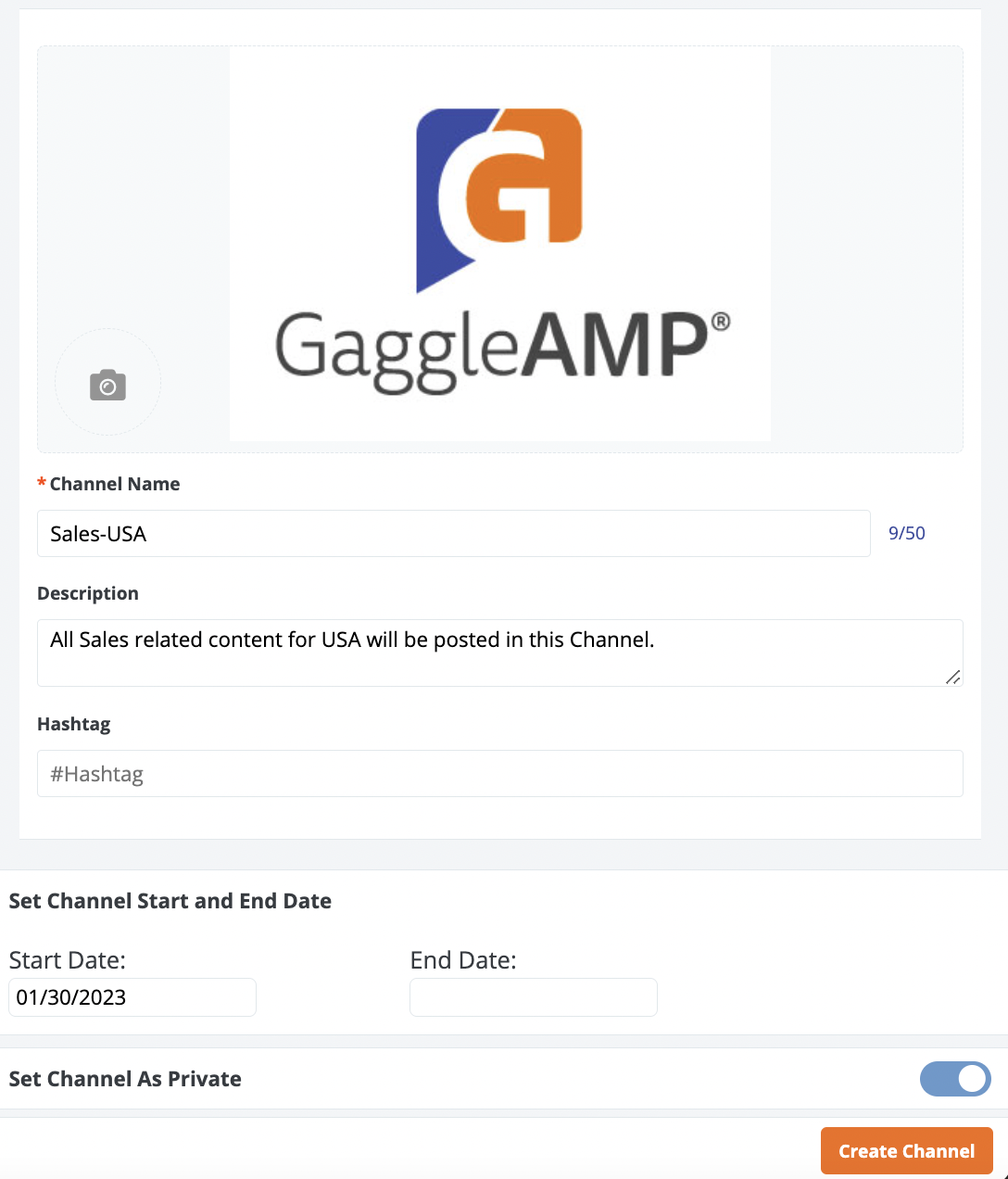 Once you click 'Create Channel' it will appear in the 'My Channels' feed. By clicking on 'View Details' of that Channel, a sidebar will appear where you will be able to edit the details of this channel and add new members.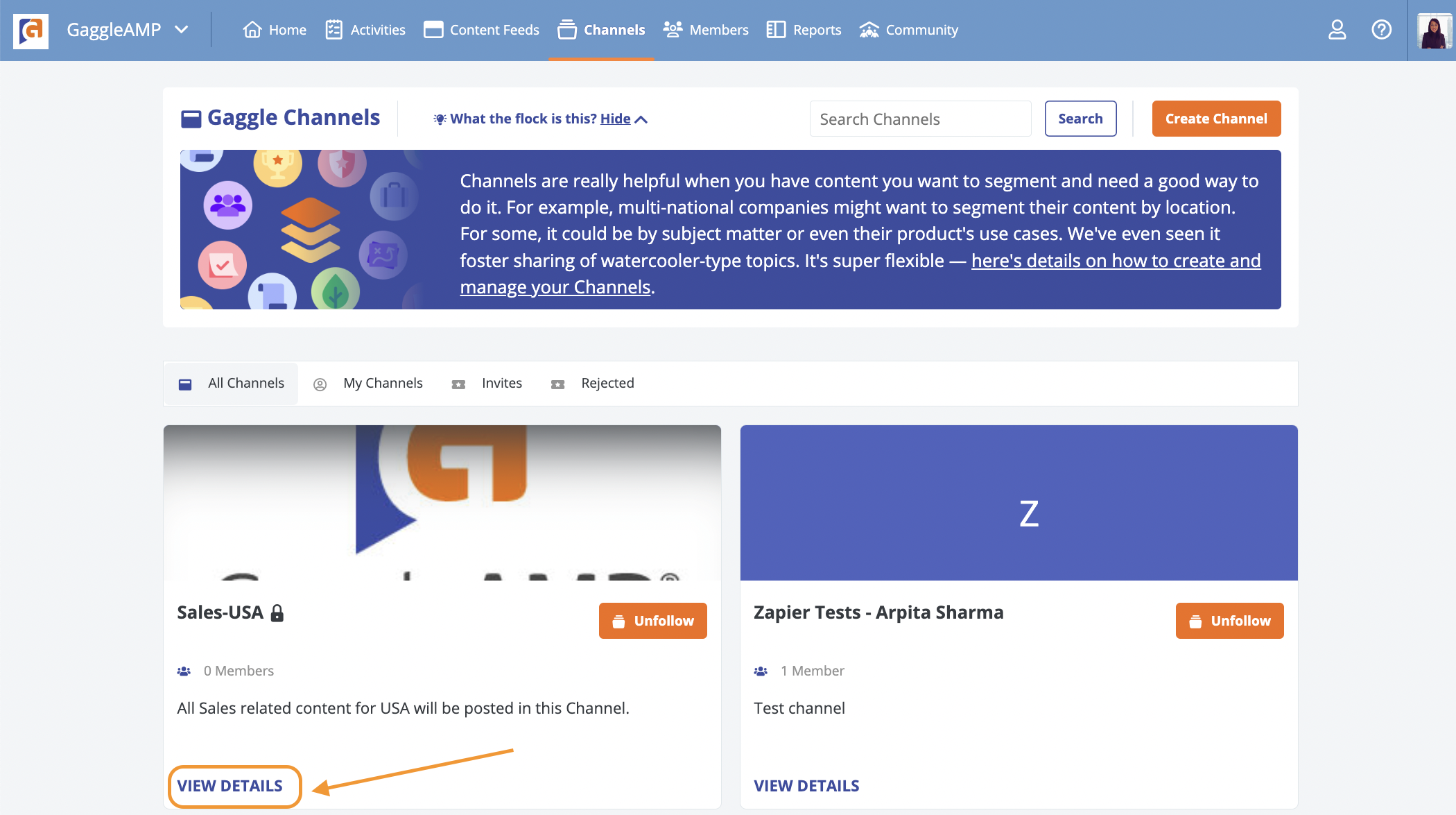 You can also edit the details of the Channel by clicking on the three dots on the sidebar. This includes modifying the images, Channel Name, Description, Hashtag, Start/End Date, and even Privacy. You can also mute or unmute the channel by clicking on the bell icon next to the three dots.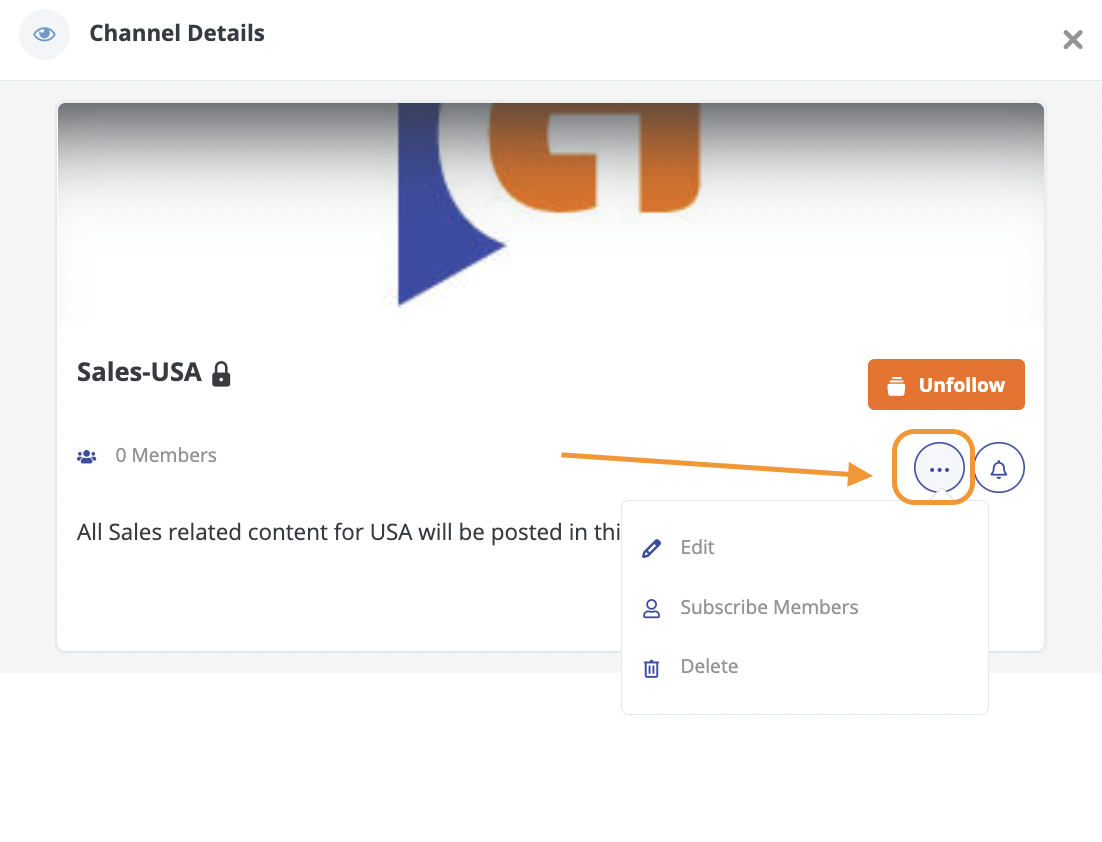 Inviting Members to a Channel
Unless a Channel was created to be a private Channel, all Channels are discoverable. Even if a channel is public, you may want to invite Members to it in order to draw their attention to it. Let's take a look at how to invite others to your Channels.
First, you'll want to open the Channel to which you want to add Members. If you have not already opened a Channel, choose the Channel you want to add people to from the 'My Channels' view and click on it. Next, locate the circle with the three dots. A drop menu will appear with an option to 'Subscribe Members'. A slide-over will appear where you can search for Members of your program using the search bar or segment them by user groups. Choose the checkbox next to their name and select 'Invite Members' when you are happy with your selections.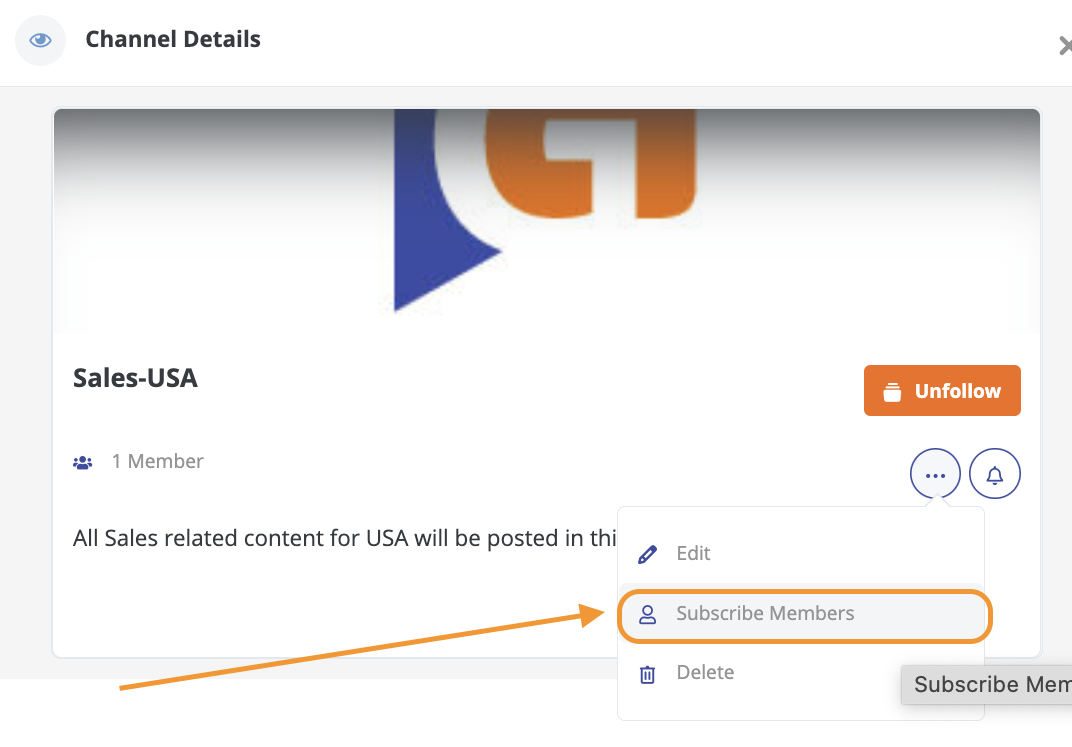 Locating Channel Invitations and Rejections
From time to time, a Manager might want to see which Members have accepted invitations or declined invitations to certain Channels. They can locate this information on the Channels page by clicking on 'Invites' and 'Rejected'.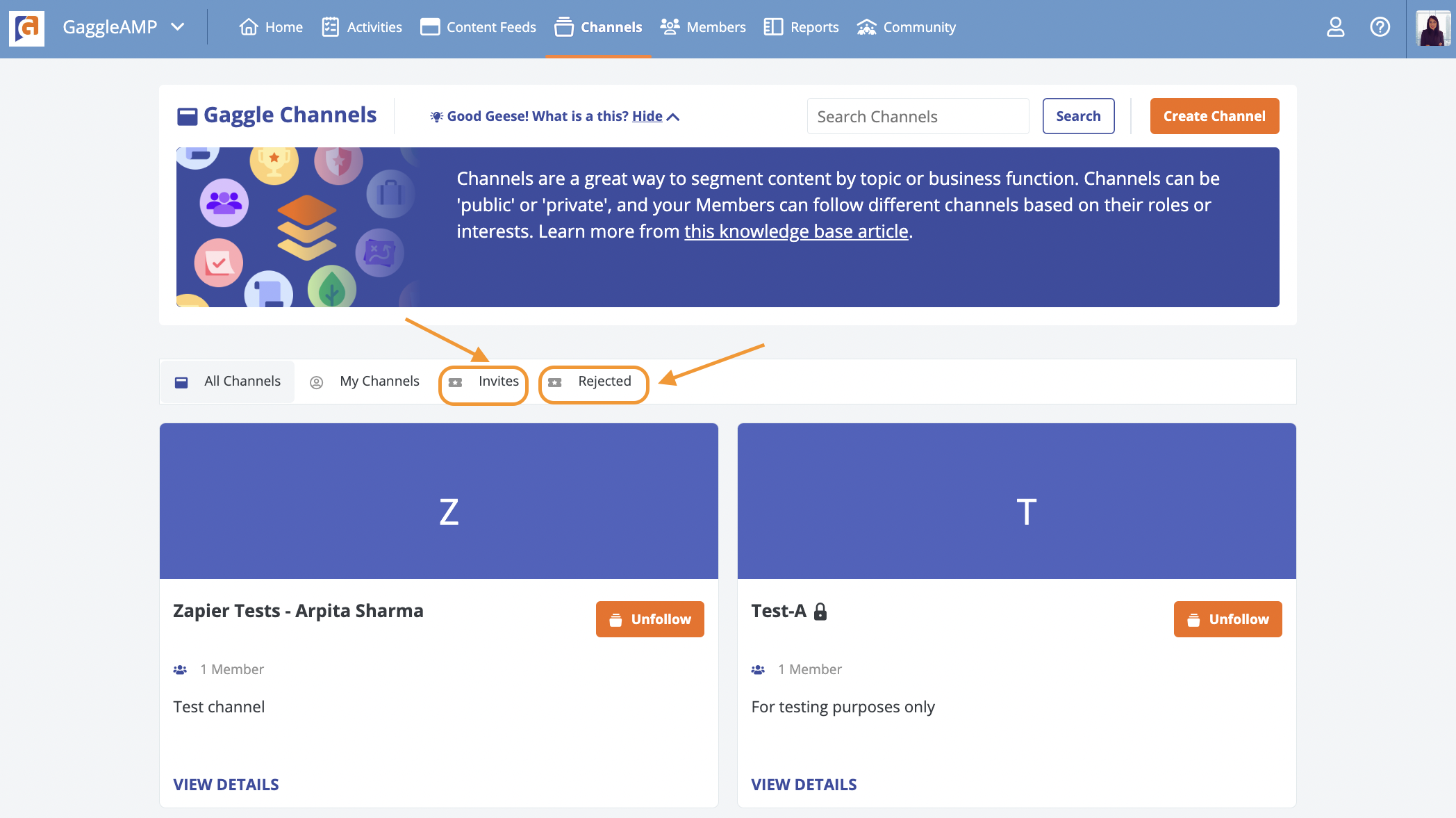 How to Create a Channel
Mobile
To create a Channel in the mobile app, open the 'More' hamburger in the lower right corner, click on the '+' in the top header, and then add your Channel details.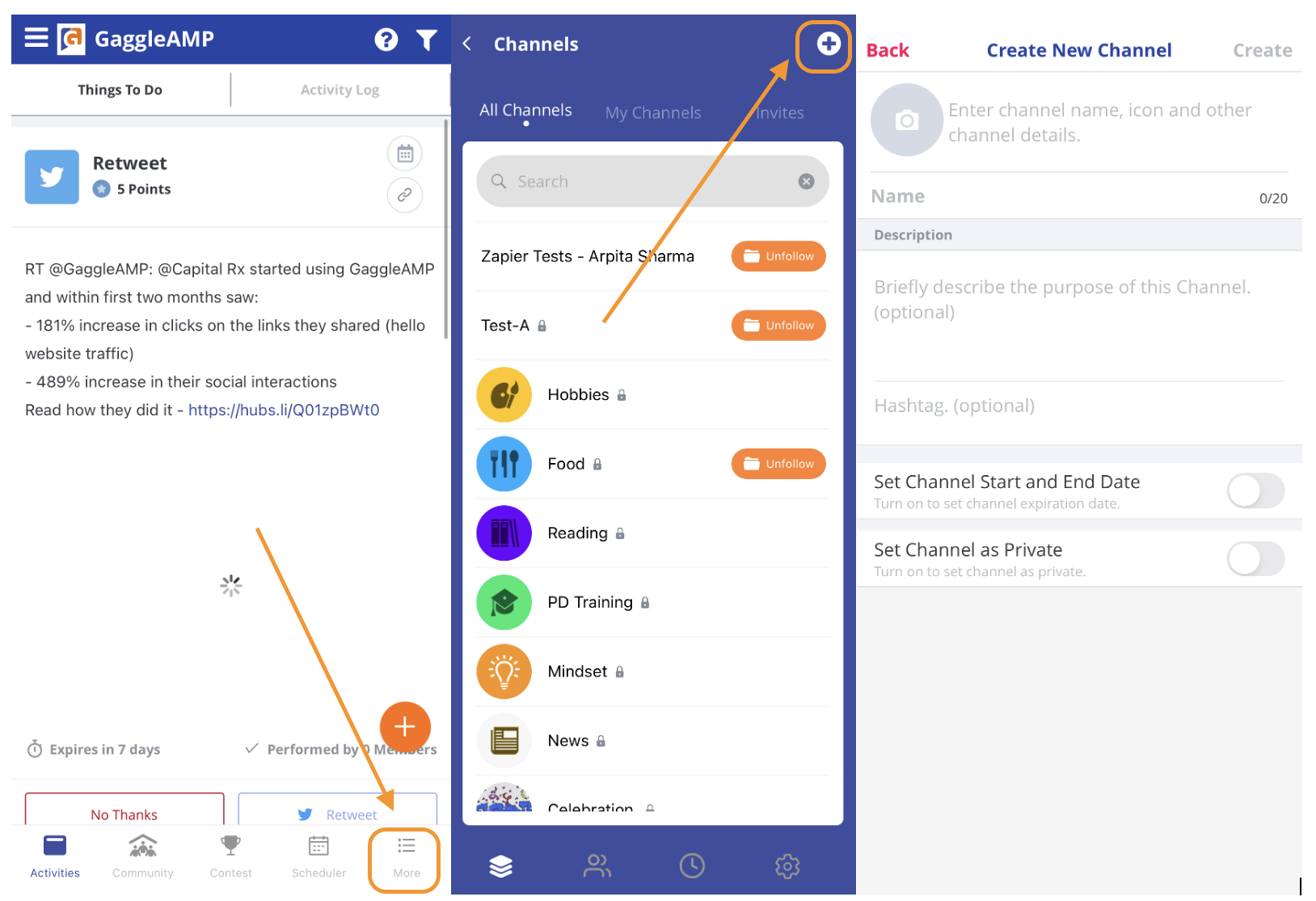 Managers Who Read This Article Also Liked: