Channels with GaggleAMP were designed to be more Member-centric and to allow Gaggle Managers to segment content to different Members.
Effective ways we've seen Channels segmented are by:
Geography

Language

Department

Vertical

Product

Content Type (Corporate News, Thought Leadership, etc.)
Channels allow you to put relevant Activities in front of the appropriate Members for the largest social impact. With Channels segmenting content, Members can choose to opt-in or opt-out of the content shared here. The Gaggle Manager segments content into these Channels to make it easier for Members to discover things they'd like to share.
There are no limits to the number of Channels you can create, so be creative and see which ones take off with your Members.
Channels can be created by both Managers and Members. While Members only have access to Public Channels and Private Channels that they are invited to, Managers have access to all Channels regardless of who created them.
Understanding the Difference Between Private Channels and Public Channels
Both Managers and Members have access to Channels from the navigation bar.
Manager View:

Member View:

Private Channels
When a Channel is being created by a Gaggle Manager, they have the option to make it private. This means only those members who have been invited to the Channel will see the contents of that Channel. You can distinguish a Private Channel from a Public one by the presence of a 'lock' symbol next to the Channel name.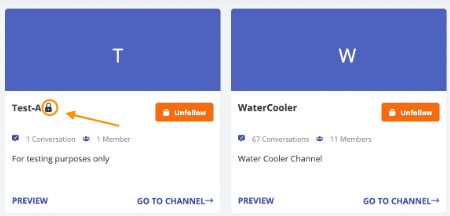 Public Channels
Everyone in the Gaggle has access to Public Channels and they will not have a 'lock' symbol next to the Channel name. Members can choose to follow or unfollow these Channels depending on their interests. Only Channels that a Member follows will appear in their 'My Channels' list, helping to focus the content they want to consume.
In some cases, Members may want to participate in a conversation happening on a Public Channel which they do not follow. They can still access it by going to 'All Channels'.
Manager View:

Member View: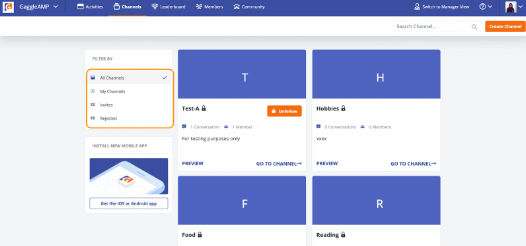 Where can Members Find Invitations to Channels?
Members can find the invitations under the 'Invites' section under 'Filter' on the left side of their screens.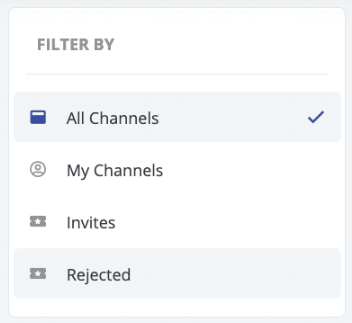 Can Members Reject an Invitation to Certain Channels?
Yes, Members can decide to reject invitations to some Channels or Unfollow them at a later time. However, they can still find the Channels they rejected under a 'Filter' in the Channels section and choose to follow them at a later time.