Participating in an employee advocacy program helps boost your market presence, define your personal brand, and so much more. And while the leaderboard is great to see how you compare to your fellow participants, sometimes your Gaggle Managers want to take it a step further and provide rewards for you to redeem on the GaggleAMP platform. Let's take a look at how that works.
How Do Members Redeem Their Rewards
Desktop
From the Leaderboard tab, select 'Rewards.'

You can also access your Rewards panel by scrolling down on your 'Things to Do' dashboard and it will be near the end of the left-side widget bar.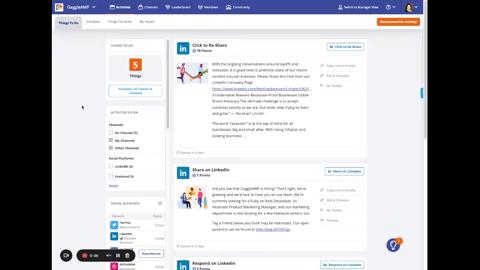 From the left-side widget bar view, you can either toggle through the arrows on the image to see other Rewards available to redeem or click on 'View All.' If there are no rewards present, your Gaggle Manager does not have any active rewards for you to redeem.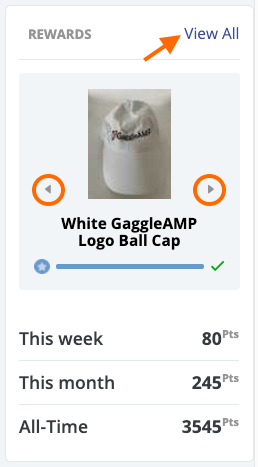 By choosing 'View All' or navigating to the Rewards section from the Leaderboard, you can see a library of rewards to redeem. To redeem the reward, click the green 'Redeem!' button.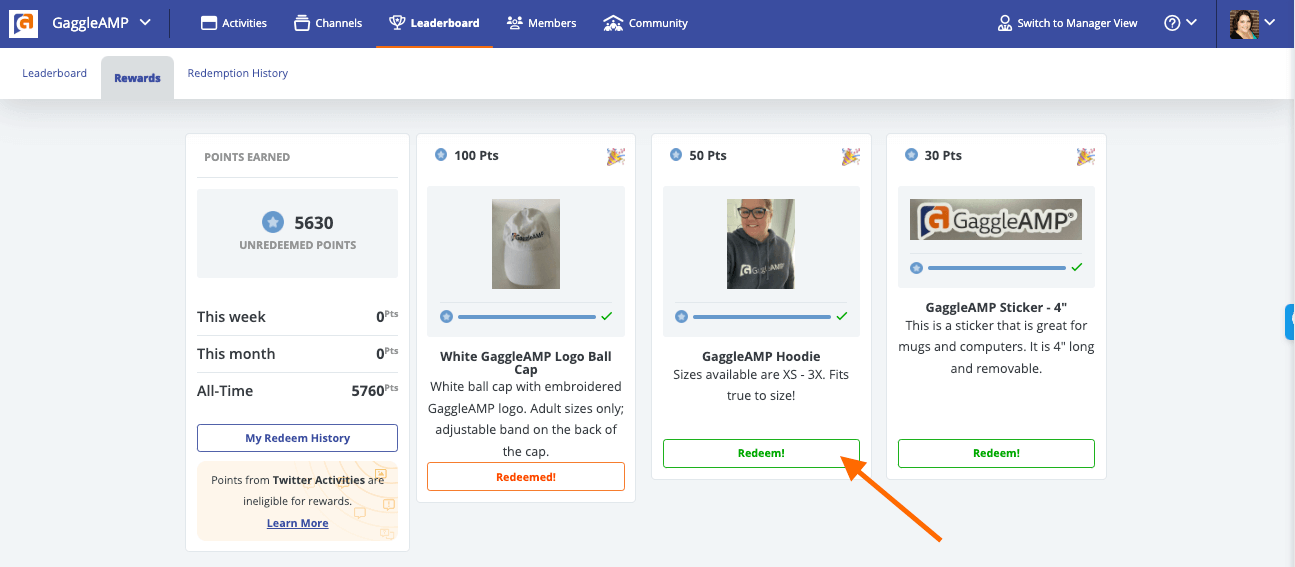 A slide-over will appear with any further redemption questions. Keep in mind that your responses here will go directly to your Gaggle Managers, but these responses are not retained once your Gaggle Manager has fulfilled your item. This may mean that if you redeem rewards over time, you might see the same question (e.g. "What size shirt do you want?") asked more than once.
Once the questions have been answered, then choose 'Redeem reward.'
Note: In the instance there are no questions to ask, simply choose 'Redeem reward.'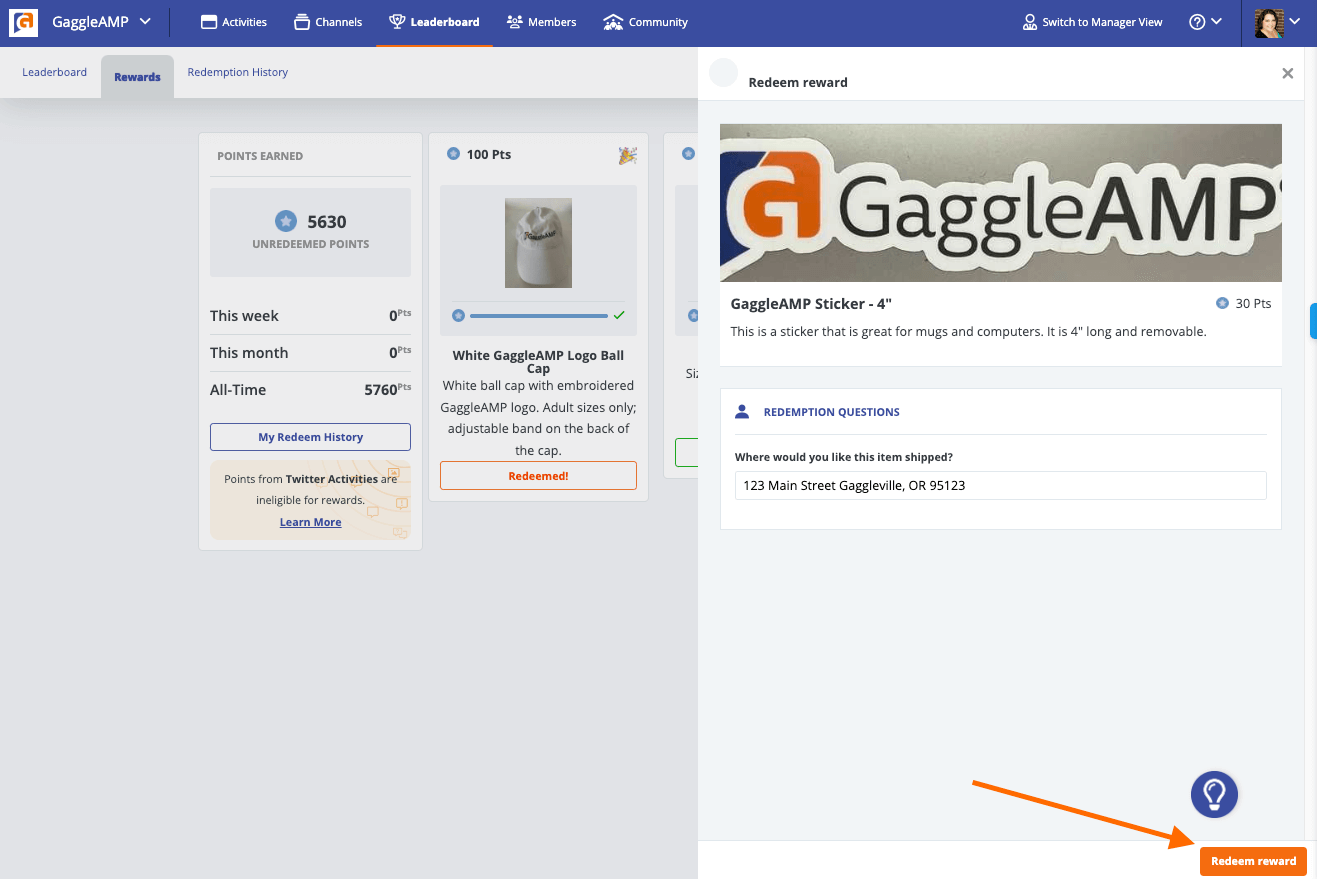 💡 Important Note: You might have noticed that the number of points you have on the leaderboard does not match the number of points you can redeem on rewards. This is because GaggleAMP cannot provide points for rewards for activities completed on the Twitter platform. While it counts towards your place on the leaderboard, we cannot incentivize your participation on Twitter. For more details about that decision, please visit our knowledge base.
Mobile
To view potential rewards from your Mobile device, tap on the 'Contest' icon at the bottom of the screen.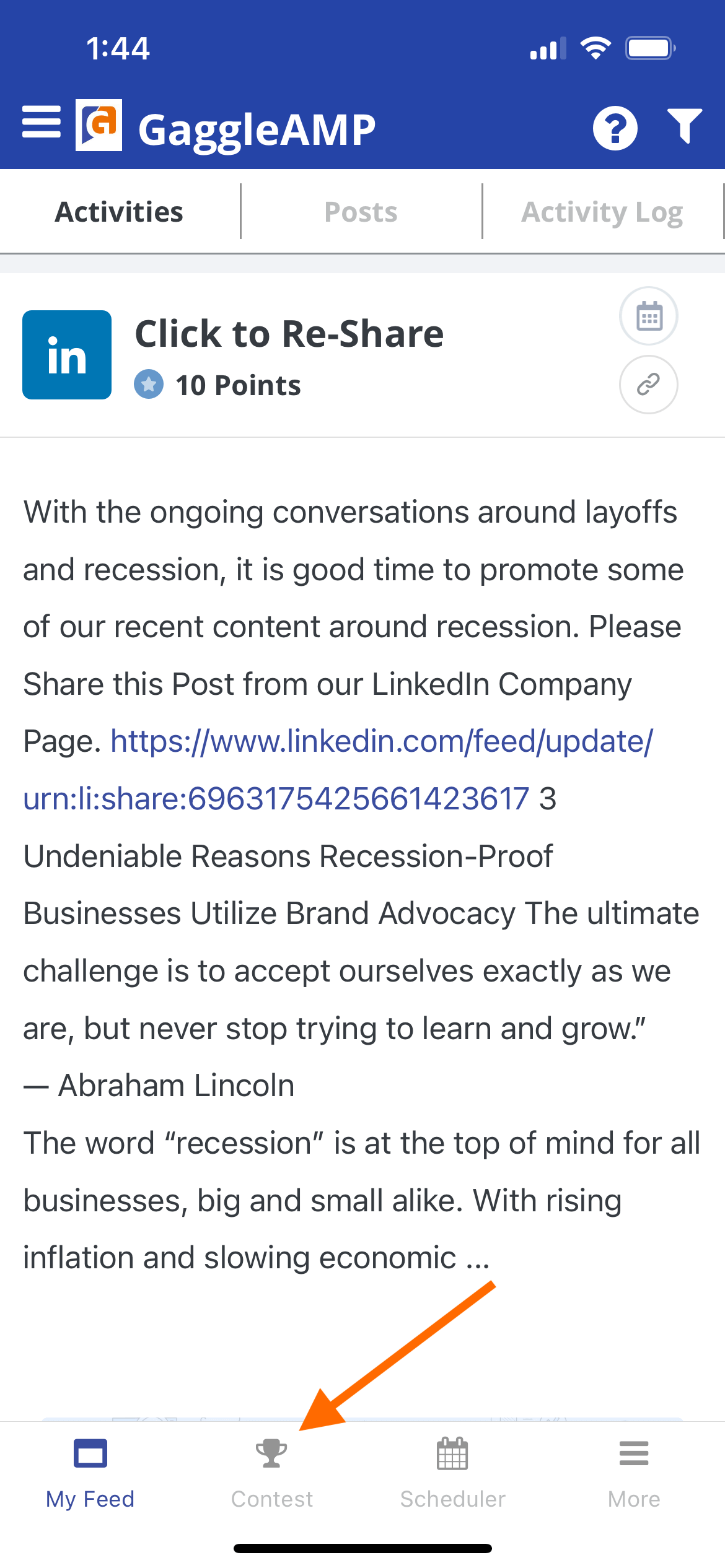 Here you'll see both the Leaderboard and the Rewards subheading at the top - choose 'Rewards.'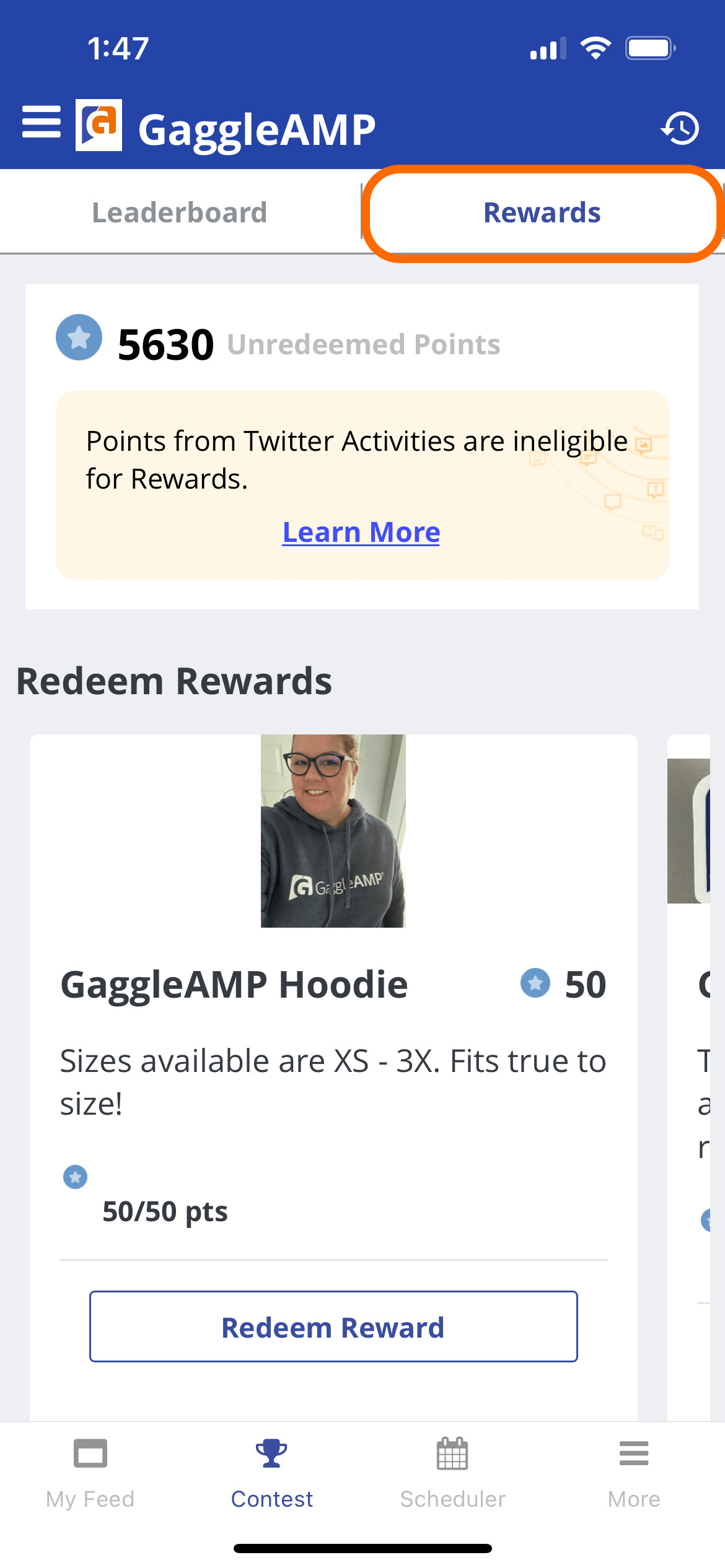 Once you find a reward they want to redeem, tap the 'Redeem Reward' button. If the Gaggle Manager requires an answer to a redemption question, you will need to provide a response. Once all questions have been answered, tap 'Redeem' in the upper right of the screen.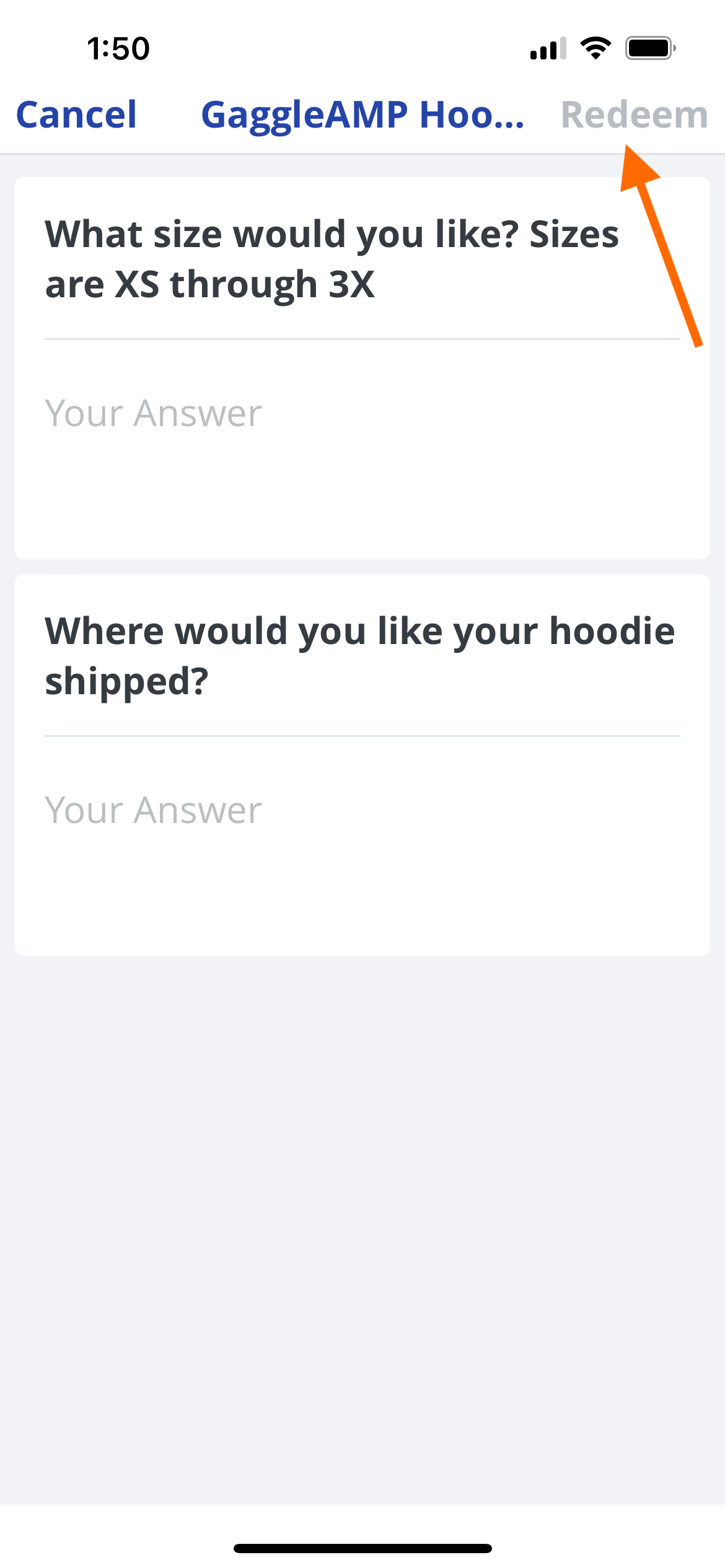 Once redeemed, you'll see an email indicating the redemption was successfully sent to the Gaggle Manager.
How Do I See My Redeemed Rewards?
To see what items you have redeemed, select 'Rewards' from the 'Leaderboard' tab. If you have redeemed a reward, the button will appear red and is marked redeemed.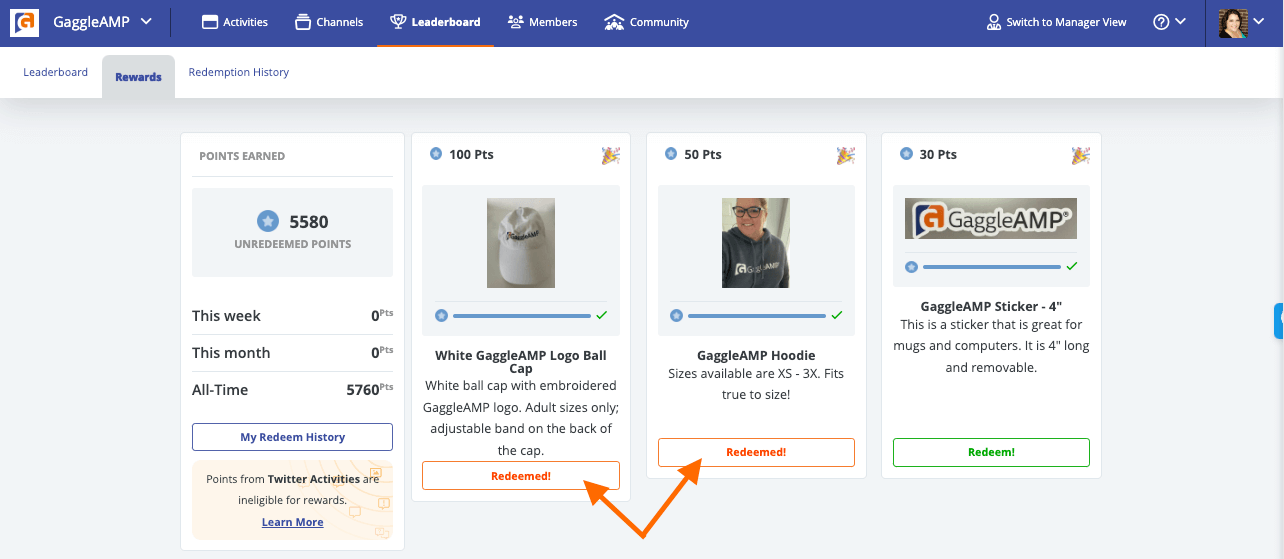 You can also access your 'Redemption History' from the 'Leaderboard' tab to see when your redeemed rewards have been activated, fulfilled, or canceled.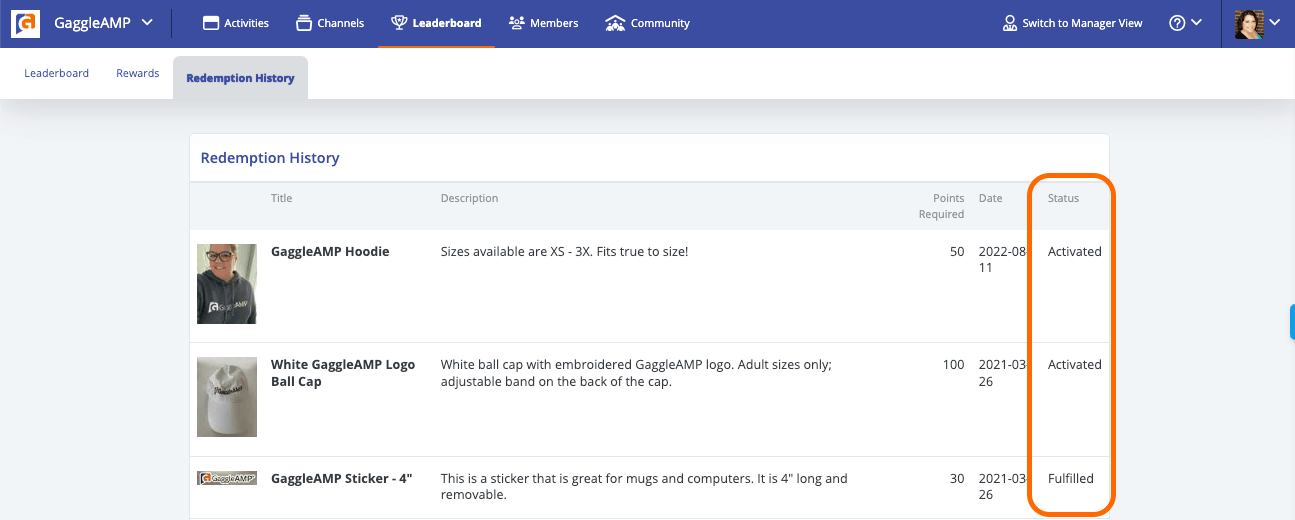 These rewards are not fulfilled by GaggleAMP but rather your Gaggle Manager(s). Details of the redemption will be sent to all Gaggle Managers associated with the Gaggle so they can fulfill your reward.


Mobile
At this time you can redeem your rewards on mobile and you can view what rewards have been redeemed. You can access the redemption history by clicking the rewind arrow icon in the upper right-hand corner.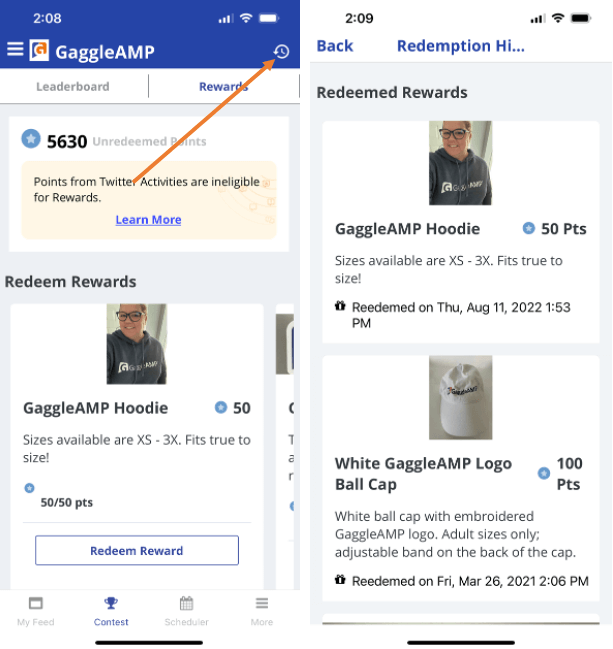 Still have questions? Contact your Customer Success Manager or Submit a Support Ticket and we'd be happy to help!
Members Who Read This Article Also Liked: