If you've been here a while…thank you! Your dedication does not go unnoticed and your Gaggle Managers (and we) appreciate your participation.
As you know, when you complete an activity in GaggleAMP, each Activity is associated with a point value — 5, 10, or 15 points depending on the activity being completed. These points help you gain rank on the leaderboard. Points also accrue, allowing you to redeem them for cool rewards and prizes if your company participates in GaggleAMP Rewards.
While we will continue to provide you with points for executing Activities, we do have an update regarding the use of points for reward redemptions. Starting August 10, 2022, GaggleAMP will no longer be able to reward points for Twitter-related Activities to use in the redemption of a Reward. We'll explain that decision here.
Why Can I Not Receive Rewards Credit for a Twitter Activity?
GaggleAMP believes that employees should be rewarded and recognized whenever possible for their employee advocacy efforts. This is why when you are given a new activity to complete, we award you for doing the activity.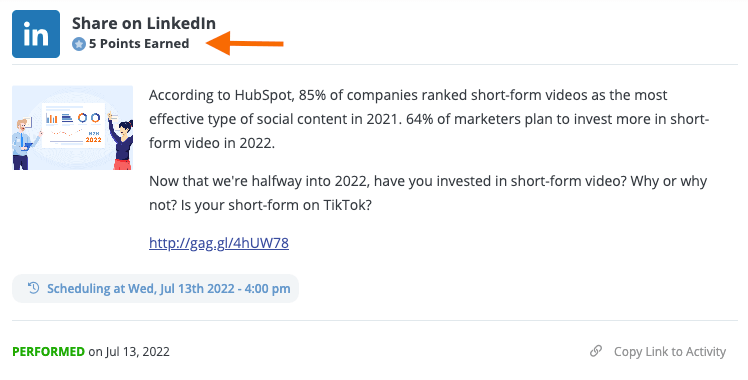 Unfortunately, this can also be considered what Twitter calls 'Pay to Engage.' Twitter defines 'Pay to Engage' on platforms such as ours with the statement:
"Your service shouldn't compensate people to take actions on Twitter, as that results in inauthentic engagement that degrades the health of the platform."
You can read more on their specific policy here.
What this ultimately means for you is that GaggleAMP can give you points for your participation and it will count towards your place on the Leaderboard, but points earned by completing Twitter Activities cannot count towards your redemption of Rewards.
Is This a Twitter-only Rule?
For now, yes. GaggleAMP works with other social media platforms like Facebook, Instagram, LinkedIn, TikTok, Pinterest, and more. For activities completed on all of the other networks, you will receive a point-for-point credit on the Leaderboard and toward your GaggleAMP Rewards.
What Happens to All of the Points From Twitter I've earned before August 10, 2022?
If you have previously completed Activities for Twitter, and have received points for completing the Activity, you get to keep those points. This change is not retroactive. You will keep points previously earned, you just will not earn Rewards-eligible points from Twitter Activities moving forward.
Will I Still Get Reward Points for Other Non-Twitter Activities?
Yes. None of the other networks are affected by this change. Twitter is the only network where you will receive points that will accrue on the leaderboard but are not available to redeem on Rewards.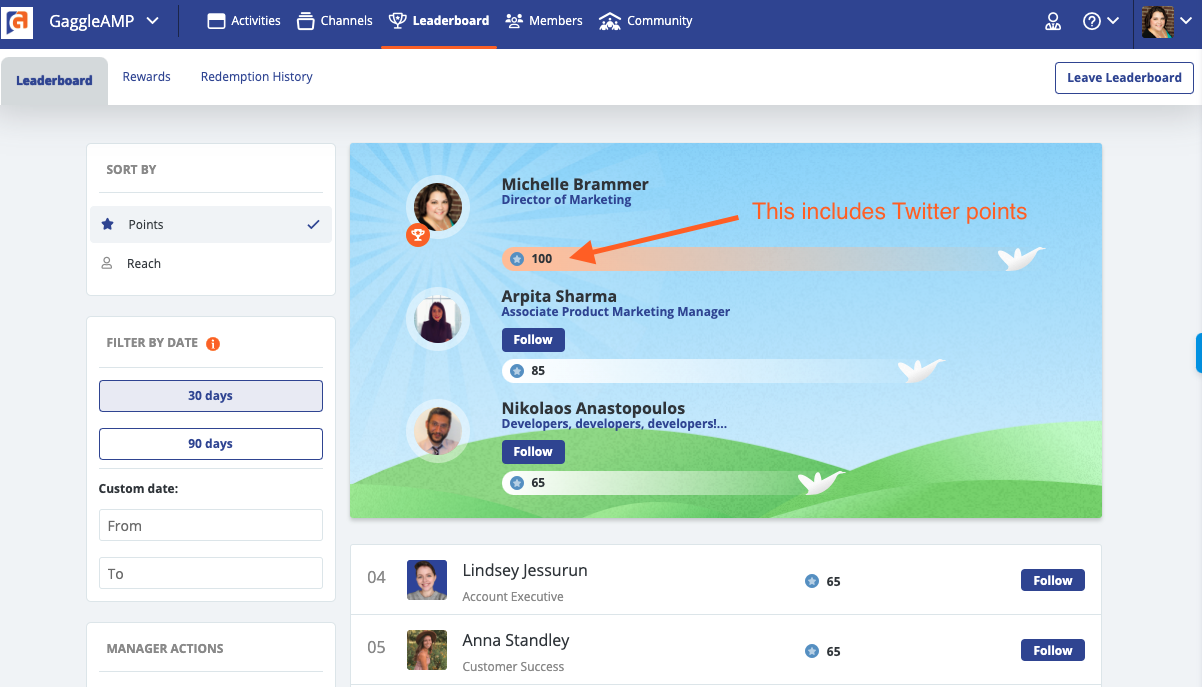 If My Company Doesn't Do Rewards, Does This Change Anything?
Nope, nothing changes. This update only affects those customers using GaggleAMP for Rewards. If your company does not use Rewards, it's business as usual for you.
Who Do I Go to With Questions?
If you are a Member of your company Gaggle, first start with your Gaggle Manager. This is the person who spearheads your Gaggle program. You might also know them as the Gaggle admin.
If you are a Gaggle Manager and you need to better understand how this change impacts your teams, reach out to your Gaggle Customer Success Manager.
When in doubt, email support@gaggleamp.com and our team would be happy to point you in the right direction.
Other Articles That Gaggle Members Like: