From time to time, you might log into the GaggleAMP platform and see you have a banner with a message in it. This is called an Announcement and it is something the Managers of your platform thought was pretty important and wanted you to see.
Announcements are a quick and easy way for your Gaggle Managers to get a message out to all Members of a program. Likewise, they're helping to keep you in the know with company happenings, events, and initiatives.
Let's take a look at an Announcement and how to engage with it.
How to View Announcements as a Gaggle Member
Desktop
As a Member of the Gaggle, you are able to receive and view Announcements from either a desktop device or a mobile device, so long as there is a published Announcement that has not previously been seen.
To view an announcement from a desktop device, you'll need to log in to your GaggleAMP account.
Upon doing so, if a new Announcement is available and it has not been viewed, it will be automatically displayed for you to review.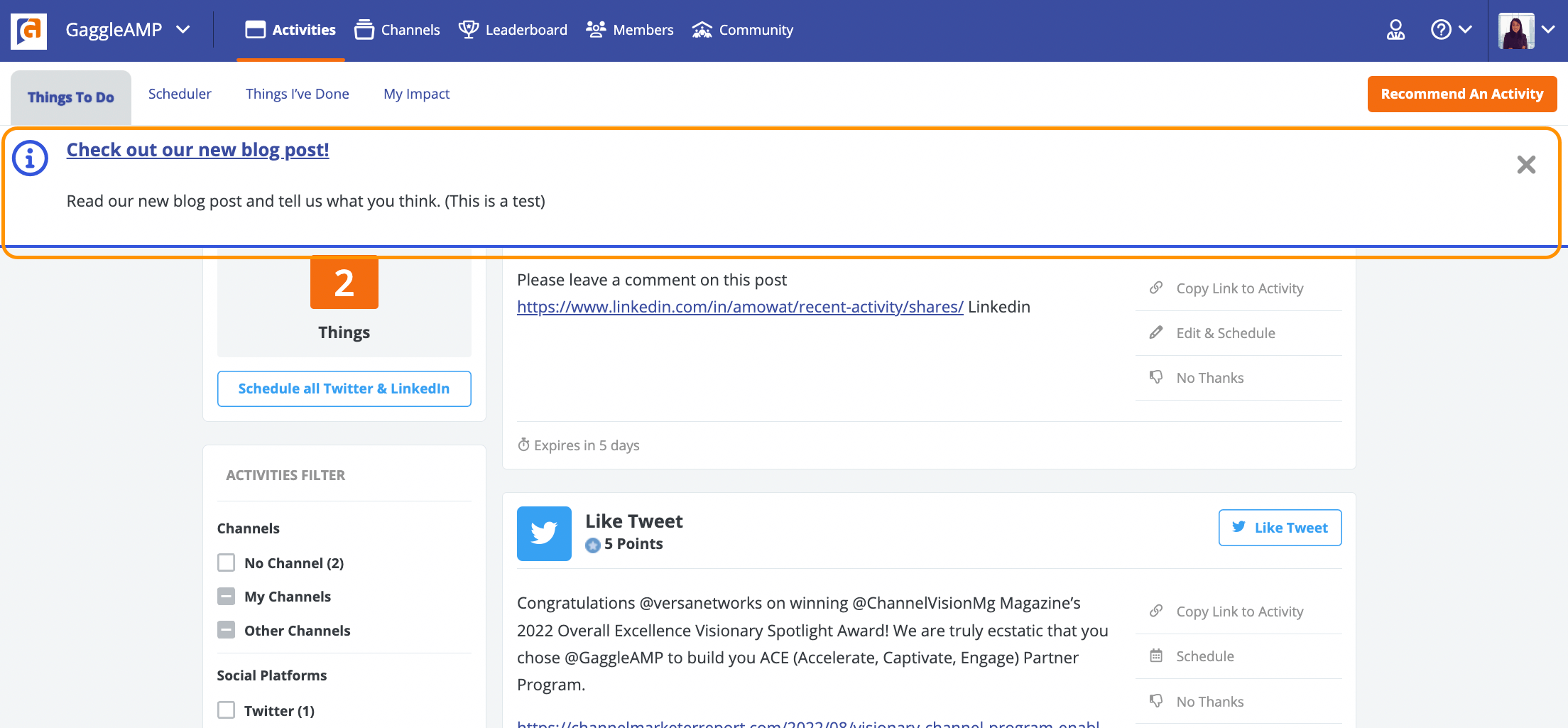 These announcements will be displayed as a banner message near the top of your Member view. In the instance your Gaggle Manager has included a URL for you to view more information, the title (in this instance "Check out our new blog post!") will be hyperlinked. Clicking it will open a separate window to consume the content. Announcements can only be dismissed by selecting the 'X' in the upper right corner. In the instance there is more than one Announcement, you will see a '>' rather than the 'X,' indicating that there is more than one Announcement to be read. You will need to review each active Announcement before an 'X' is displayed, allowing you to close out the notifications.
Mobile
If accessing your Gaggle from a mobile device, you will need to take deliberate action to view new Announcements.
When there are no announcements available, you will see a question mark (help) icon at the top of your screen. However, when one or more announcements are available, that icon will display a bell (alert) with the number of Announcements available displayed in red.
Upon tapping the alert icon, the Announcement will be displayed. Just like a desktop notification, you will need to select the 'X' option to close out the Announcement. If there are more details to the announcement, clicking on it will take you to the content - this can be a link, more details, etc. If more than one Announcement is available, a '>' (next) icon will appear instead. You will need to use this 'next' icon to read each Announcement. When there is only one Announcement remaining, the 'next' icon will become an 'X,' allowing you to exit the Announcements.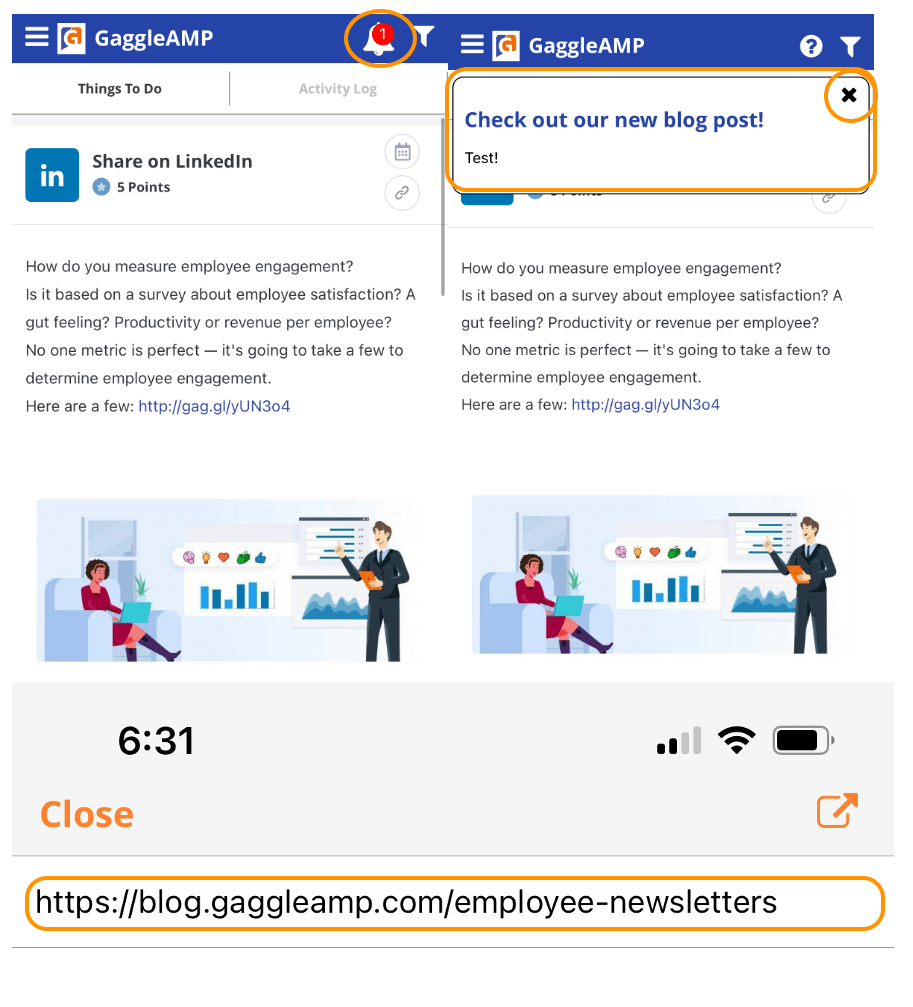 Frequently Asked Questions
What Happens If I Do Not Log Into the Platform Regularly?
GaggleAMP has Members that access Activities on the platform from other points of entry, like integrations with Salesforce, Slack, or email. Members who do not regularly log into GaggleAMP will still receive the Announcements.
When an unviewed Announcement is available and you have not logged into the platform recently, it will appear in the next "You have a new message to share" email. This email is automatically generated by the Gaggle when there are new Activities to perform. When you receive this email, it will include a brief summary of the Announcement along with a link to 'Read More.'
Note:
The availability of a new Announcement will not alter the Member's email notification frequency or scheduled email settings. Members will need to have activity notifications enabled to receive notifications and see the Announcements.
Will my Gaggle Manager Know When I Have Viewed an Announcement?
No, your Gaggle Manager is not notified. All Members of a Gaggle will receive the Announcement notification to review. While GaggleAMP retains viewing records for the purpose of not displaying the same notification to the same Member twice, a Manager cannot pull a report of who has viewed an Announcement.
But remember that this notification is displayed to all Gaggle Members via the platform, and if you are not a regular platform user, via email. It would be hard to say you never received an Announcement or happened to miss it.
Can I Opt-Out of Receiving Announcements From my Gaggle Manager?
At this time you cannot opt out of receiving Announcement notifications from your Gaggle Manager. All participants in your company's employee advocacy program can, and will, receive Announcements scheduled by your Gaggle Manager.
Can my Gaggle Manager See if I Choose Not to Read an Announcement?
At this time your Gaggle Manager is unable to see who did and did not read an Announcement message. That said, GaggleAMP can see the performance of these Announcements and a Gaggle Manager may ask for details on Announcement performance from time to time.
Members Who Read This Article Also Liked: