Hey there and welcome to GaggleAMP. We're really excited to have you and your company working with us for your employee advocacy needs.
GaggleAMP allows you to share company-curated content onto your social media channels. This positions you as a thought leader, advocate in your industry or space, and helps you build relationships online.
Here you'll find a few quick tips to help you get you sharing content in 10 minutes or less.
Create Your Account
You will receive an invitation link from your Gaggle Manager that will allow you to join your company's Gaggle.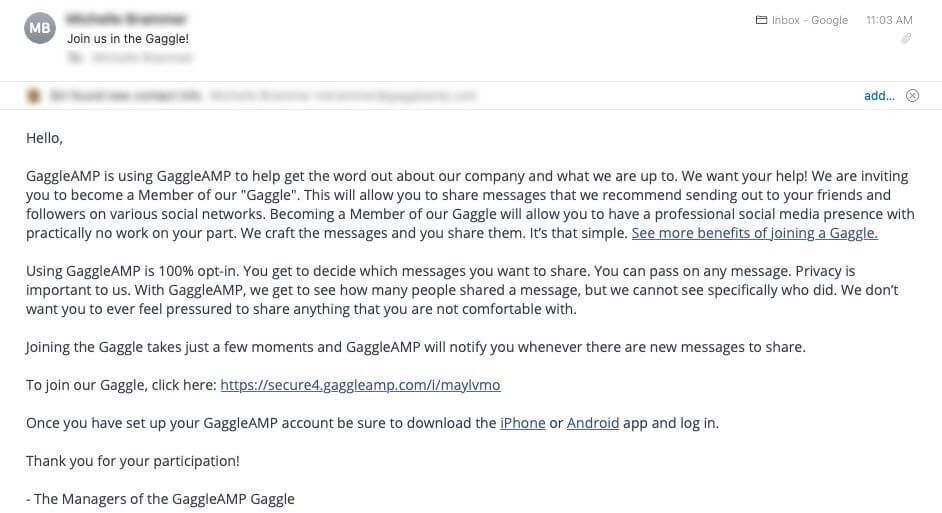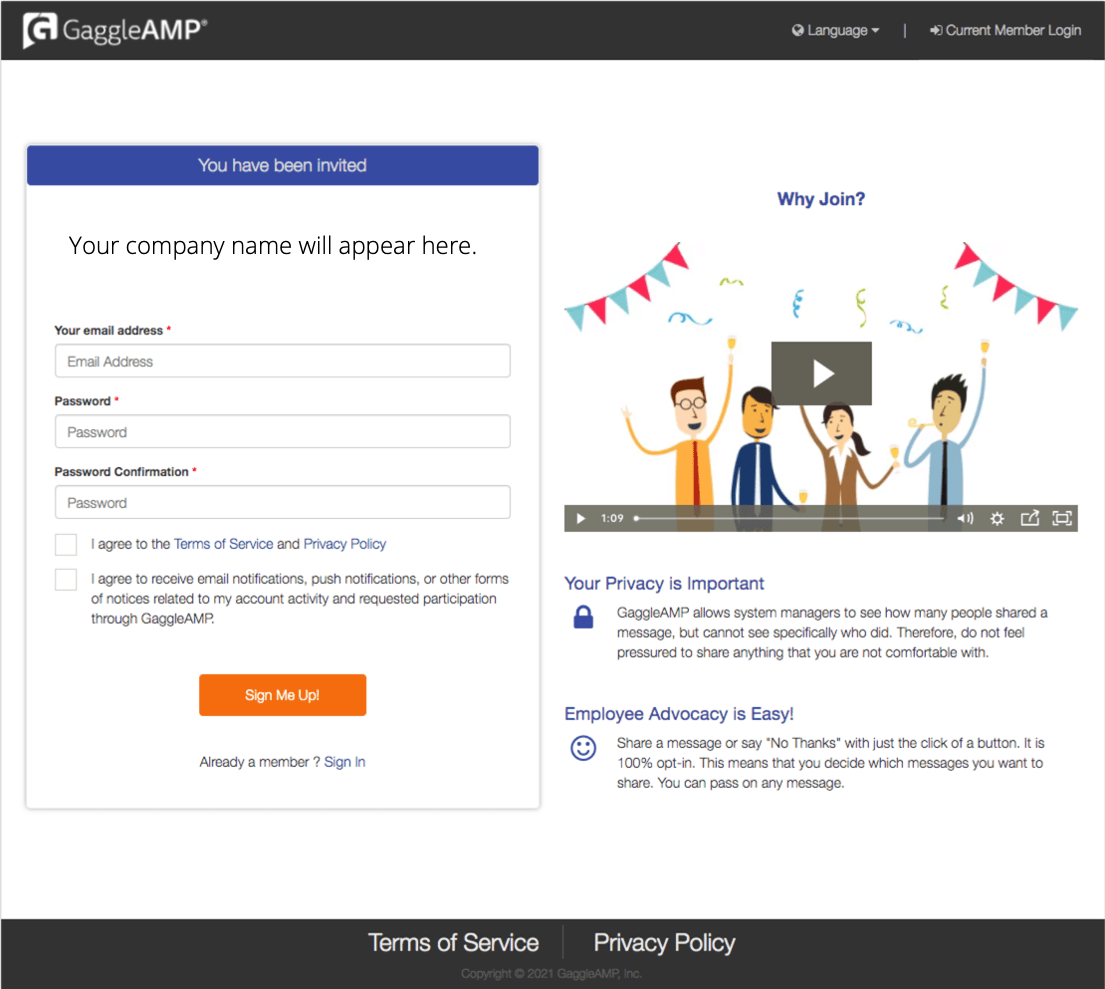 Note: If your organization requires SAML authentication, you will see a slightly different screen that gets you the same result
Attach Your Social Accounts
Before you can do activities in GaggleAMP, you need to have your social media accounts connected to GaggleAMP.
To do this, go to the 'Social Accounts' widget on the left side of your Member dashboard. Select 'Add' next to the platform of choice and proceed with connecting your account(s) or 'Reauthorize' accounts that have been previously connected but expired.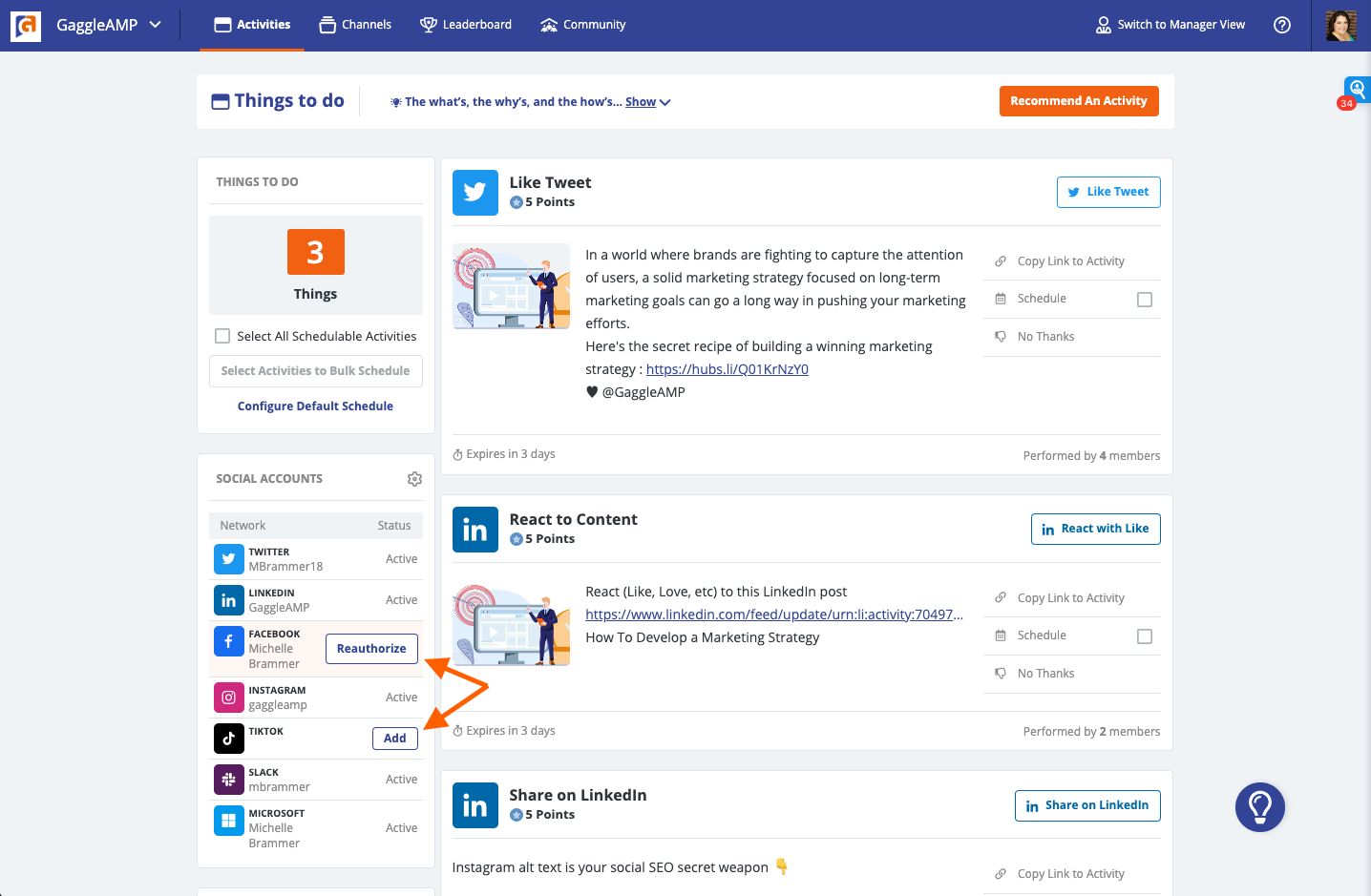 Once you click 'Add' next to a social network, there will be a step-by-step walkthrough to connect your account. While this is pretty straightforward if you have any issues or are curious about why you need to connect your social media accounts, feel free to review the article 'Adding and Managing Your Social Accounts' in our knowledge base.
Share Content on Your Social Networks
Content available to be shared will come from your program Managers and will appear as an Activity. Many activities can be shared or scheduled with just one click. You can also choose to bulk schedule activities all at one time.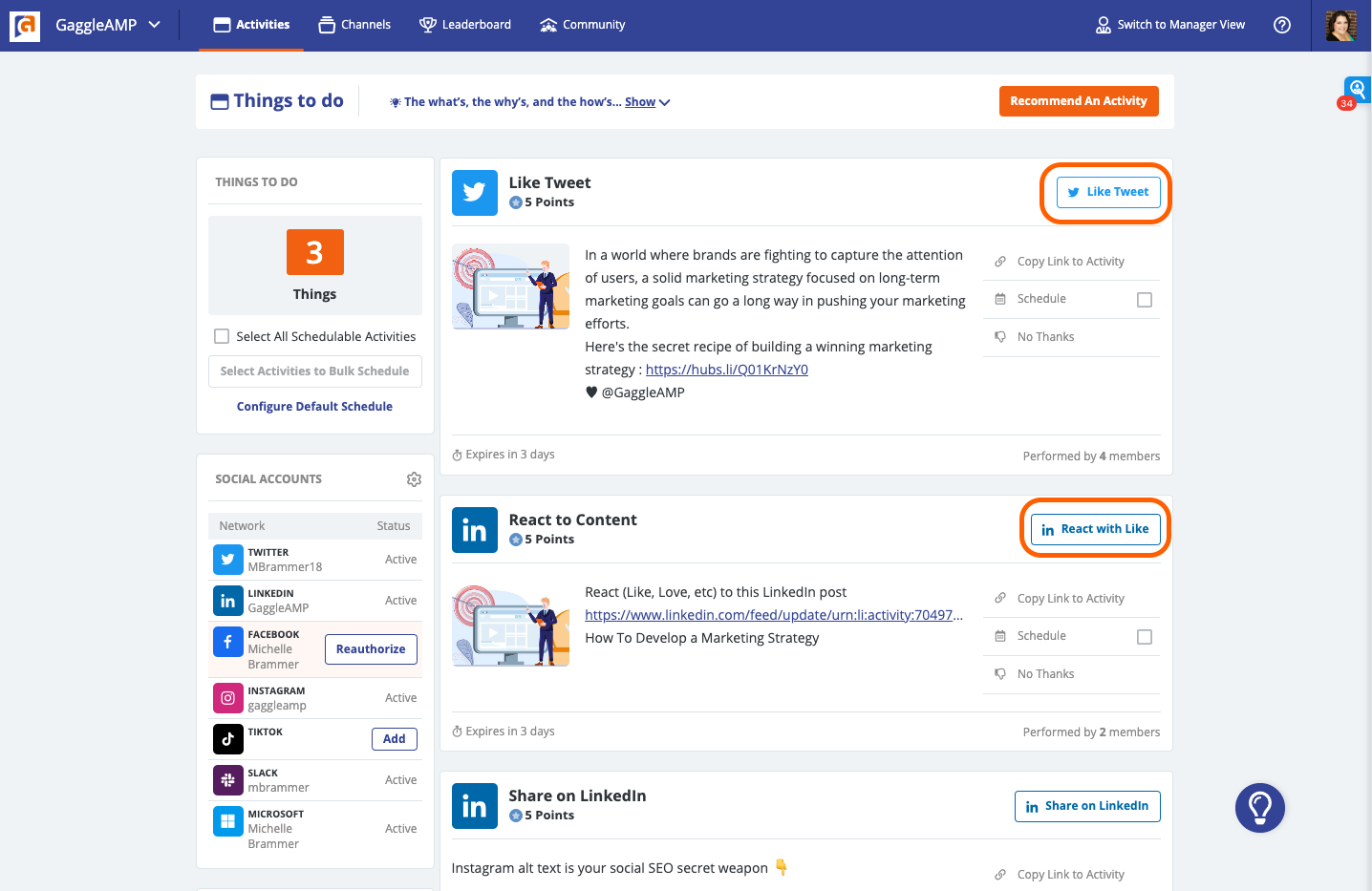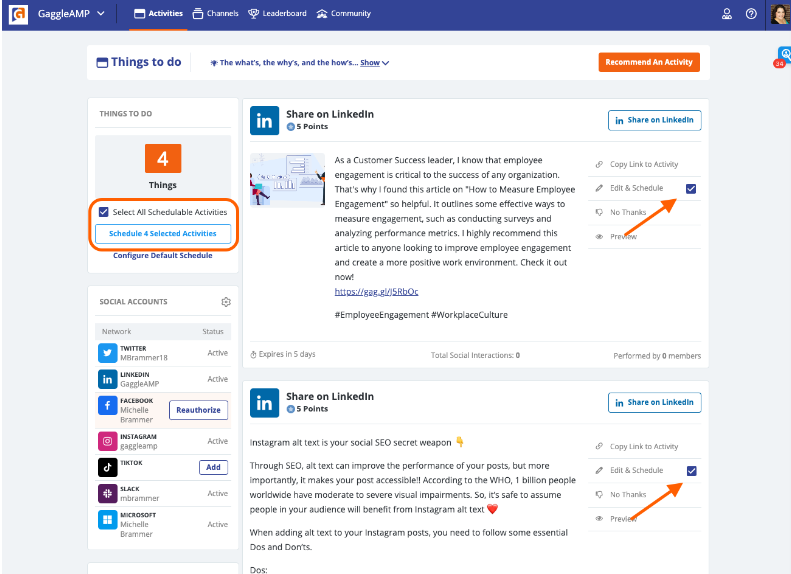 Pro-Tip: When you see 'Things to do' in this section, these are considered "Activities." Activities are Manager-created and they are asking for you to do a particular activity, like "Go to LinkedIn to Share" an article or "Like Tweet" on Twitter.
Should you have a really active Gaggle, you can also filter your available activities using the Activities Filter.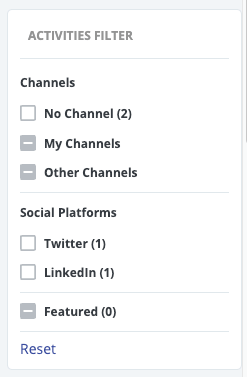 Choosing activities that fall under 'Channel' helps you sort the activities by the Channel they are shared with. In the instance that your Gaggle Manager did not assign the activity to a Channel, it will appear under 'No Channel.'
Likewise, you can streamline the activities based on the social platform or if they are featured activities.

Pro-Tip: You will only see the social platforms in this filter for which you have activities to do. For example, if there is a TikTok activity available, TikTok will then appear on the Activities Filter.
Join and Check Progress on the Leaderboard
Each activity you complete is worth a point value, which is then collected on your leaderboard. To join the leaderboard and check your progress, select 'Leaderboard' and 'Join the Leaderboard' in the upper right corner.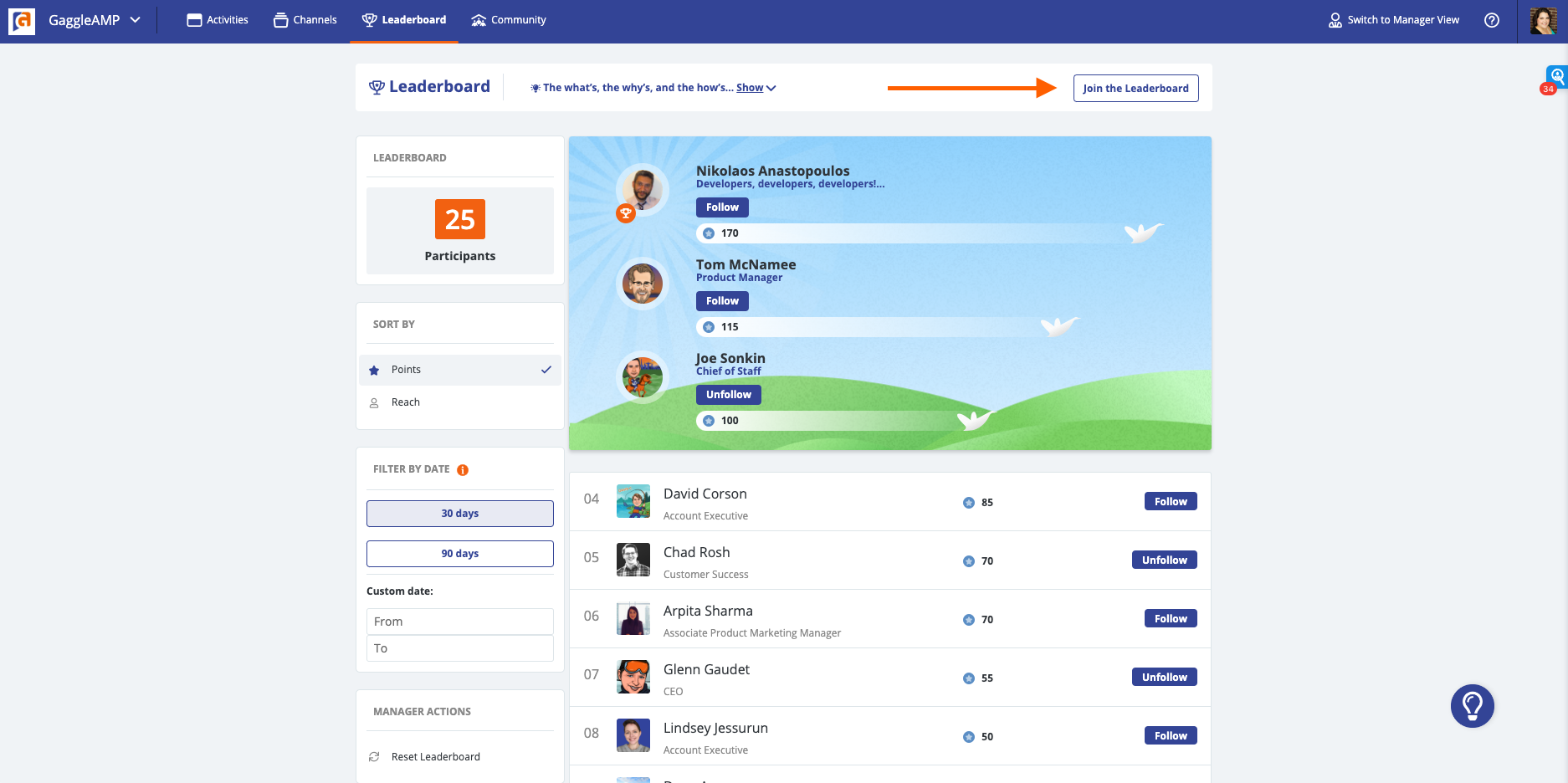 Using Slack? Connect GaggleAMP!
Some activities can be completed directly from Slack using the GaggleAMP app. To add this app, open Slack, scroll down to apps, and select 'Add apps.' Search for GaggleAMP and select the app.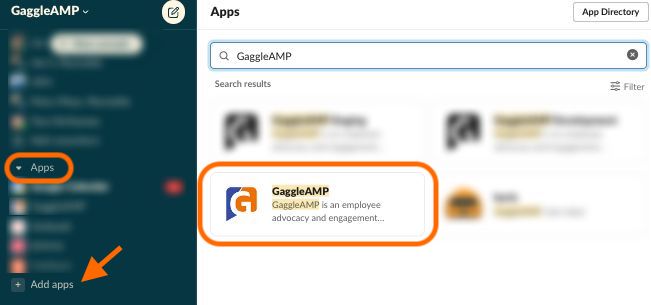 Once selected, your GaggleAMP app is connected. Say 'hi' to the GaggleAMP bot and link your account.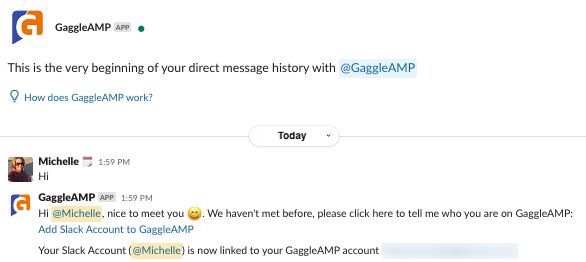 Once your account is linked, you can adjust your personal settings and request activities to be shown using the below functions.

Visit Setting Up Your Slack Integration as a GaggleAMP Member in our knowledge base for more information.
Using Microsoft Teams? Connect GaggleAMP!
GaggleAMP's Microsoft Teams integration makes it even easier for Gaggle Members to receive notifications of new content and to share content to their networks. All GaggleAMP Members will have the ability to add their GaggleAMP integration to their Microsoft Teams instance once the Gaggle Manager has authorized and established the integration.
To install GaggleAMP on Microsoft Teams, go into your Microsoft Teams account and locate the three dots on the left side of your screen. Click the three dots and type 'GaggleAMP' into the search bar. Choose 'Add' on the GaggleAMP integration.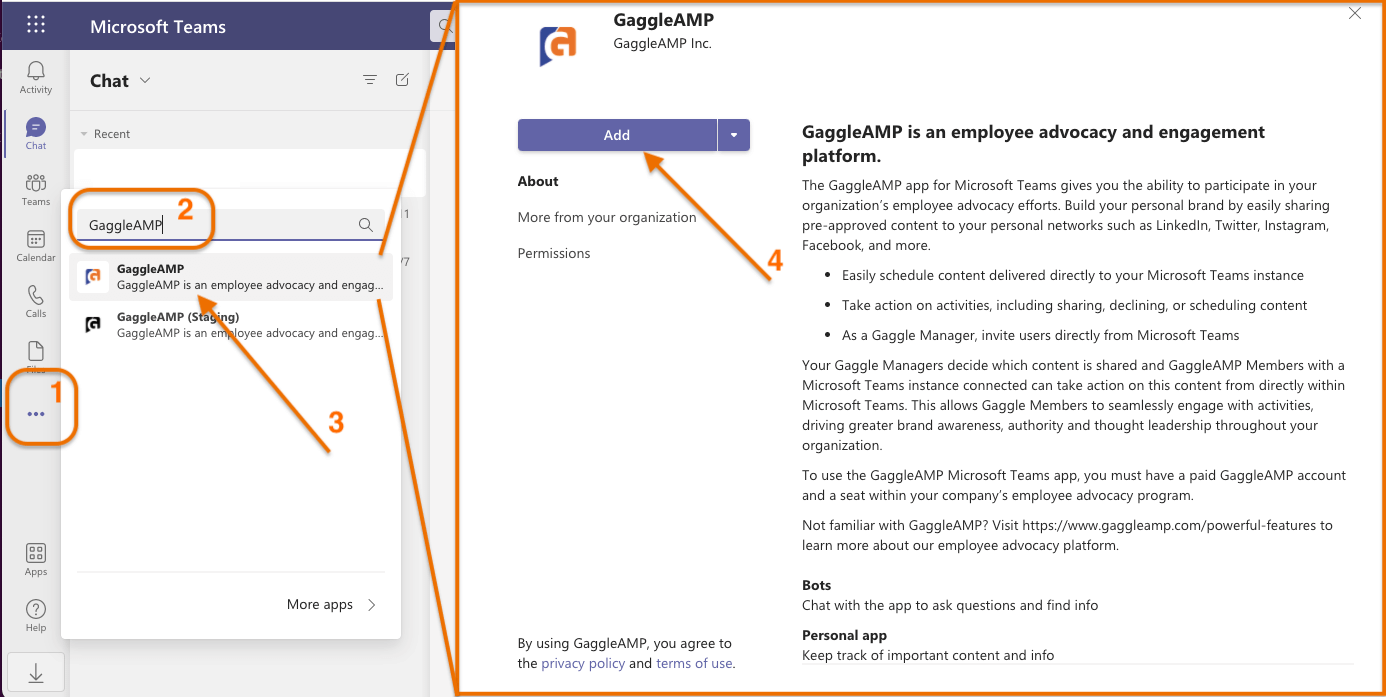 Once you have connected GaggleAMP to Microsoft Teams, the GaggleAMP app will introduce itself inside your team's chat window.

Note: If the GaggleAMP app does not introduce itself with the message you see here, it means the Gaggle Manager has not yet completed the set-up of the Microsoft Teams "team" and needs to complete that step.
Gaggle Managers: To add Microsoft Teams to your account, select 'Account Settings' and then 'My Social Accounts.'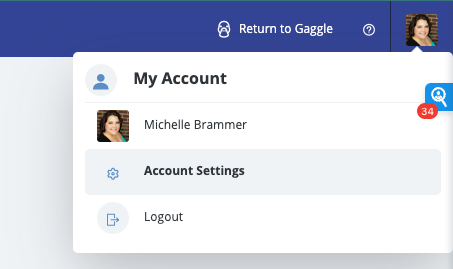 Click on 'Add Microsoft Account to GaggleAMP' and follow the prompts. Once connected, you will see Microsoft Teams appears on your Social Accounts list in GaggleAMP.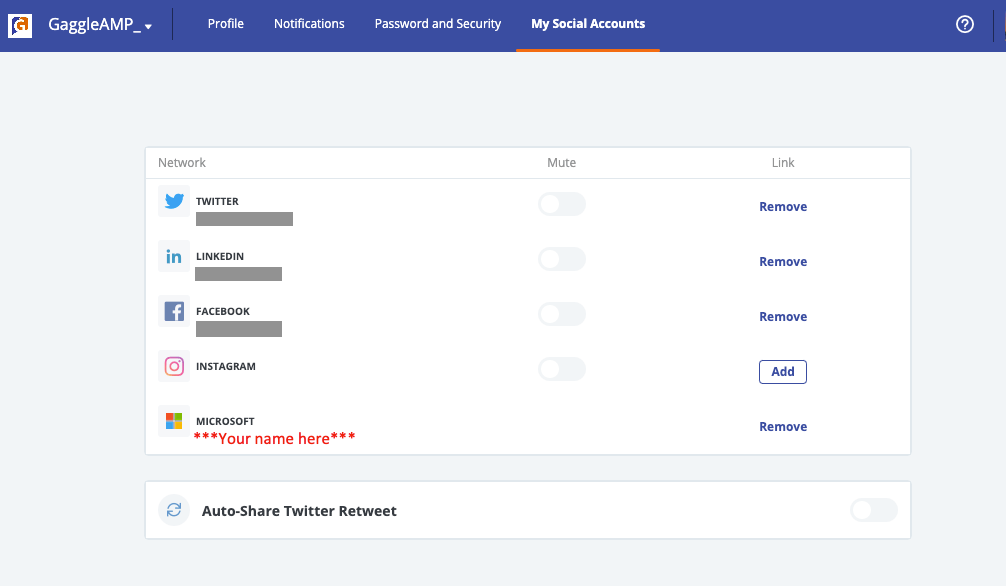 The GaggleAMP Microsoft Teams app works on a command-response structure, meaning that when you give the app a command, it will give you a response. Here is a summary of the command-response structure.

Visit Connecting Your GaggleAMP Account to Microsoft Teams in our knowledge base for more information.
Establish Additional Integrations with GaggleAMP
GaggleAMP has other integrations outside of workplace communication tools that you can integrate into, including Salesforce, HubSpot, Pardot, Google Analytics, Bitly, and others. Please consult with your Customer Implementation Manager or Customer Success Manager.
Where to Get Help?
By completing the steps above, you'll share your first Activity in no time. But, should you have questions or need assistance troubleshooting something on your account, here are your best resources for help:
This information is available in a handy-dandy PDF you can download here: Quick Start Guide: Getting Started With GaggleAMP.

Your Gaggle Manager is your best resource for help. They also have direct access to your Customer Success Manager who can support you. Be sure to ask about our Weekly Member Training sessions!

The GaggleAMP Knowledge Base is filled with step-by-step support articles, best practices, FAQs, use cases, and more.

Need technical support? Submit a request to our support team.

Have ideas for a new feature? Submit a Feature Request!