You know that feeling you get when a social media post really takes off? Engagements are flowing in, comments are fruitful, and your contacts-contacts are even getting in on the action. It's a great feeling, isn't it? If you could bottle up that excellent performing content and reuse it from time, you'd want to, right? We'll, with GaggleAMP you can! Let's take a look at reusing an activity.
Locating Activities You Can Reuse
Desktop
We'll start by explaining how to find an activity to reuse. If you already know which one you want, skip to the 'Scheduling a Reused Activity' section. From the Manager view on your dashboard under 'Activities,' click 'Activities Listl' to see all activities that have been created in your Gaggle.

Here, you will find all activities that have been created in the history of your Gaggle and you have a variety of drop-downs to refine your Activities shown.

Status: Choose to filter your activities by Active, Scheduled, Expired, or Paused.

All Groups: Allows you to view activities that were directed to a Member Groups. You can choose one Member Group at a time.

All Channels: Allows you to filter activities by Channels if one was added during the New Activity creation. You can choose one Channel at a time.

All Campaigns: Allows you to review activities associated with a specific campaign. You can choose one Campaign at a time.

All Activities: Here you can view all activities, messages, or actions.

Messages are activities that can be completed directly within the GaggleAMP platform. These are API-driven activities.

Actions are activities that start in the GaggleAMP platform but the action needs to be completed on the network itself versus on the platform. These are non-API activities.

All Networks: Here you can segment by the most widely-used networks: Facebook, Instagram, LinkedIn, Twitter, and TikTok. In the instance you are looking to reuse an activity not tied to any of these networks, keep the setting as 'All Networks.'

All Time: This drop-down allows you to view activities created in increments of 7-, 30-, and 90-days, but you can also choose year to date or customize your date settings for a specific timeframe.

All Creators: Allows you to only show activities created by a specific Gaggle Manager.

Download XLSX: Should you need performance and details about the activities, simply export it into an XLSX document.
Once you have your drop-downs the way you want to view the activities, the activities that meet those settings will appear under 'All Activities.'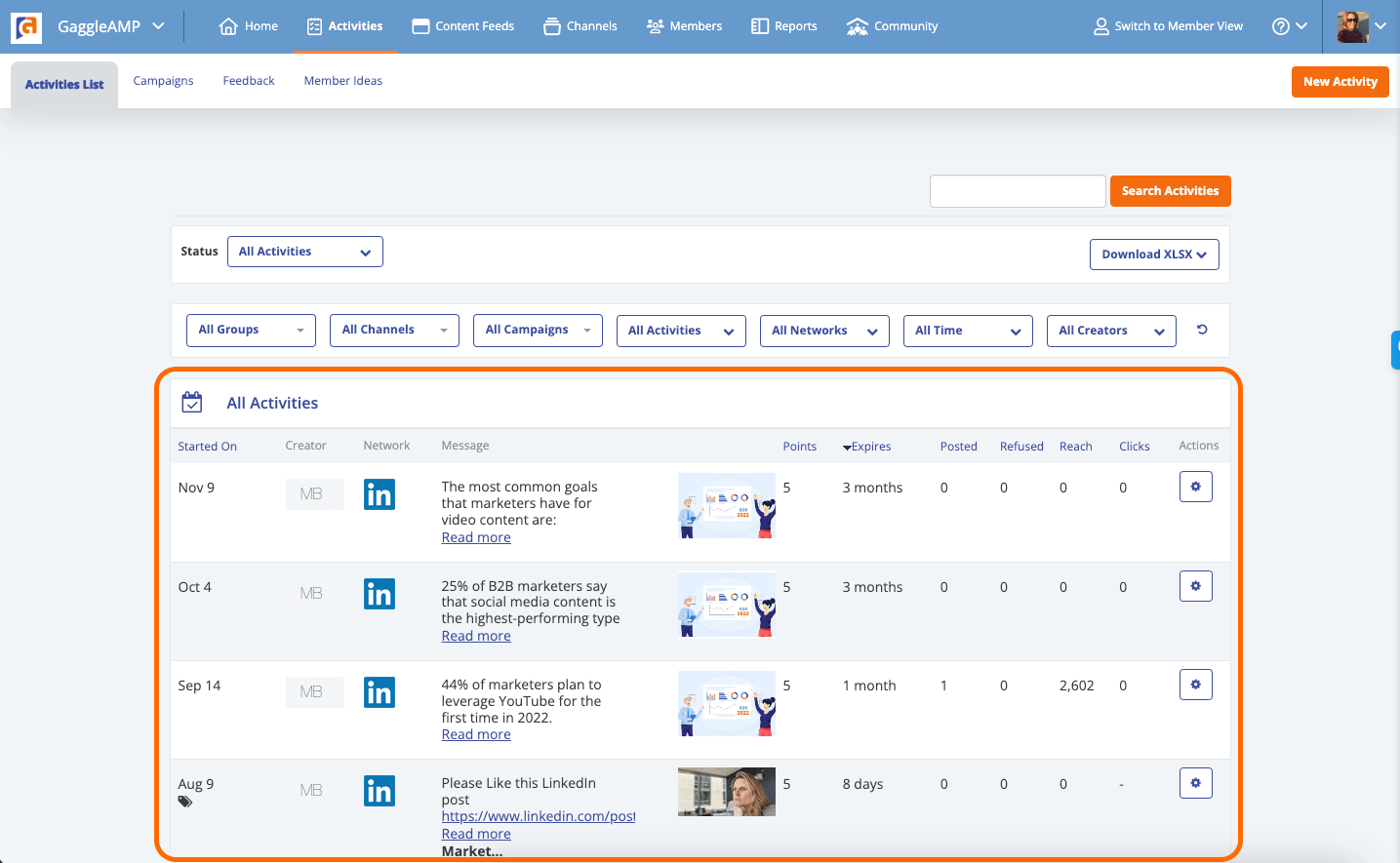 Scheduling a Reuse Activity
From the 'All Activities' view, you'll need to locate activities that have already expired. You can do this by using the 'Status' drop-down and selecting 'Expired' or looking for them in the 'All Activity' view under 'Expires.'
It's important to note that you cannot reuse an activity that has not expired as that activity may still exist as an activity your Members can do.

Commonly reused activities might have had strong reach, which you can find in this view, whereas others might be communicating an ongoing event or activity. Activities created that promote a webinar or an event are often reused. Also, some activities can be reused when you need something done more than once, like watching a video annually, installing an app with an update, or asking for a Facebook or Glassdoor review.
Once you have located the activity you want to reuse, click the cog under 'Actions.'

You'll have the ability to:
View Activity Report

Reuse Activity

Copy link for Managers

Copy link for Members
Choose 'Reuse Activity.' This will display a pop-up that has content from the original activity already added. Here you can make any changes or adjustments that you see fit, if any, before posting it to your Gaggle.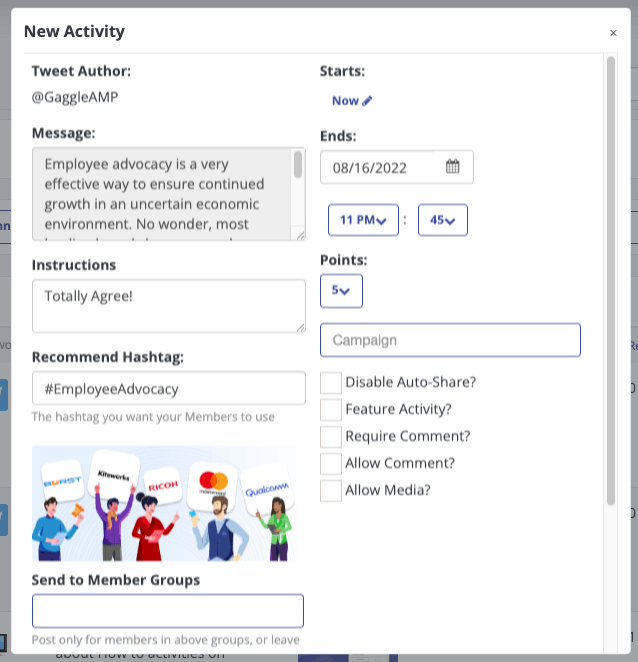 When you reuse an activity, it appears in your Members' activities just as if you had created a brand new activity.
Mobile
At this time, the ability to reuse an activity can only be done from your Desktop device.
Still have questions? Contact your Customer Success Manager or Submit a Support Ticket and we'd be happy to help!
Managers Who Read This Article Also Liked: