If you're viewing this article, one of your coworkers or supervisors, a business partner, or other stakeholders must have invited you to join GaggleAMP. Welcome! We're thrilled to have you here.
Now you might be wondering exactly why you're here and what this nifty thing called GaggleAMP is exactly. First and foremost, you've been invited to participate in an organization's employee advocacy efforts. Employee advocacy is a method used to promote a brand or initiatives through people that work for an organization (like yourself), in a much more authentic and trusted way than a brand can do.
This is often done through an employee advocacy platform (that's GaggleAMP), to help employees like you carry out activities on social media or other digital channels. Think of it like this: have you ever 'liked' your employer's Facebook post, or commented on a LinkedIn announcement on the company page? You likely have, and that's low-key employee advocacy participation, just without a structured platform.
So keeping in mind that organizations need employee advocacy Members just like you, let's take a look at how to make the most out of your employee advocacy participation.
Why Do Employers Ask Employees to Participate in Employee Advocacy Programs?
When social media first came to be, it was pretty easy for brands to have their messaging displayed all over the likes of Facebook, Twitter, LinkedIn, and other platforms. These platforms grew in sophistication over time, all to the detriment of brands, who, in many circumstances, need to run paid advertising on these networks to be seen.
Enter their employees. Content shared by employees reaches 561% further than the same content shared by a brand account, according to Forbes.

This sentiment isn't lost on employers. They understand that they don't really have a choice on whether they do social media, but rather how well they do it (and what is the cost to do it). Today's first impression is a digital one, on search, and without visibility on both search engines and social media networks, you're as good as non-existent.
See, social media helps to solve problems for these brands by: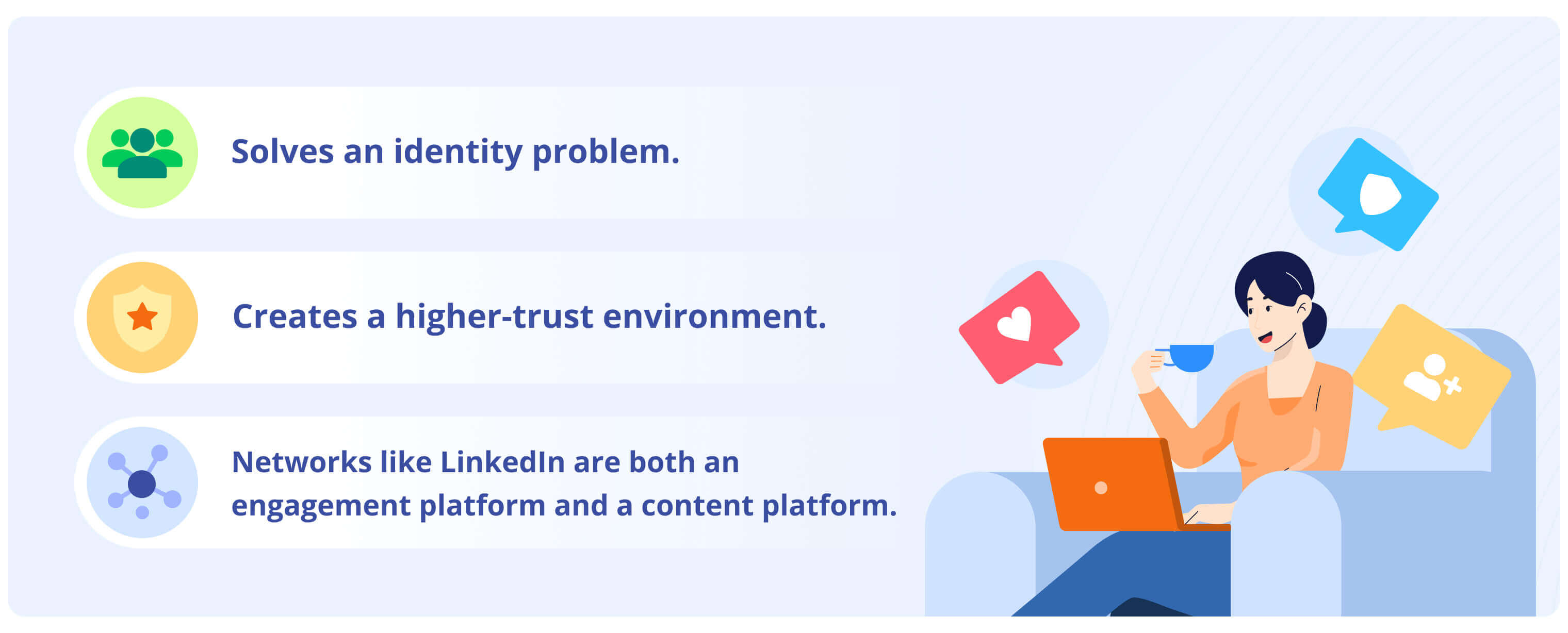 Knowing that social media is a gateway to creating brand awareness, socializing with potential customers, and building trust, employers are leaning into their greatest assets - employees just like you - to help add value to a place where they simply cannot.
How Does Employee Advocacy Work?
Employee advocacy helps to connect employees like you to important messages and discussions that occur about your company, your expertise, and with other influencers. Participating in an employee advocacy program helps build thought leadership, sharing consistently on social media, and makes it easy for employees to build a digital footprint.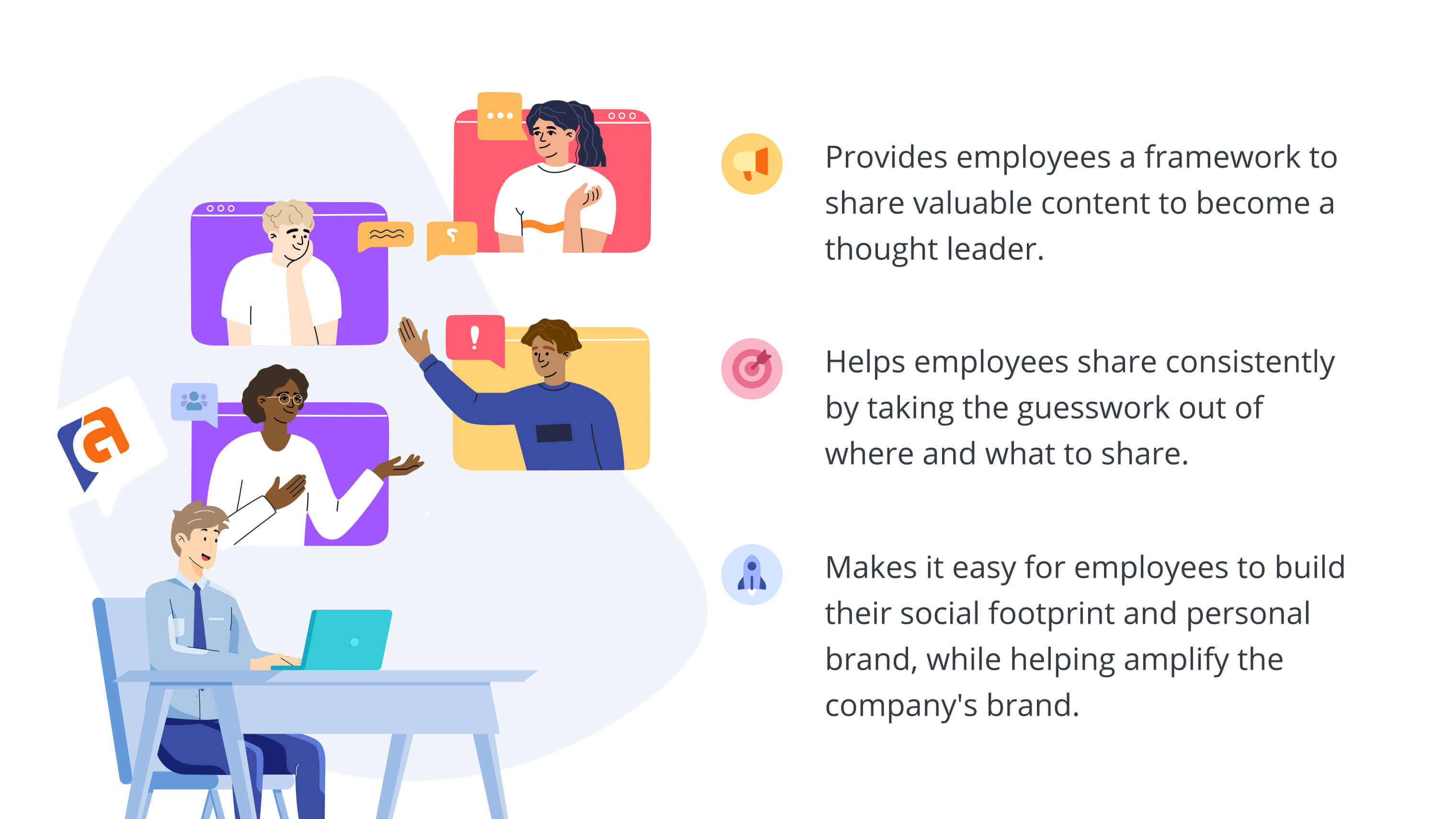 Beyond establishing yourself as a leader in your niche or industry, employee advocacy can strengthen the effectiveness of many campaigns and initiatives already in place in your department, work location, or overall organization. Think about it; who do you trust more, a friend or old colleague, or a brand account on social media? The truth is people, trust people. In fact, according to a report with Social Media Today, over 73% of people find posts from personal accounts are more persuasive than posts from a brand account.
By being involved in an employee advocacy program, you'll receive activities from your Gaggle Manager (our version of an admin) for you to participate. This could be something as simple as 'liking' a LinkedIn or Facebook post, following an influencer on Twitter, or leaving comments and engaging on social media posts. All aim to give you the opportunity to speak about something you're passionate about and an expert in.
So Employee Advocacy Is Important, but What's In It For Me?
We get it - your personal social media network is your personal social media network and you have every right to be very protective of your space. Safeguards are put in place with platforms like ours to opt-out of participating in employee advocacy networks on certain platforms and you have full control over what activities you choose to perform, and which you don't.
That said, it can have an immense impact on your personal work results, too. For instance, say you work in your organization's marketing department. It's not far-fetched that you're creating content to help attract and move leads down the funnel to your sales teams. As a marketer, you know content can be sliced, diced, and repurposed to help position that message among multiple channels, including social media. Why? Because buyers leverage social media when doing research for new products and services.

In fact, according to GlobalWebIndex, 54% of people on social media use social media to make buying decisions. Knowing your audience and their social media habits can greatly help you increase the effectiveness of campaigns associated with your lead generation efforts, increasing your chances of adding leads to the sales funnel.
Sitting on a sales team? These two stats might blow you away:
Sales reps using social media as part of their sales technique outsell 65% of their peers. Those regularly sharing content outsell 78% of their peers. (

Forbes

)

Salespeople who practice social selling see 45% more opportunities than those who don't and are 51% more likely to hit their quota. (

LinkedIn

)
Think about it, your social media networks are likely made up of people just like you. You have colleagues from past companies you likely worked closely with; people you have met at trade shows and industry events; and even people you have never met but you share similar interests. It's not inconceivable that you may have something to say that resonates with someone in your audience.
And, that's also why Human Resources loves employee advocacy. Your networks are largely made up of people like you which makes finding talent that much easier. In fact, an employee advocacy impact study found that over 44% of people are more likely to apply for a job they saw a friend post than the same position on a job board.

Employee advocacy is clearly impactful to the organization and can help support your efforts and initiatives. But beyond that, it's developing your personal brand and your status within your niche. Employee advocacy helps you become more marketable, and engaged on social media, providing opportunities for your knowledge to be shared with those that need and want to hear it. And that becomes a big win-win, for your employer and for you.
What Do I Need to Do as an Employee in an Employee Advocacy Program?
Participating in an employee advocacy program is an honor bestowed upon you by your employer or another stakeholder. They value your thoughts and opinions and feel you are an excellent ambassador for the company, so kudos to you - that's a big achievement!
At the root of it, there are four main things you need to do when involved with an employee advocacy program
Connect and Follow

Be Interested

Share Consistently

Keep Your Social Profiles up-to-Date
Let's break these down.
Connect and Follow
Social media is all about connecting and being social so it's natural that connecting and following others would be a big part of your success. Connecting with others simply means sending a connection request. In some instances, the privacy setting might not allow you to send a connection request, but you can follow a connection. This gives you access to their content and you can still engage with them without being actually connected.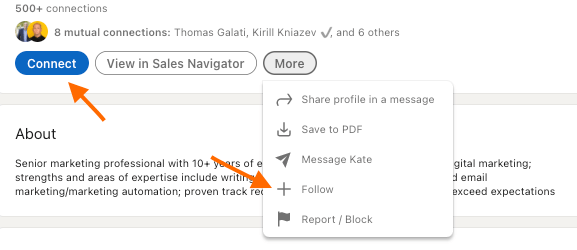 Be Interested
Now that you are forming these connections, it's important to engage with them. Keep in mind that this is building a relationship, not a hard sell. No one wants a connection that simply dives into their DM's, giving them a spiel on all the great things (insert product name) can do for their company without any research ever being done.
The revenant advice in the 1936 timeless classic 'How to Win Friends and Influence People' by Dale Carnegie still holds true today: "You make more friends in two months by becoming genuinely interested in other people than you can in two years by trying to get other people interested in you."
This means being a good listener and encouraging others to talk about themselves. On social media, this translates to asking for their perspective, sincerely elevating the person and making them feel important, and having conversations that are less about you and more about them.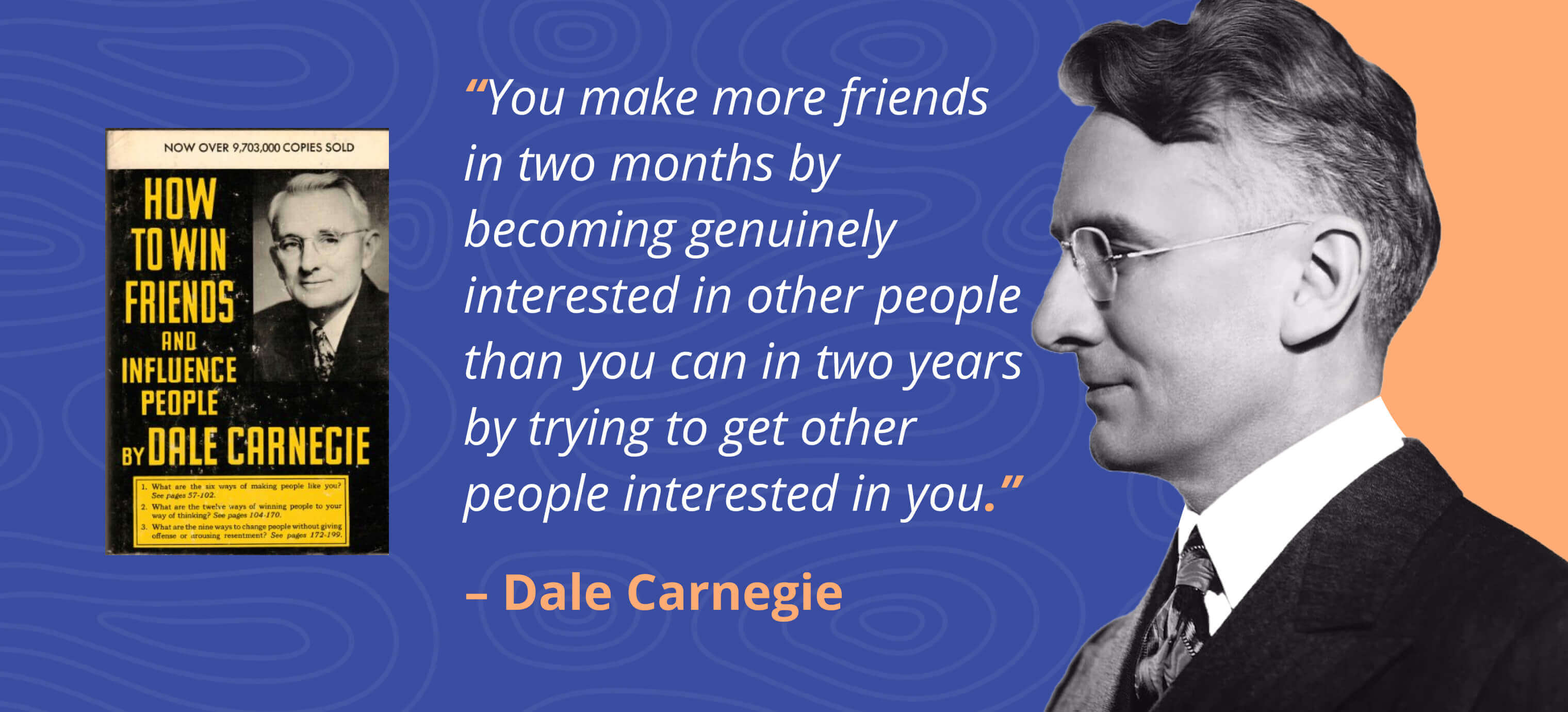 When someone feels genuinely valued and connected to you, they'll come to you when they have a need for your product or service, simply based on the foundation you've formed.
Share Consistently
You are just one of many people someone could be engaging with at any given moment - you must stand out.
Your employer's investment in employee advocacy will help you with sharing consistently. In fact, that's what attracts employers to GaggleAMP — we put the ability to share on social media in an employee's hands with a click or two of a button. It empowers employees to participate, even when they are struggling to come up with the right words.
Remember, what you share can be amplified even further by using hashtags in your posts. A hashtag has the ability to expand your reach exponentially and someone with as little as 1,000 followers can get tens of thousands of views on a post, generating additional engagement from your target audience. Your Gaggle Managers will ensure your posts have hashtags in place for activities generated from your employee advocacy program but don't be afraid to use them on your organic posts, too.
Likewise, it's equally as important to engage in the comments of others' posts, while keeping in mind the principle of being interested.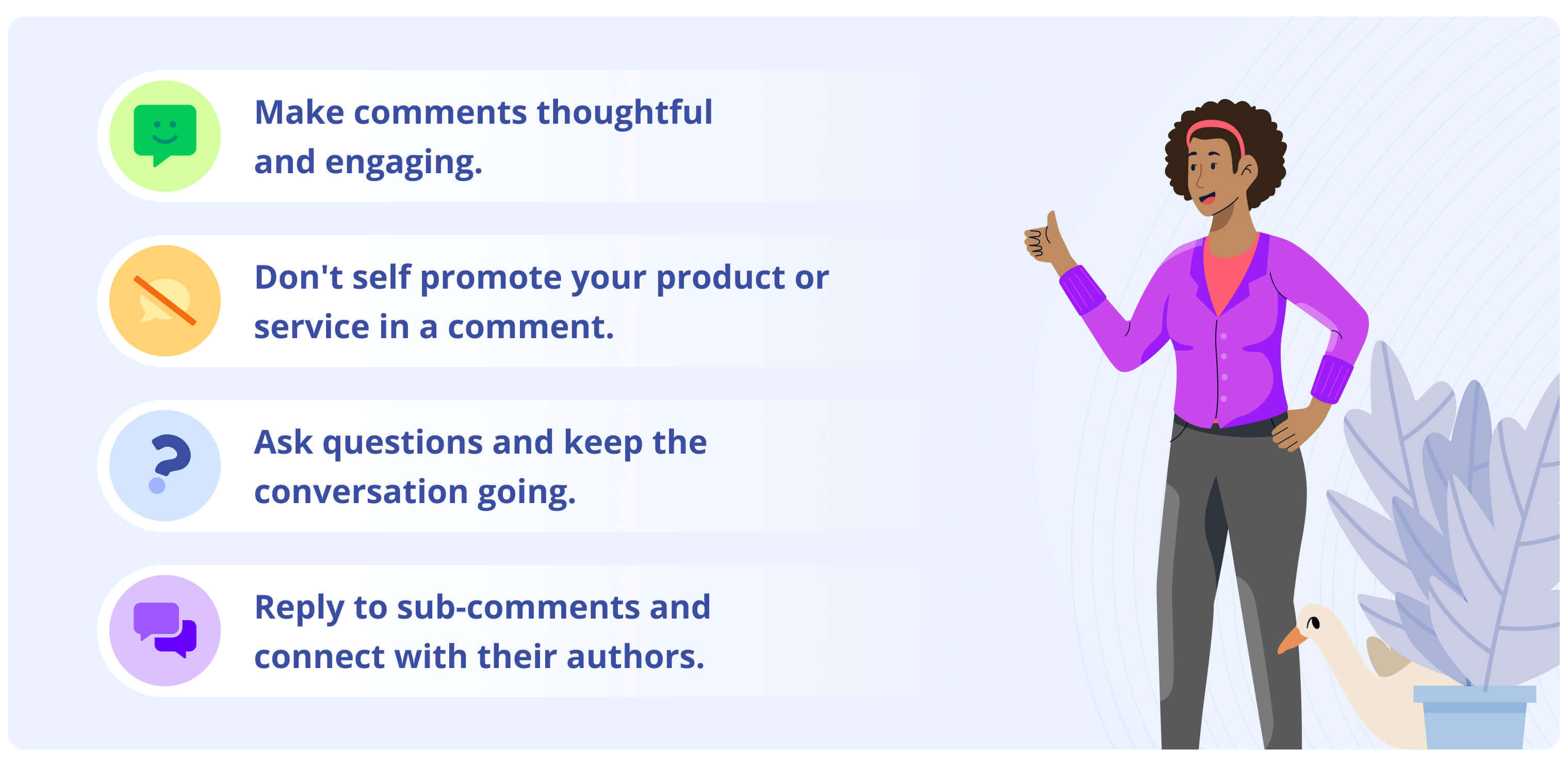 Maybe you have a thought that could be a good discussion - post it! Perhaps you feel some sort of way about a comment - ask for additional perspective. When you seek to understand, engagement will start to become more natural.
Keep Your Social Profiles up-to-Date
Your social profiles should be up to date regardless if you are participating in an employee advocacy program. But, if you're going to participate in an employee advocacy program, you want to put your best foot forward and in our digital world, that means updating your profiles.
Here are two excellent resources that can help guide your updates on Twitter and LinkedIn.
With your profile acting as your digital handshake and a digital business card, here are a few highlights to keep in mind when optimizing your profile.
Profile Photos
If you were to meet someone at a coffee shop for the first time, would they be able to recognize you based on your profile photo?

Pro-Tip:
Profiles with both a profile image and a cover photo receive 21x more views than people without photos!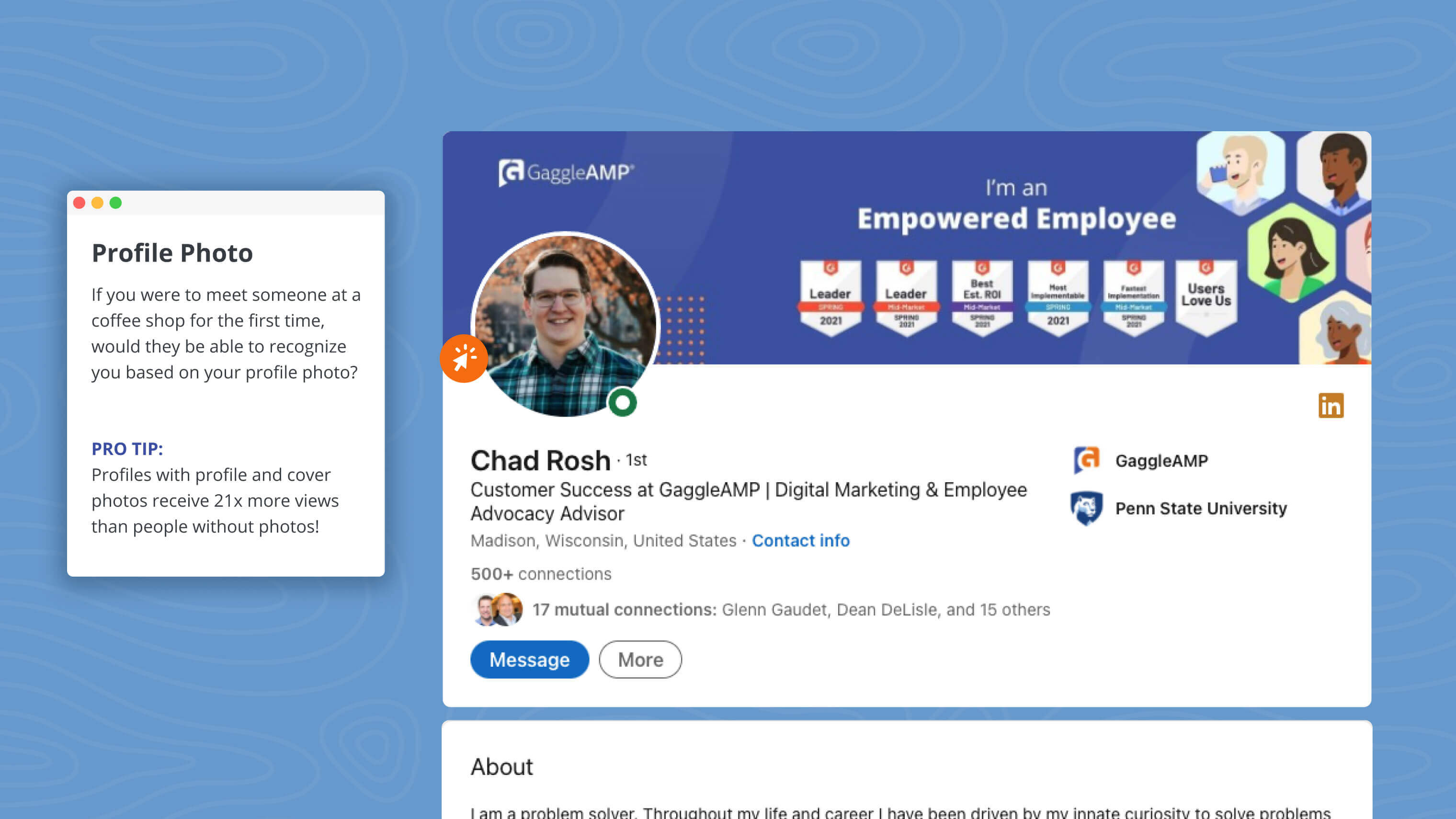 Your Headline
Not just the title! Who do you help and how do you help them? Tailor your headline to your audience and include your value proposition.

Pro-Tip: Use this simple formula: Job Title: Helping X do Y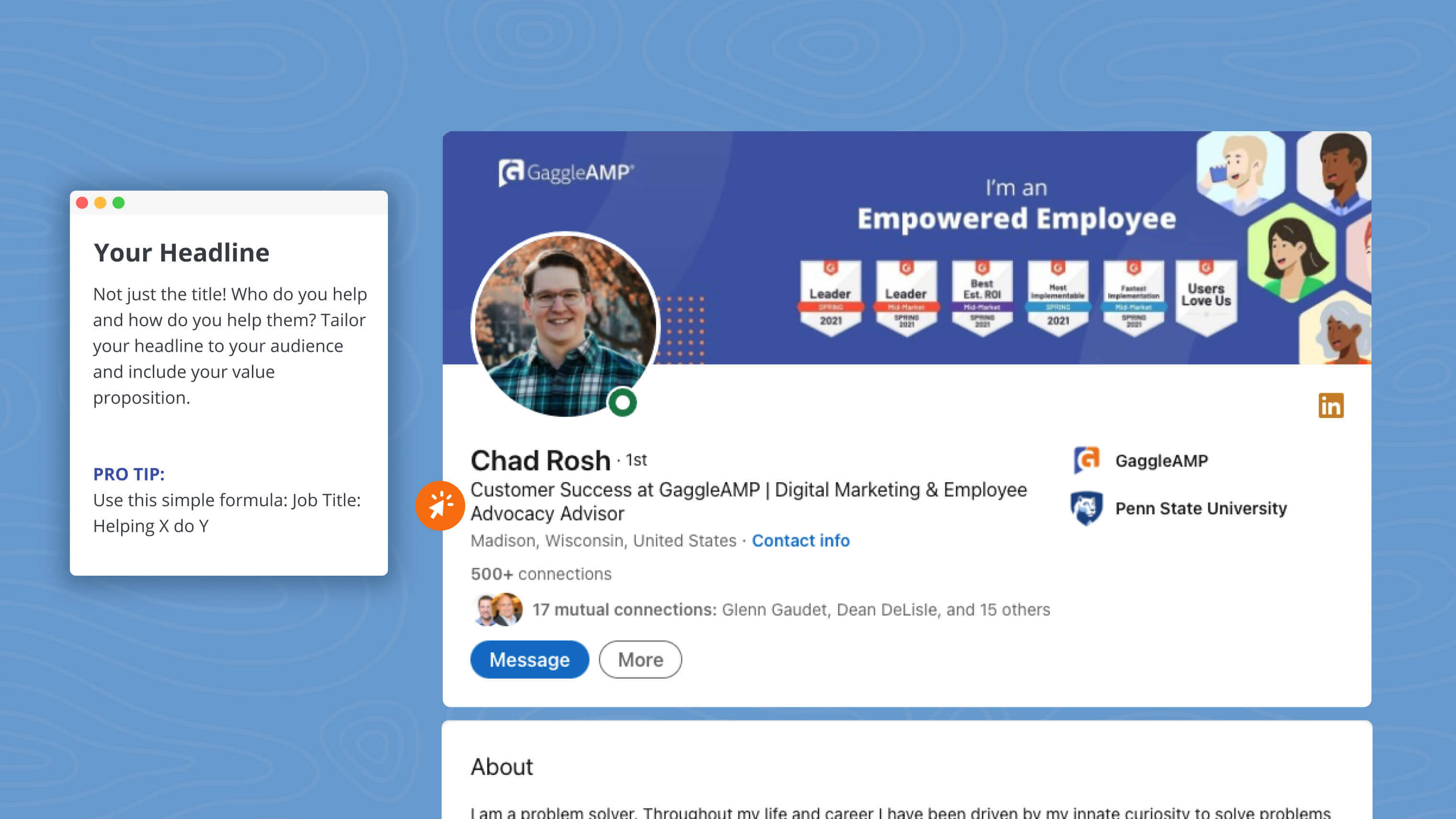 Profile Summary
People do read these! Start with a strong opening sentence and start to add context to your career story. Don't be afraid to inject some personality.

Rule of Thumb:

3x3 Method: Three paragraphs of three or four sentences. Make sure to include keywords you want to be found for and a clear CTA in your closing!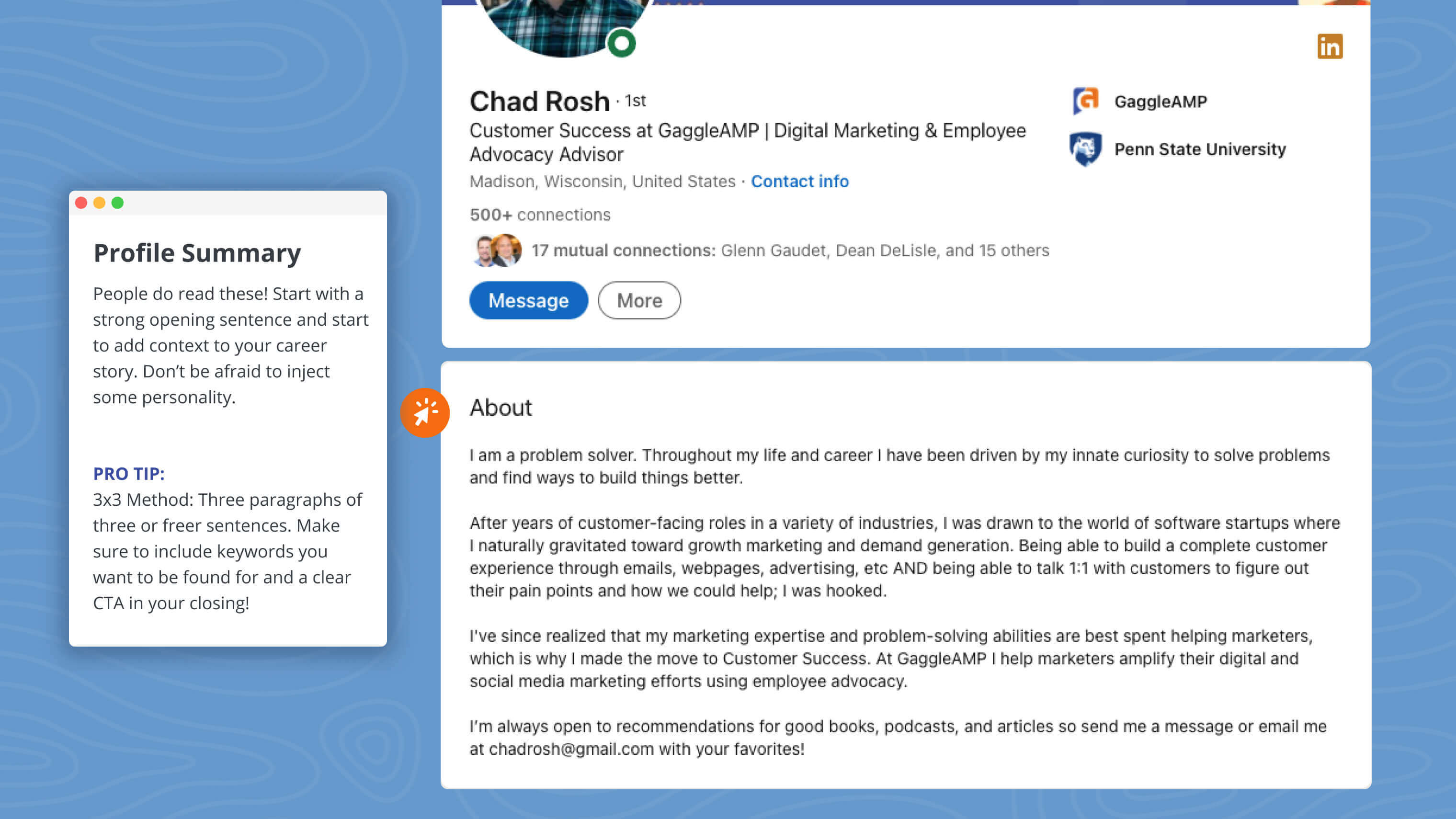 Cover Photo
Humans only remember 20% of what they read, but they remember 80% of the images they see. A custom cover photo will net you more connections requests, more messages, and make your profile more memorable!

What to do? Show some personality while remaining professional. Make it an image that you are proud to share and represent you.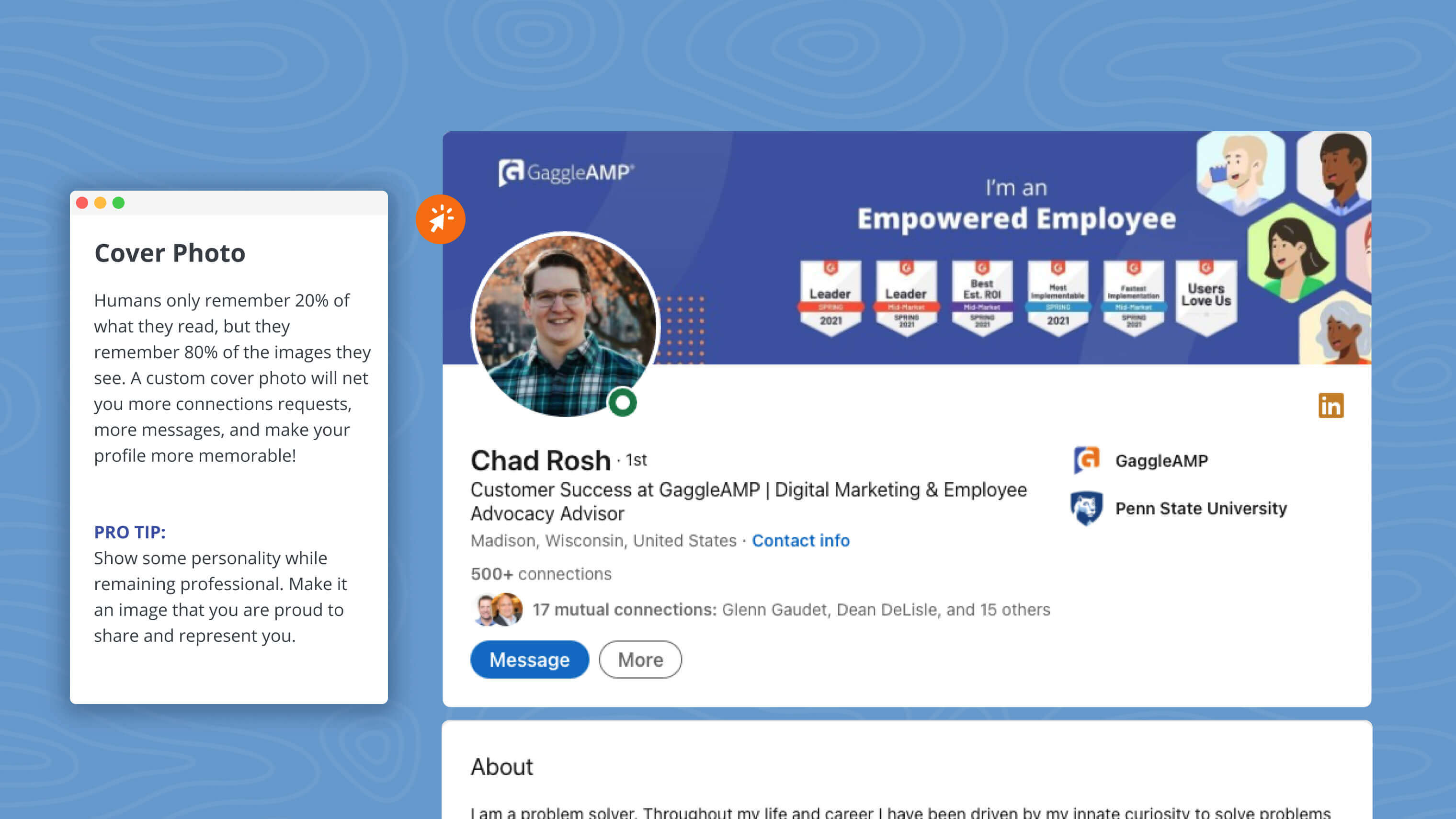 Your QR Code
Tap the QR code in the search box of your Linkedin mobile app and scan this image! Pretty cool, right? You can download your QR code and add it to your business cards, presentations, and email signatures.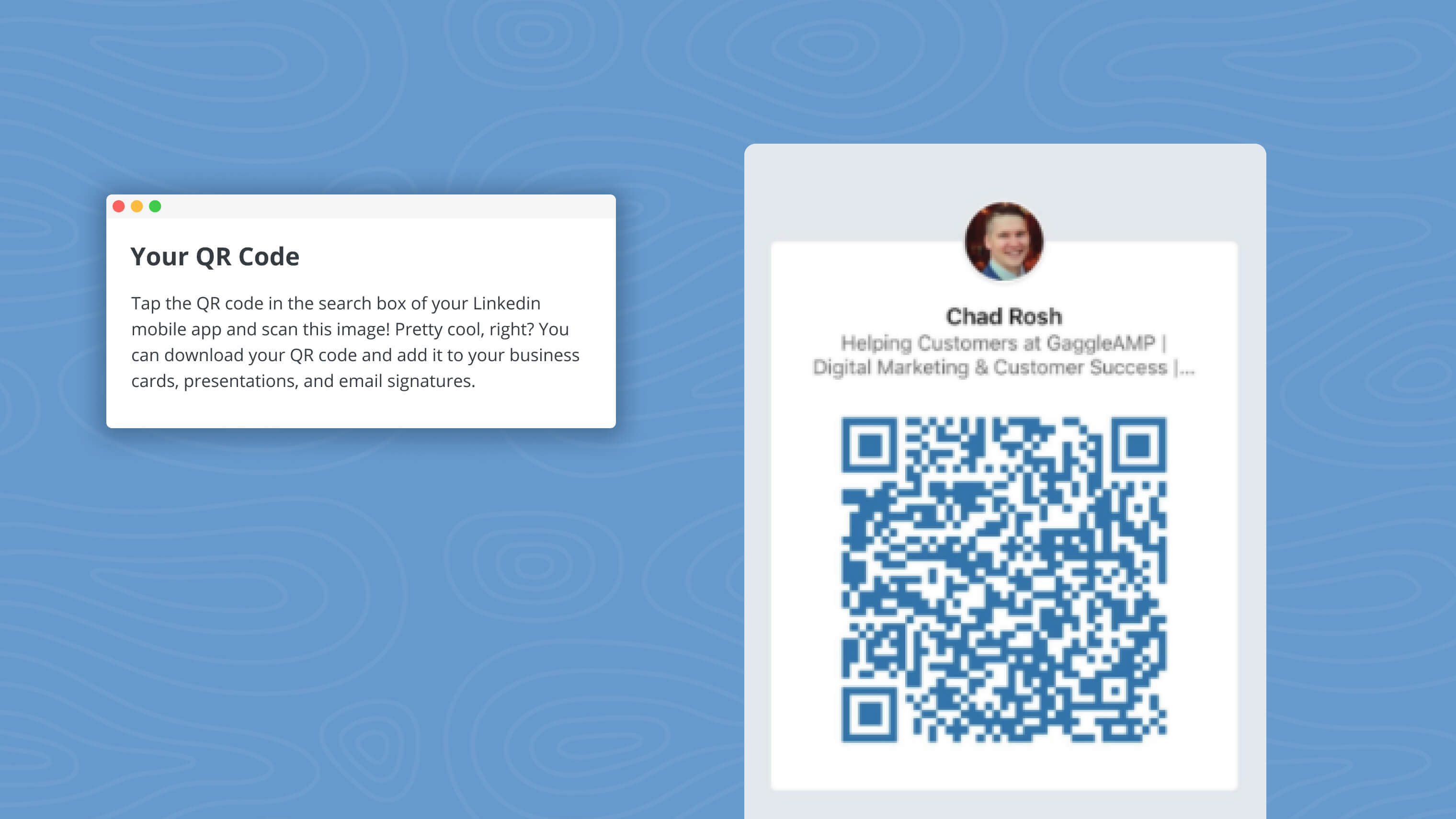 Alright, I'm Hooked. How Do I Get Started?
If you haven't received an invitation from your Gaggle Manager already, you should be soon. When you receive an invitation to participate in the Gaggle, you will be asked to create your account, which will look a bit like this: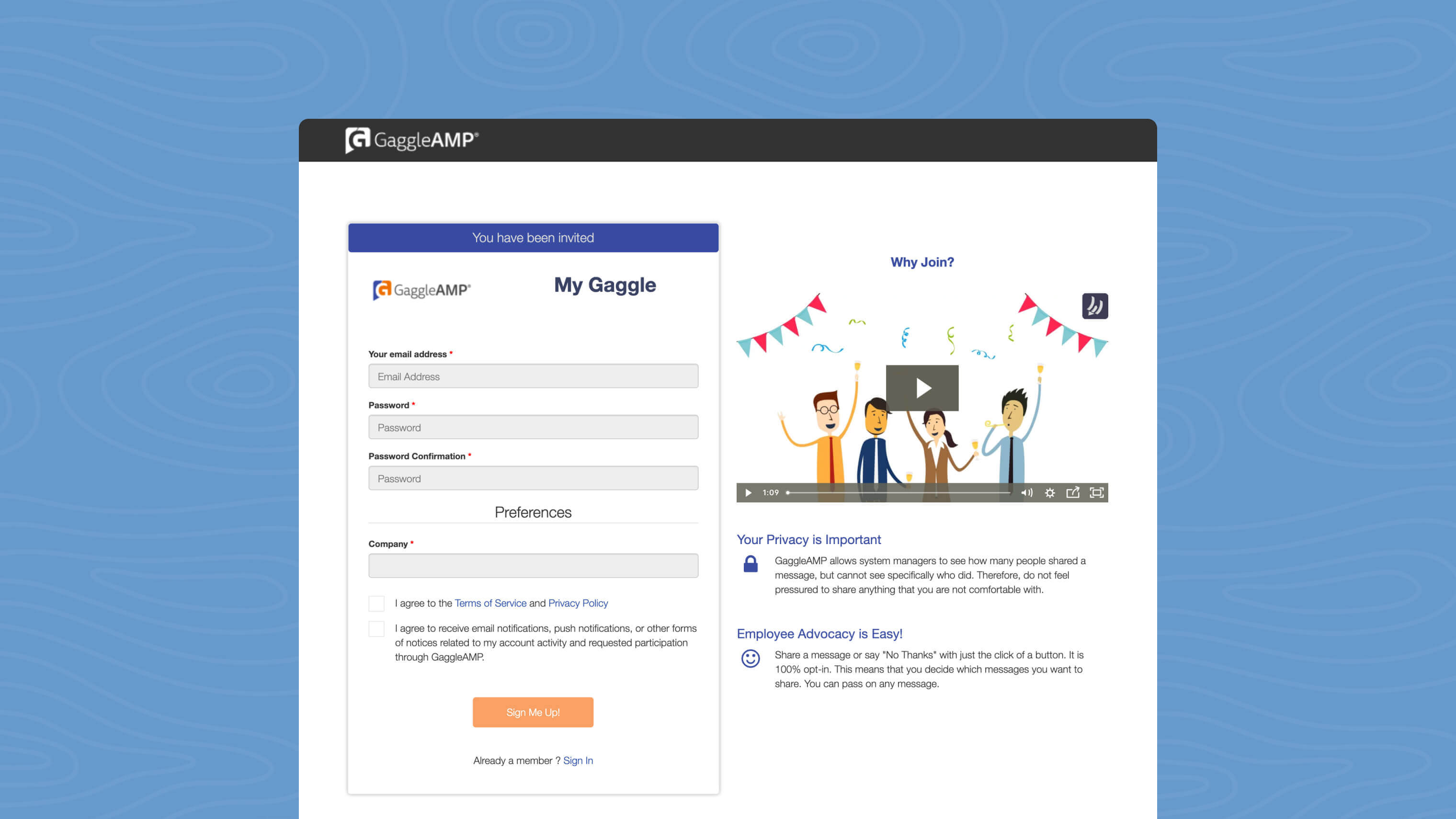 Here you will enter your credentials and select 'Sign Me Up!'
Once signed up, you will then receive an email asking you to confirm your email address. It is important that you confirm your email address within 24 hours of signing up for the Gaggle so that you're not locked out.
Once confirmed, you'll be on the Member side of the GaggleAMP platform. Here you'll start adding your social media accounts and, once added, can start sharing activities your Gaggle Manager has created.
Lastly, your Gaggle Manager should always be your first point of contact for questions you might have, but in the event they are unavailable to answer your question, the resources below will help point you in the right direction.


We also host a new (or refresher) Member Training Session each week. If you are interested in attending a Member Training Session, please register here or watch this short video here.
We're very excited to have you here at GaggleAMP and look forward to working with you!