Feedback. Sometimes you love it; sometimes it makes you cringe. But no matter what, we all need feedback on our marketing efforts, including your Gaggle.
As a Gaggle Manager, you are creating Activities for other Members of your team with the hopes that they will complete them. When something resonates with a Member of your Gaggle, they are likely to share the content. But sometimes there are reasons why a Member might not choose to share, and this is where that feedback can be captured for your review.
Let's dive into your Gaggle feedback.
Where Do I Find My Gaggle Feedback?
Desktop
From the Manager dashboard, navigate to Activities and select 'Feedback' from the sub-navigation.

From this view, you'll see any Activities generated that contain any feedback. To help you shuffle through your feedback, you can segment these by:
Groups- If you assigned the Activity to a Group, it will be segmented here

Channels - If you assigned the Activity to a Channel, it will be segmented here

Campaigns - If you assigned the Activity to a Campaign, it will be segmented here

Activities - These may be messages to be sent of actions to be completed

Networks - Indicates the social media network

Time - Segment by timeframes

Creator - Helpful in the instance you have more than one Gaggle Manager
Once you have set your filters, your Feedback Activities will be shown.
How Do I View My Feedback?
All of your Activities that have had feedback will appear in the Feedback Activities view.

Simply select the 'View Feedback' button under 'Actions' in this view.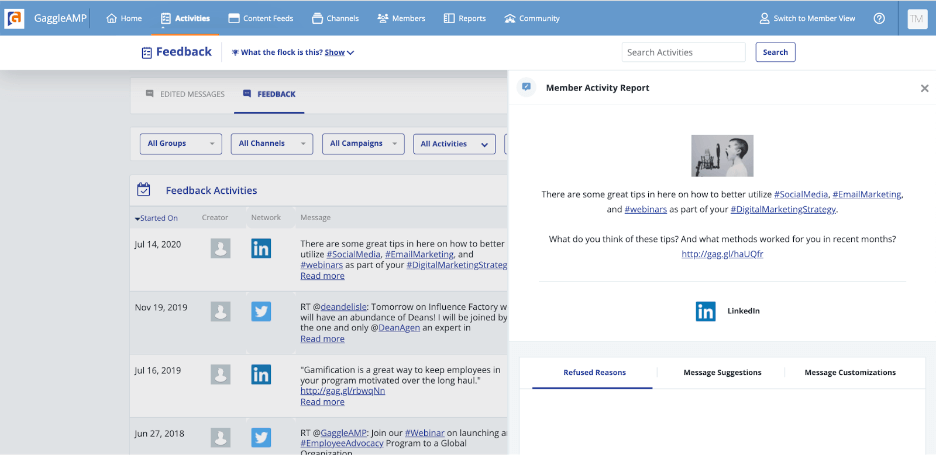 Here you will see the contents of the actual Activity at the top of the slide-over plus the network. On the bottom part of the slide-over, you'll see categories for the feedback provided.
Refused Reasons
When a Member refuses an Activity, GaggleAMP does ask for further details as to why. While it is not required, the Member can indicate the refused reasons:
Message is not appropriate for my network of friends/followers

I consider the message off-topic

Frequency/amount of messages
Should Members indicate the refused reason, it will appear on the Feedback section of their Activities.
Message Suggestions
Most often Members will leave all of their feedback under Message Suggestions. Members to this because this is a free-form text field and you can provide an exact narrative as to why an Activity was not completed. These all appear in the Feedback section of their Activities.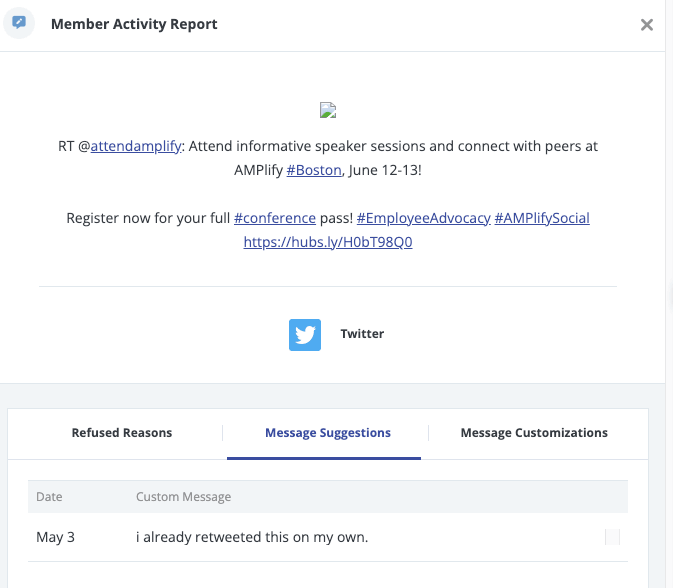 Message Customizations
When a Member chooses to make changes to the Activity, the changes will appear under the Message Customizations tab. Some common reasons this occurs are to correct a spelling error, add their own spin or narrative, or even to correct a URL.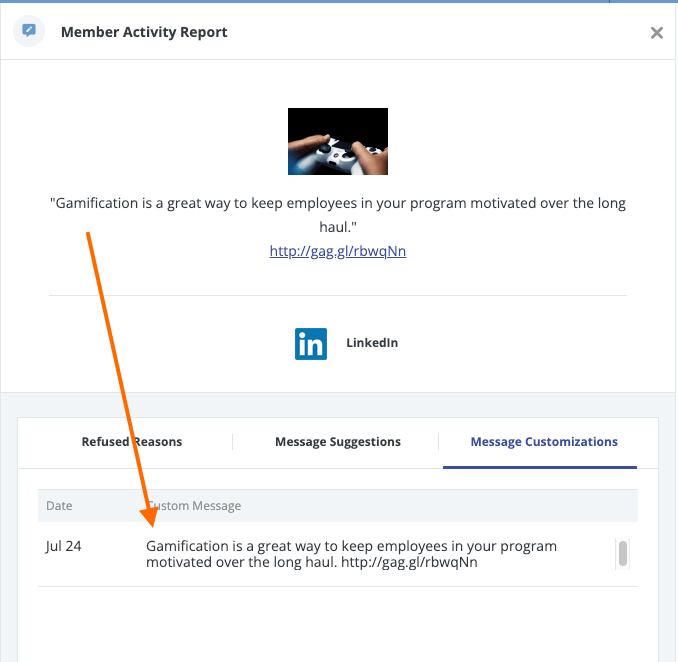 How Do My Members Submit Feedback?
From their Activities view, you will notice that every Activity has a 'no thanks' button.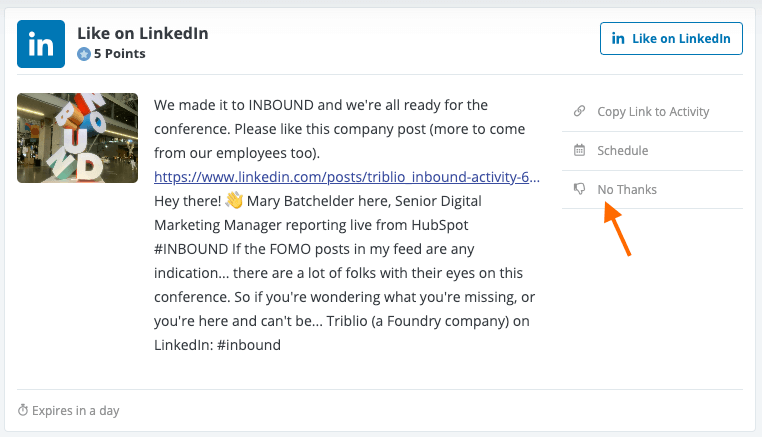 Should a Member select the 'No Thanks' button, a banner will appear at the bottom of the Activity card asking why the Member chose not to perform the Activity.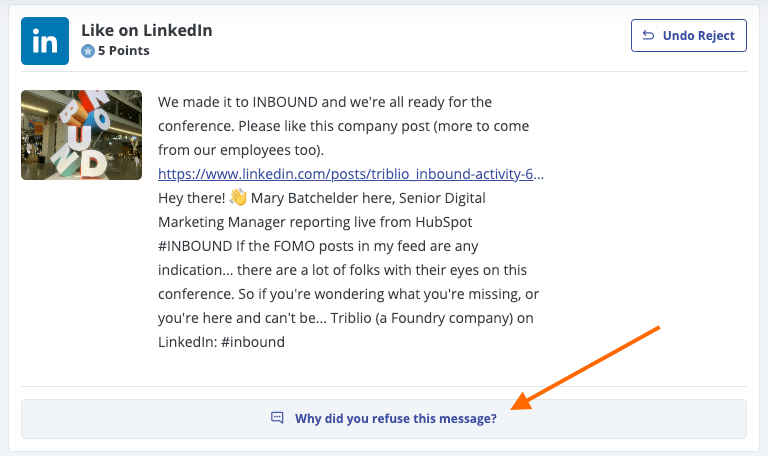 Note: Just because this banner appears does not mean the Members have to give feedback. They can refuse an Activity and not give any feedback.
Should the Member choose to give feedback and select this banner, a slide-over will appear and the Member can provide their reasons why they refused the message.
All feedback is completely anonymous and will be delivered to the Gaggle Manager without identifying criteria.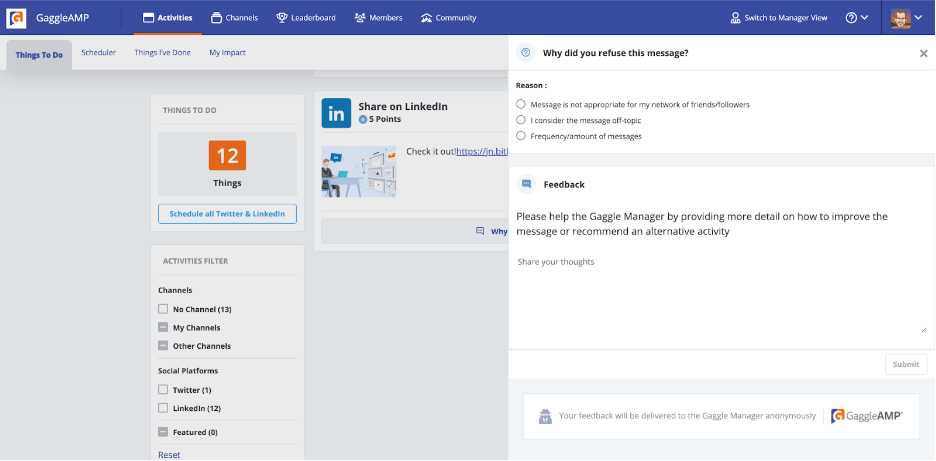 What Can I Do With This Feedback?
Feedback can be incredibly helpful in driving the content in your Gaggle. For example, if you are regularly receiving feedback that the content is not appropriate for the network of friends or followers, determine why. One of the most common reasons is work-related content being posted to the Member's personal Facebook page, which may be more reserved for personal engagements.
Of course on the other end of the spectrum, some people refuse content because there is just too much content. With that, you may need to assess how many Activities are being asked of your audience. Or, you need to consider the 'end' date of these Activities to give your Members more time to post.
Lastly, this feedback can also help you understand where you might be going wrong with Activity types. For example, maybe you're including quotation marks around your narrative which are then posted to an employee network, making it look inauthentic. Or you've sent an Activity to a group but the group you have sent it to is not relevant.
Reviewing your feedback often can help you deliver a better experience for your Members.
Managers Who Liked This Article Also Liked: