So your company has announced it's going through its Initial Public Offering (IPO), an acquisition, or a merger - congrats! It's a very exciting time to be part of your company, and it's also a time that can be filled with stress, confusion, and anxiety. This is completely normal so embrace the chaos and get ready for an adventurous ride!
As your most visible media interest, it's an awesome time to be a marketer and to capitalize on the momentum a public offering, acquisition, or merger might bring. But, your social media channels are publicly available which means that you'll now need to be mindful of the rules and regulations you must follow during this time. Sure, it can be a frightening time to be a social media manager, but it doesn't have to be - you just need to have a real clear understanding of what you can and cannot do. And strong legal counsel will go a long way.
Are There Regulations That Need to be Followed?

Disclaimer: GaggleAMP is an employee advocacy solution. While we are happy to provide you with advice on the use of the GaggleAMP platform, we are not lawyers and do not provide legal or financial advice when it comes to your marketing efforts and social media. Always consult your legal counsel for guidance regarding advertising, marketing, and social media activity during an IPO, acquisition, or merger.
In short, yes.
Oftentimes, one of the company's most valuable assets is its social media presence. While social media assets may generally be superficially reviewed, the inherent company needs to be mindful of the content available and the representation appearing on these social media accounts.
We're not lawyers, but we strongly recommend you consult with your legal team to understand the boundaries of both your brand posts and your employees' posts, on social media. They'll be your best resource in learning your boundaries on what can and cannot be posted.
That said, here are a few tips we've compiled from our clients who have directly experienced an organizational shift like yours.
5 Ways Your Employee Advocacy Program Can Help During a Public Offering, Merger, or Acquisition
1. Know the Rules
We simply cannot state this enough — know what you can and cannot do on social media during this time. Work closely with your legal and compliance teams to ensure the posts you are creating for the company and on behalf of your employees follow all rules and guidelines set forth by that team.
2. Tell Your Story
These events are really big for your company and it's important to reaffirm who your company is and what it stands for. Your brand may be undergoing some changes, so take this opportunity to tell your brand story.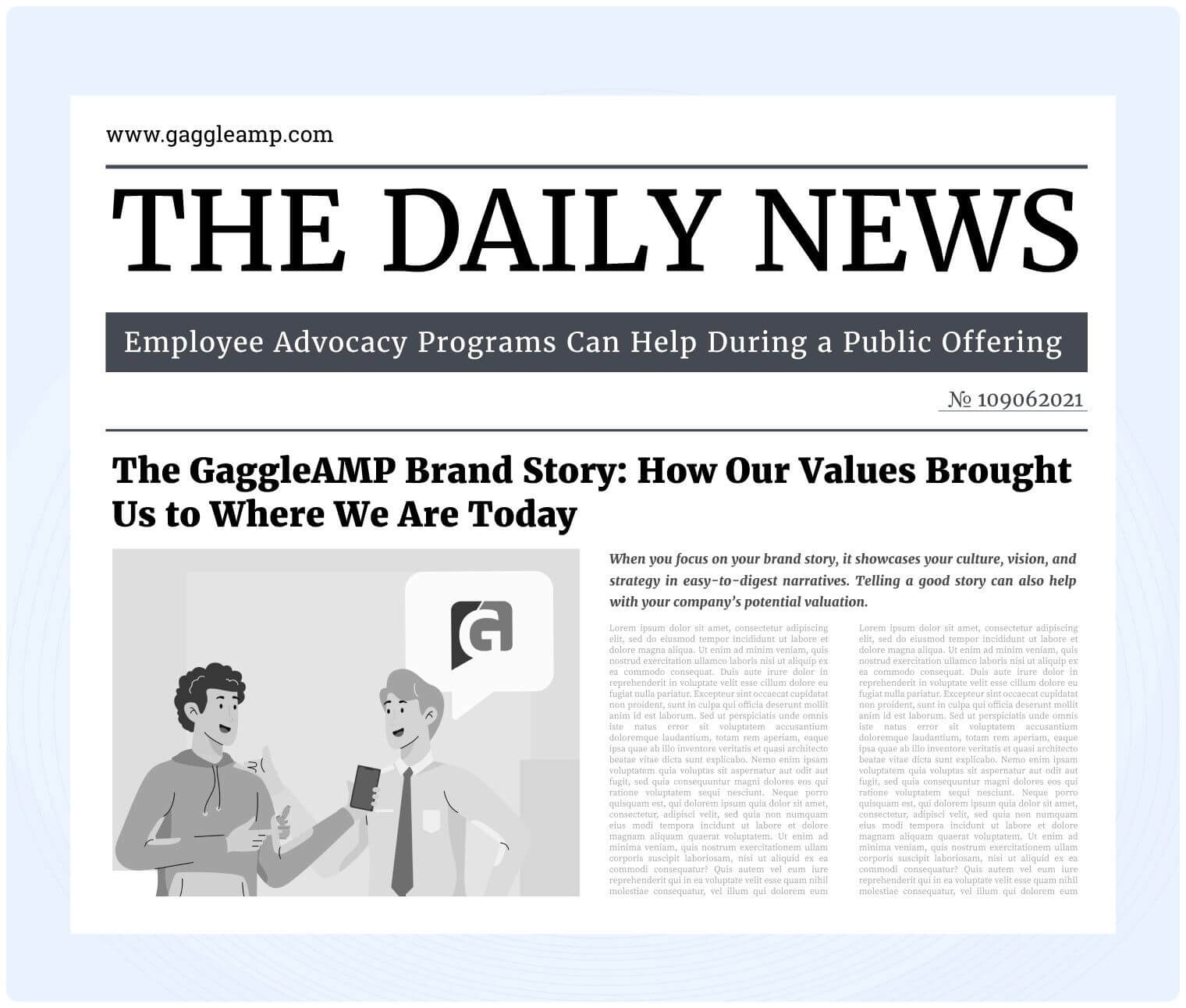 When you focus on your brand story, it showcases your culture, vision, and strategy in easy-to-digest narratives. Telling a good story can also help with your company's potential valuation. Investors need to be reassured that the logic behind the company's decisions is sound. When you tell a story that is simple to understand but reaffirms decisions made, it's significantly easier for investors to understand your vision and remember what you stand for.
Take Monday.com for example, or should I say dapulse. That's right, Monday.com was formerly called dapulse before rebranding in November 2017 to make it more globally appealing. That was only the start of their growth journey, reaching unicorn status by July 2019.
The COVID-19 pandemic could have slowed them down, but Monday.com increased its staff by an astonishing 27%. Their hyper-focus on ensuring it was business as usual paved a pathway to pushing out impressive collaborations and partnerships with Microsoft Teams, G-Cloud 12, and Adobe. Positioning itself as a work operating system rather than a project management or task management solution, put the power of flexibility in the customer's hands, leading to an IPO.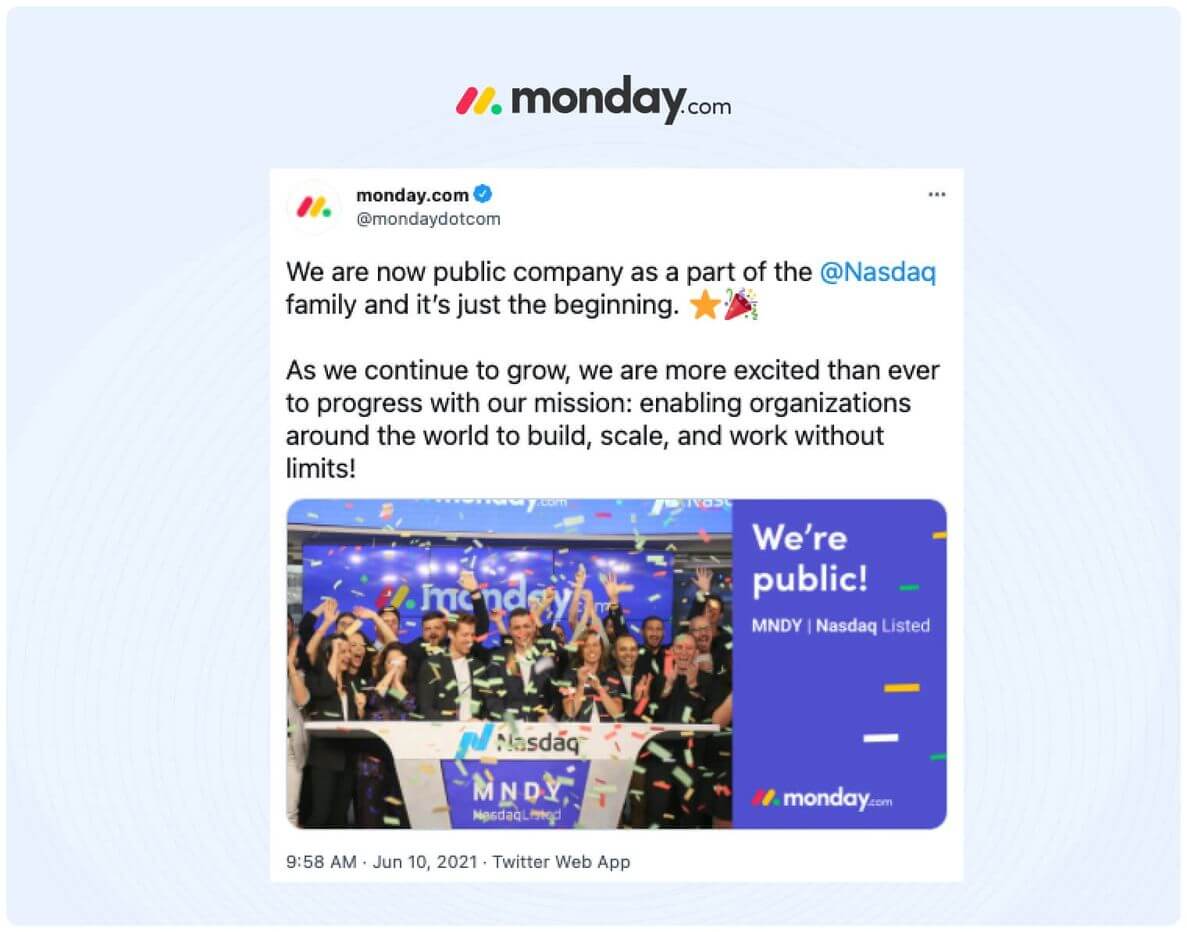 Monday.com successfully closed its initial public offering in June of 2021 with a valuation of more than $7.8 billion.
3. Review and Revamp Your Social Media Policy
Social media policies should be routinely updated, and at the very least need to be revisited when considering a major company shift. Policies change when your company is involved in an IPO, merger, or acquisition and it's best to tap into your legal and compliance teams for a review.
Typically, the use of social media during these times can be under scrutiny, which makes teams uncomfortable. Rather than reviewing and adjusting steps to be taken to safeguard the company, social media may come to a halt. But, that's not necessarily the right thing to do - your brand can capture a tremendous amount of market share during this time, and people will turn to your social media to see what you stand for.
Work with your legal and regulatory advisors to make sure you're clear on communication guidelines and what is required to meet disclosure. You'll need to plan to share this information with your colleagues and train on any new social media policies, too.
And, when in doubt, shout it out! Your legal and compliance team would rather you be proactive and ask questions than clean up a messy mistake.
4. Use Employee Advocacy to Share Brand-Approved Content
Your employees should be a big part of shouting from the rooftops about your company's achievements. Understandably so, it can also be really overwhelming with no guidelines. Work with your legal team to define compliant messaging to share with your team.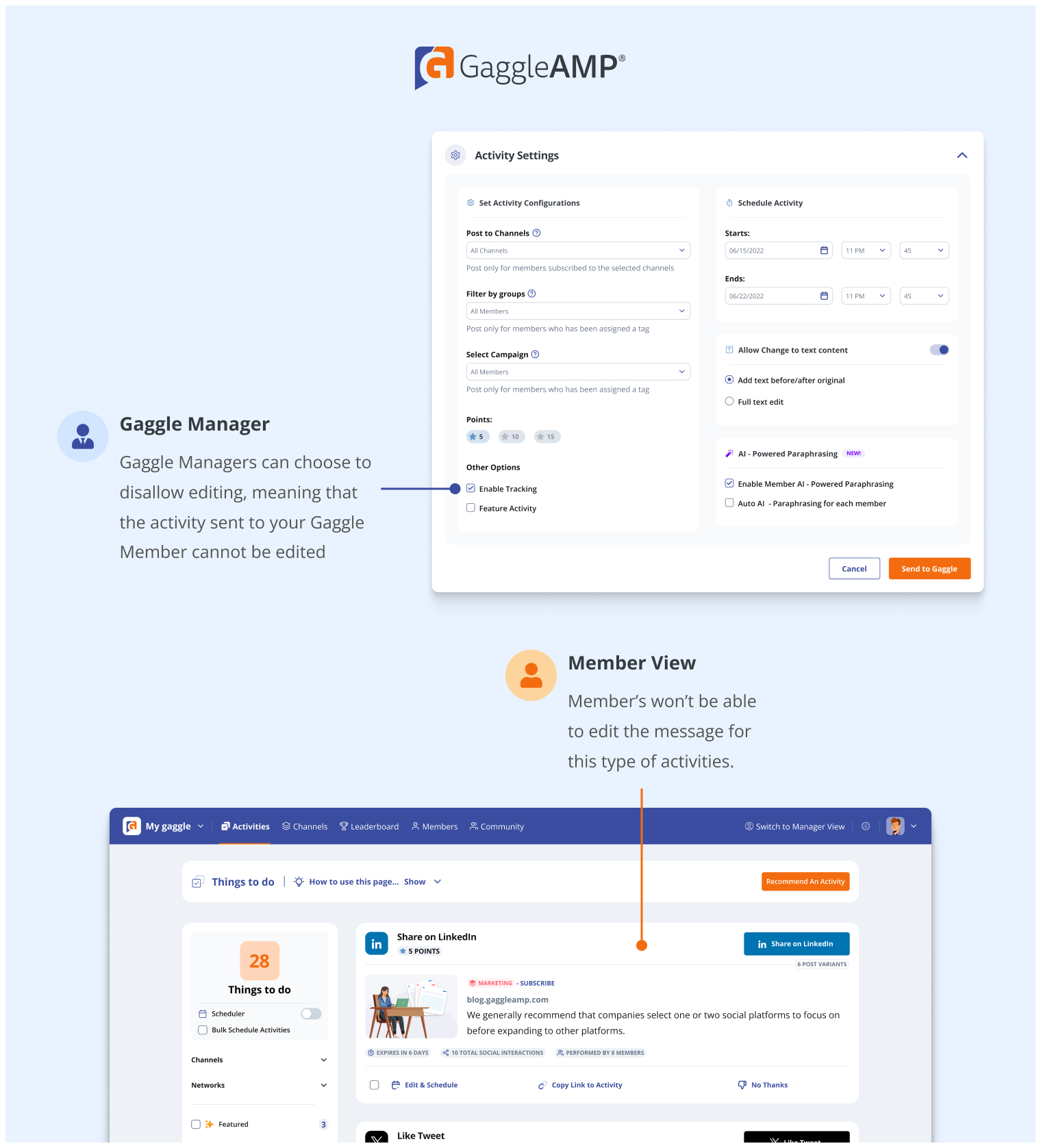 Employee advocacy solutions like GaggleAMP will allow you to lock down messages so that an employee can still participate in your advocacy efforts but will not allow them to make modifications to the messaging.
It's a win-win for the employees and your legal team.
5. Leverage Third-Party Media Coverage
Take advantage of the limelight and embrace the newfound glory. Your IPO, merger, or acquisition is bound to generate plenty of standalone media coverage you can direct your employees to. Use GaggleAMP to help elevate these stories to executives or other members of your team, and then have employees engage with the posts via GaggleAMP.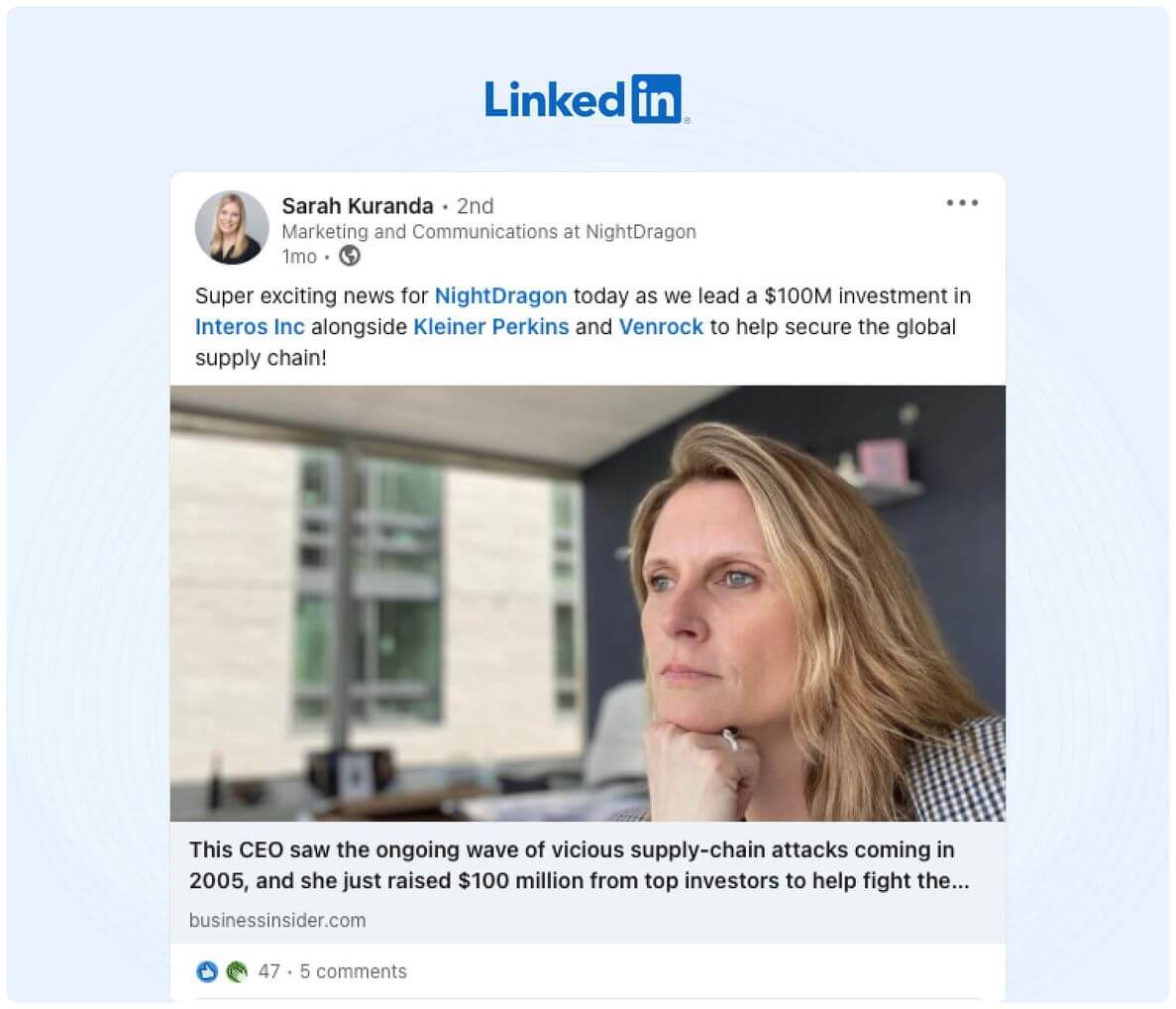 Posts like this one from Sarah Kuranda at NightDragon highlights third-party media coverage from Business Insider. While this is leveraged on her LinkedIn page, the link to this post can be added to GaggleAMP for other employees and stakeholders to either engage with via a 'like' or comment on, depending on the activity delivered.
An IPO, merger, or acquisition is a massive milestone, but it's just that - a milestone. Treating this as an event as part of a longer journey will put your organization in a prime position to pave its way to major success.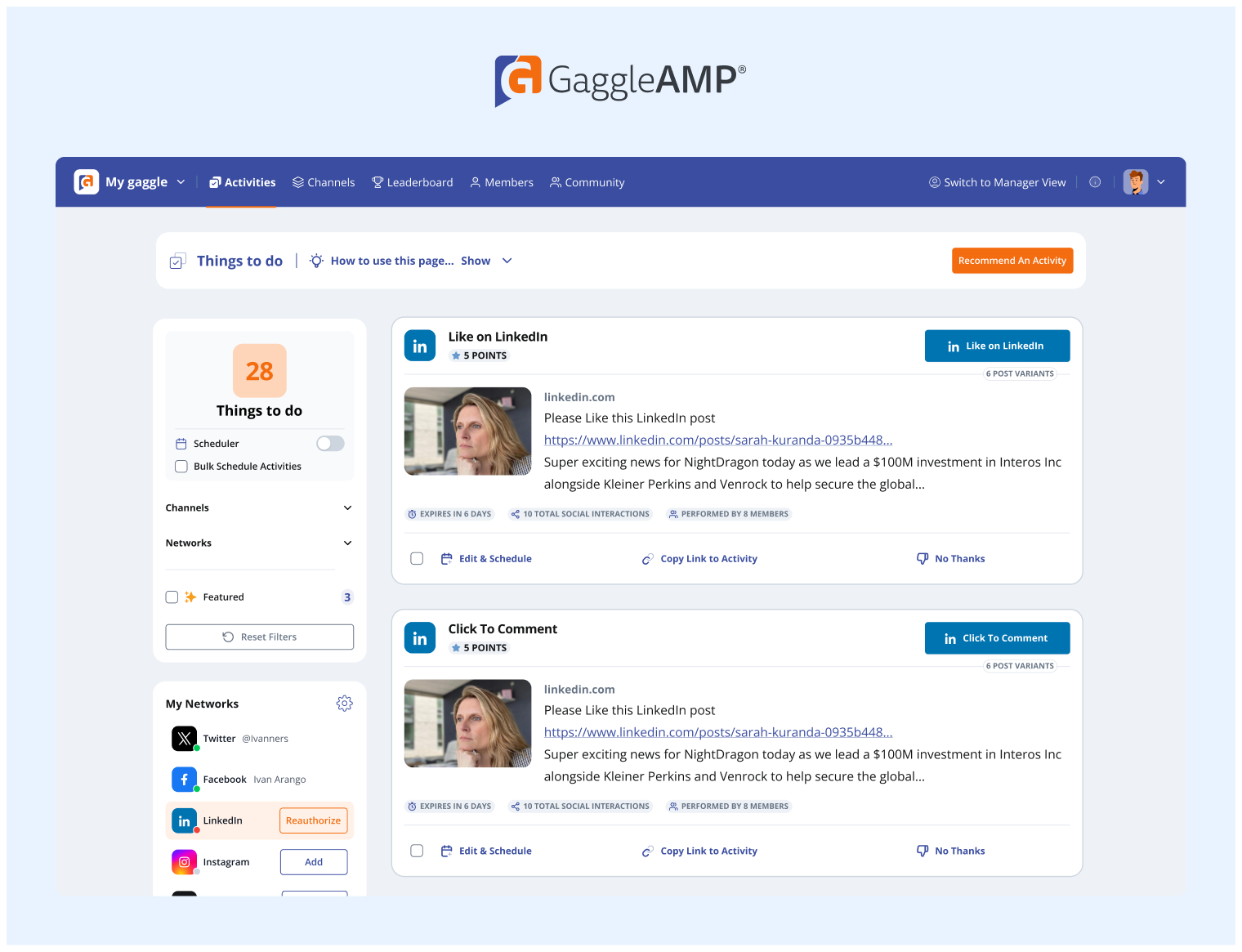 Parting Thoughts
It is possible to still have a robust social media presence during an IPO, acquisition, or merger, but you will need to work closely with your legal and compliance teams. Keep in mind that your employees are a powerful asset and one that can help humanize your brand while telling your brand story. If your legal and compliance team is open to it, you can run a very successful employee advocacy program compliantly with GaggleAMP.
If you'd love to have this information at your fingertips, download our one-pager on Using GaggleAMP for IPOs, Acquisitions, and Mergers.
If you're interested in learning more about how you can leverage GaggleAMP with an upcoming change to your organization, be sure to connect with your Customer Success Manager.
Managers Who Liked This Article Also Liked: