As the Gaggle Manager, you have a pretty good pulse on the performance of your employee advocacy program. You meet regularly with your customer success manager, regularly review performance reports and dashboards, and even continue to grow your program with new Members. Oftentimes you need to provide executive leadership or other stakeholders a report on the status of your program, and typically that might send you into the deep depths of pulling numbers to report on. Now, you don't have to with the Executive Summary Report.
The Executive Summary Report gives the executive team or other stakeholders a pulse of your employee advocacy program. It communicates the effectiveness and benefits of the program and can be delivered automatically to those you designate each week.
Let's take a look at how you can pull an Executive Summary Report for your stakeholders and what it entails.
How to Find the Executive Summary Report
Desktop
From the Manager dashboard, choose Reports.

Here you will see you have access to four different report types:
Single Activity Report

- View the performance of a single activity, including click and reach performance of the activity and the 'life' of the activity, meaning how many days or hours the activity saw engagements.

Executive Summary

- View or download a high-level summary of your Gaggle's performance, or set this report to be delivered electronically once per week!

Activity Summary

- View the aggregate activity performance by platform to better inform your social media marketing strategies. For more on this report, visit

'

What is the Activity Summary Report?'.

Member Engagement

- View or download an all-in-one filterable report that can help you better understand your Members' Engagement. It can help you l to understand who is sharing and engaging with your activities. For more on this report, visit

'Member Engagement Report: What is it and How to use it?

.
Choose 'Executive Summary' to proceed.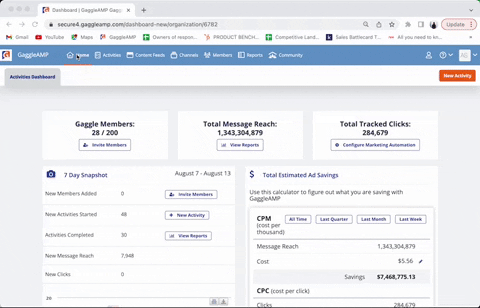 Understanding the Executive Summary Report
The Executive Summary Report is designed for executives and other stakeholders from your organization interested in your program's use and performance metrics. It's an automated report that can be viewed by anyone inside or outside the organization, regardless of their personal connection to the program.
First and foremost, you'll see when you get to the Executive Summary Report, there will be both a PDF preview of the report as well as the ability to declare email addresses that will receive the updated report each week.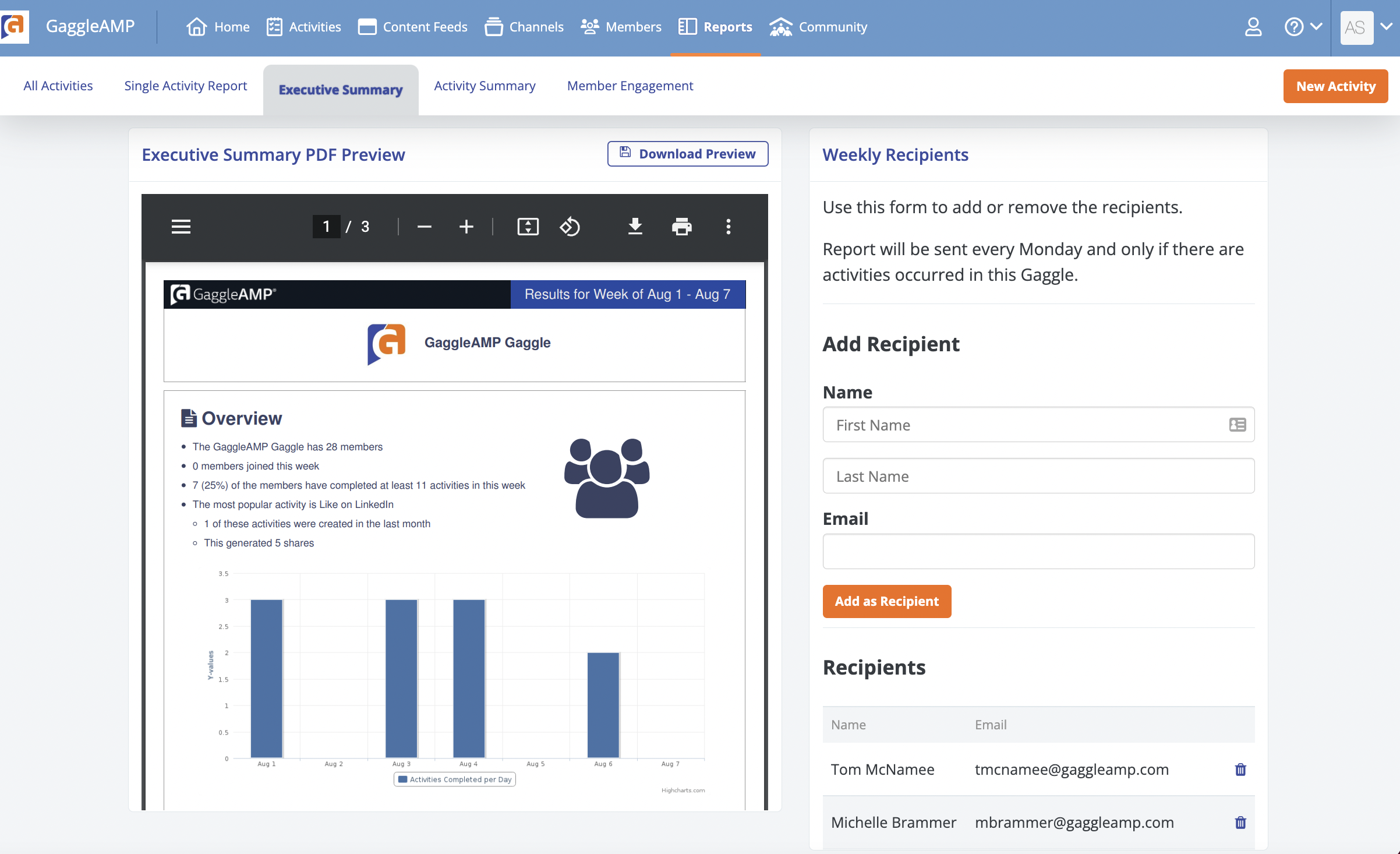 How do I add New Recipients to the Executive Summary Report?
Simply navigate to the report using the steps above, enter their first and last name as well as email address and select 'Add as Recipient.' This will then automate the report sent to them weekly. This file is updated once per week on Sunday night and distributed Monday morning and covers metrics from the previous week. Each report is available for one full week.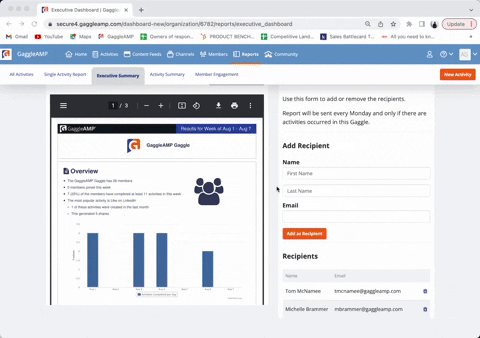 To remove a recipient at any time, simply choose the trash can icon next to their name and choose 'OK' to remove from the recipient list.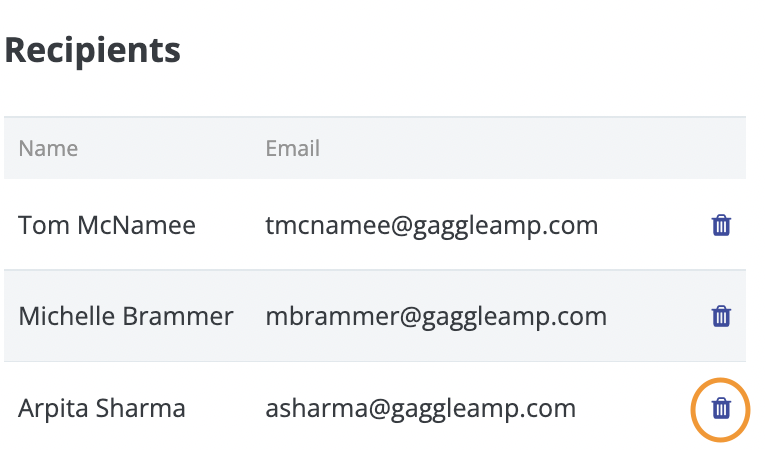 Now, let's dive into what's in the report.
How to Read Your Executive Summary Report
A Gaggle Manager can view the most recent Executive Summary Report on screen, or download a PDF version by clicking on the 'Download Preview' button.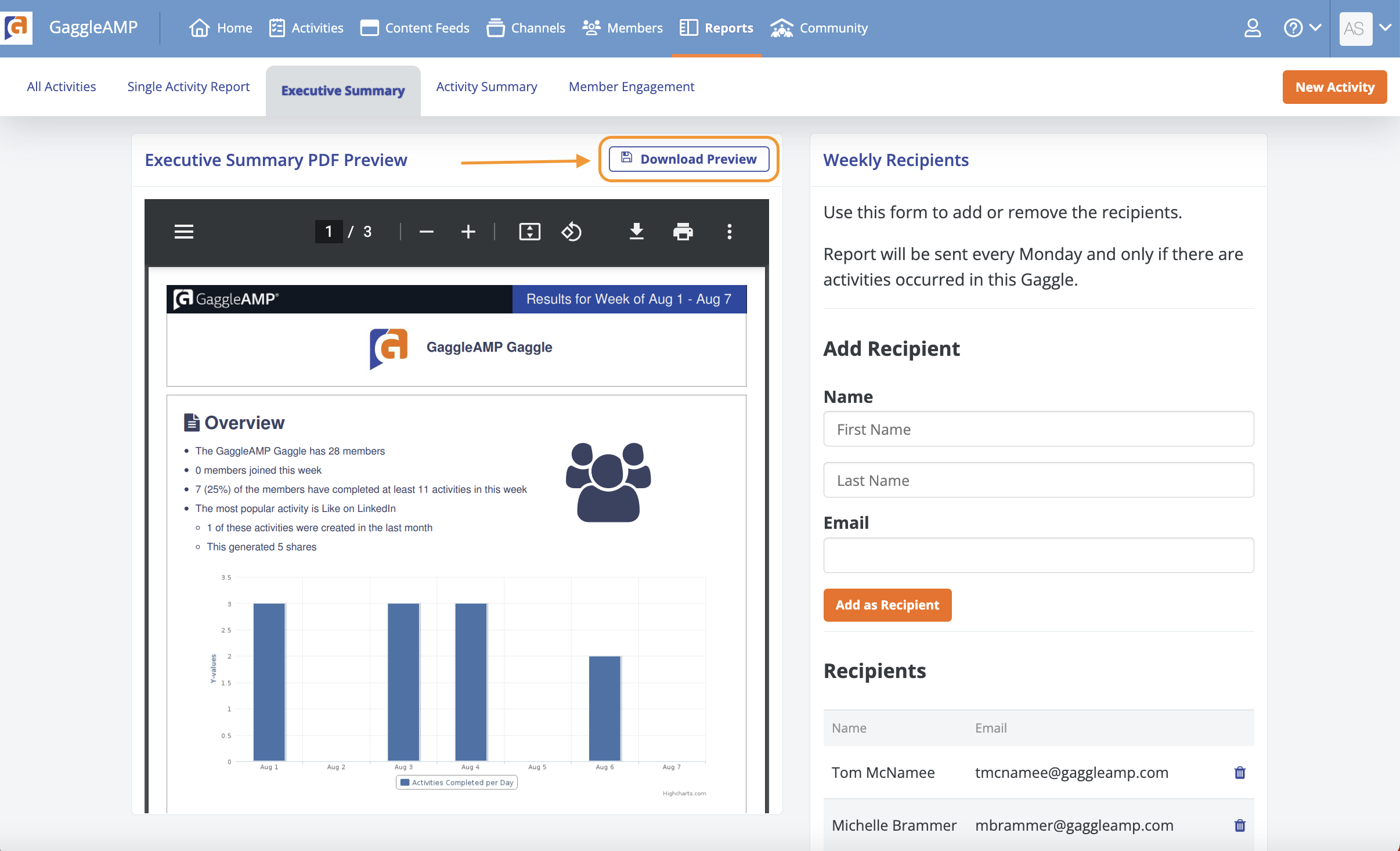 The report will cover five main areas of interest:
An overview

ROI of your employee advocacy program

Top activities performed

All activities performed

Platform assessment
Let's break these down further.
GaggleAMP Overview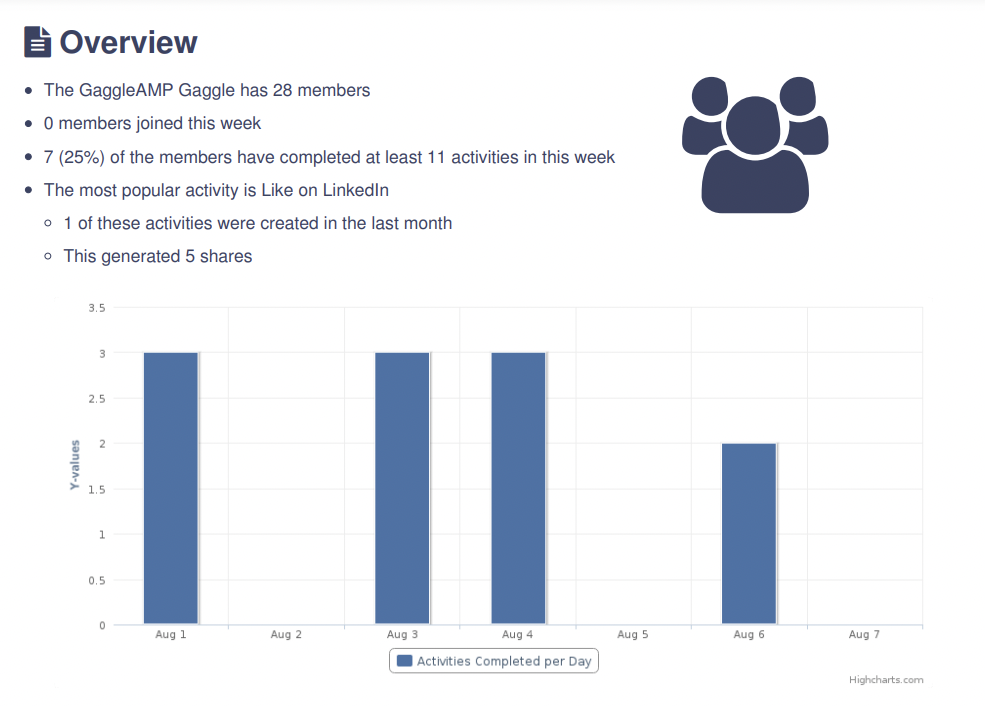 In the Overview, your stakeholders can see a top-level snapshot of the performance of the Gaggle the week prior. It covers items such as:
Total number of Members

How many new Members have joined the Gaggle

The number of activities created and the number/percentage of activities completed by Members of the Gaggle.

Identifies the most popular activity type as well as the number of times that activity type has been used in the last month. This also shows the number of shares generated.

The total number of completed activities by day.
GaggleAMP ROI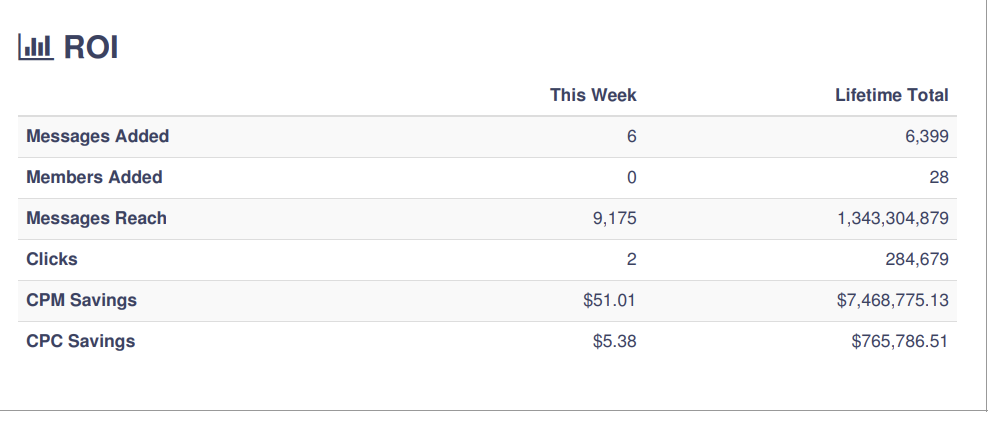 In the ROI section, your stakeholders can view weekly performance against the lifetime total. Here you'll see:
Messages Added: The number of new activities created this week versus the lifetime total.
Members Added: The number of new Members added this week versus the lifetime total.
Messages Reach: The cumulative reach of the Member networks that have shared each activity across all platforms versus the lifetime total.
Clicks: The number of clicks received on content served through activities on the social networks versus the lifetime total.
CPM Savings: Measuring the amount saved by using an employee advocacy program to generate impressions compared to paid media efforts during this time versus the lifetime total.
CPC Savings: Measuring the amount saved by using an employee advocacy program to generate clicks on your content and campaigns compared to paid media efforts during this time versus the lifetime total.
Note: The CPM and CPC savings calculations will only be accurate if you adjust them on your Activities Dashboard. See here to learn how and why to update your estimated ad savings.
Top Activities Performed on GaggleAMP

The Top Activities section highlights your Gaggle's Top performing activities the week prior. This is based on both the number of Members in the program who completed this activity and the number of clicks the activity received. This gives your stakeholders better insight into what content resonates best with the Members of your program as well as their audiences.
Activities on this report may be an excellent candidate for activities that could be reused again in the future. Learn more on how to reuse an activity.
All Activities Snapshot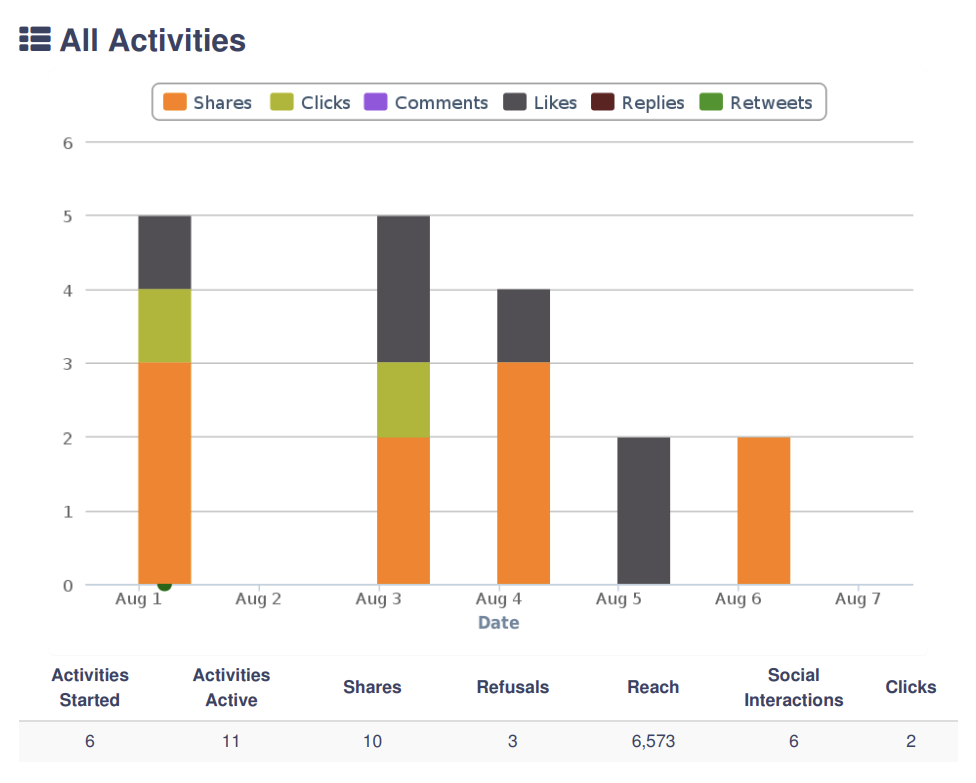 The All Activities snapshot gives your stakeholders a bird-eye view of total engagement with all activities and what encompasses that engagement. Likewise, stakeholders can see if these activities are driving shares, clicks, comments, likes, replies, retweets, or more. This is helpful to understand as part of your overall social media strategy. For instance, if you're hoping to get participants in a contest to Retweet an activity stemming from your company account, you may hone in on Retweet performance
Platform-Level Member Participation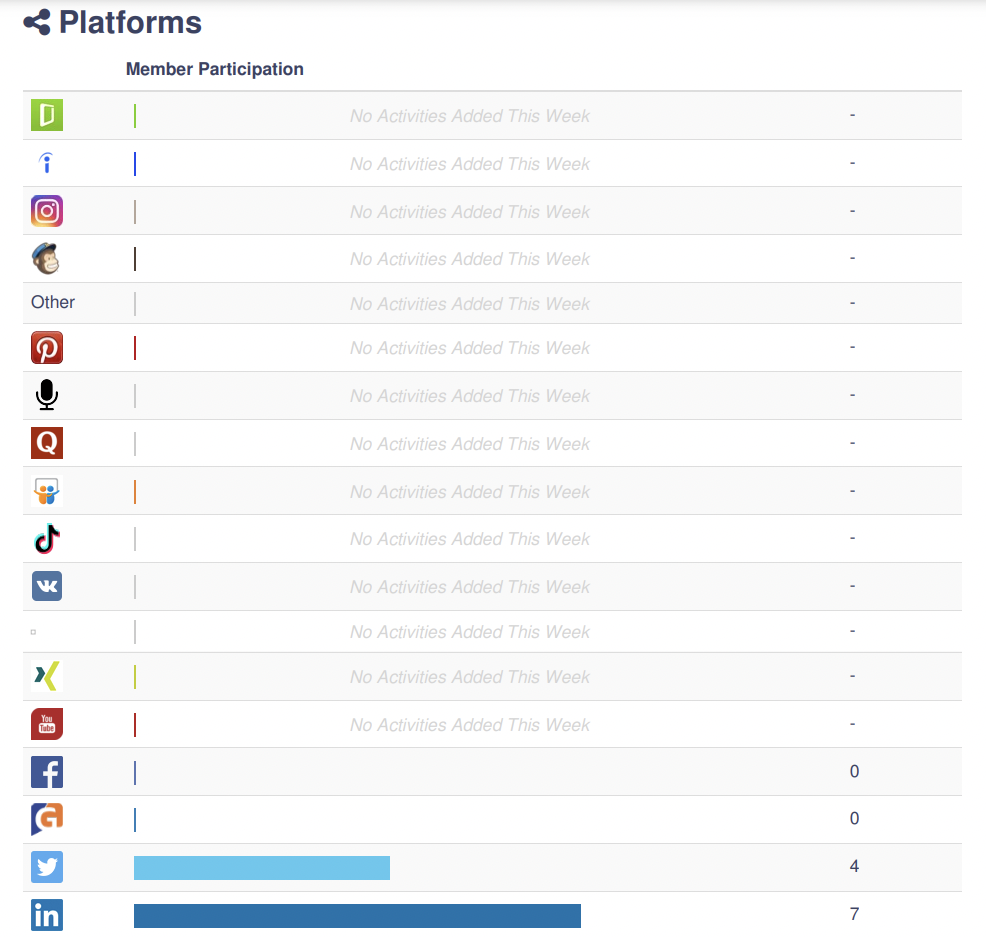 The final page of the report provides a breakdown, by platform, on where your Members are engaging most. This helps your stakeholders better understand where you are focusing the efforts of your Gaggle. It might also answer those occasional questions like "why don't I see our teams sharing this on Facebook?" or "Did we create any Pinterest-specific activities last week?" The number at the far right of each row indicates the number of times activities were performed for the specified network.
At this time, the Executive Summary Report can only be accessed from a Desktop device.
Managers Who Read This Article Also Liked: