As a Gaggle Manager, have you ever wished you could 'write it once' for your social posts, but deliver customized activities for every Member? Well, today's your lucky day—using our AI-Powered Paraphrase for Managers, now you can. This ensures that every Member who shares content is sharing something unique. Plus, it saves them the step of clicking the button to paraphrase the text themselves (e.g. AI-Powered Paraphrase for Members).
Here's how it works.
Using 'AI-Powered Paraphrase for Members'
📍 Important Note: This feature is only available to Gaggles that have opted-in to our AI-Powered Paraphrase for Managers module in the Gaggle. If you are interested in having this functionality available in your Gaggle, please contact your Customer Success Manager or open a support ticket.
You'll want to kick off this Activity by navigating to a new 'Share Post' activity for LinkedIn and curating your social post as you would normally.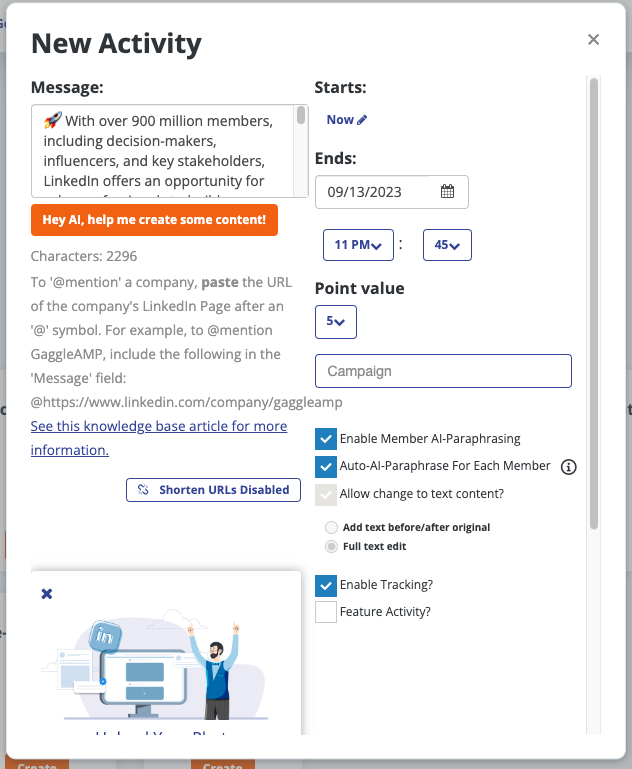 Once you have created your text, simply select 'Auto-AI-Paraphrase for Each Member' when you create a new LinkedIn Share Activity.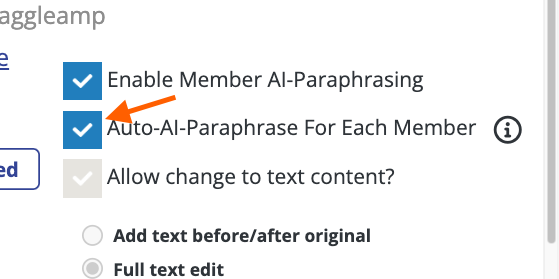 When this activity is sent to the Gaggle Member, it has already been paraphrased and is ready to share.
This is the text I entered:
Hey, #LinkedIn champs! Mentorship's where it's at. 🌟 Think about that one mentor who lit your path. I bet you've got a tale that's worth sharing. Mine was Lynda Ellis. She set me straight and lit my way past my sales gig to understand how to drive strategic results. Let's tip our hats to the mentors who changed the game for us! Drop your mentor moments below. #MentorMagic #GuidingStars #forevergrateful
This is the output of an Activity delivered to a Gaggle Member using AI-Powered Paraphrasing for Members: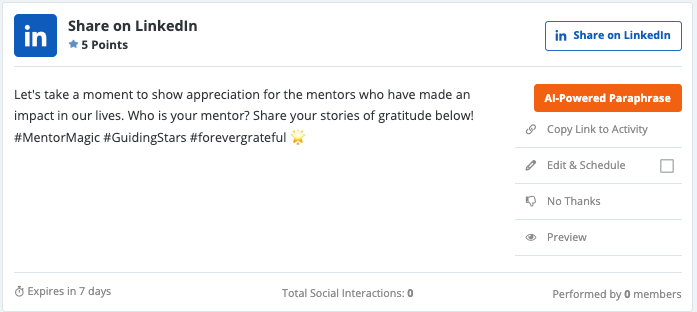 You might be wondering what happens when you have both the 'Enable Member AI-Paraphrasing' and 'Auto-AI-Paraphrase for Each Member' options checked. When both options are checked, the original text will be automatically paraphrased before it reaches the Gaggle Member AND the Gaggle Member will also have the option to paraphrase it again, should they desire to do so.
Note: There is a character count restriction of roughly 900 characters for both the input and the output. The AI-Powered Paraphrase option for Managers will be disabled when the character count exceeds 900.
It's important to note that any text edited via the AI-Powered Paraphrase for Manager feature will be treated in the same way as manually edited text. We ensure that your content's integrity and relevance remain intact, but it might require some additional formatting to meet the needs of the Gaggle Member.
If your Gaggle doesn't have access to these the AI-Powered Paraphrase for Managers yet, please speak with your Customer Success Manager.
People Who Liked This Article Also Liked: