How do I change or delete a social account?
As a Member of a Gaggle, you are in control of your social media accounts. To change or delete a social account, you must be in the "Settings" page of your Member View.
Start by logging into your Member account.
In the upper right-hand corner, click on your email which will bring up a drop down menu
Click on the "Settings" link which

will take you to your Account Settings page.

Scroll down to the "Personal Social Accounts"
Select which network you would like to remove/change and click the button under "Remove Account"
If you are looking to add a different social account, simply go to your Member Dashboard and add your new social account under the "Attach Your Social Accounts" section.
After removing an account, if you no longer wish to see content from that social network, please follow the instructions on the following walkthrough:
How to choose which content you see in GaggleAMP
Gif walkthrough of removing an account:
​​​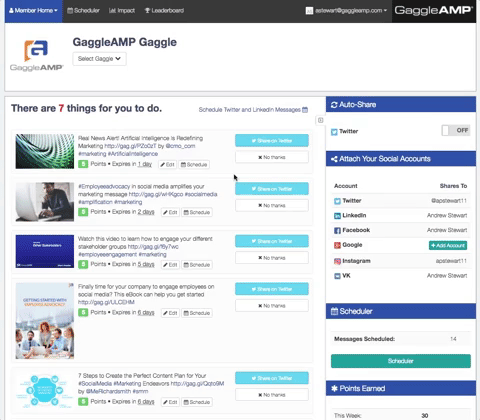 Did you find this article helpful?